5K Charity Run (PT Hexindo Adiperkasa Tbk)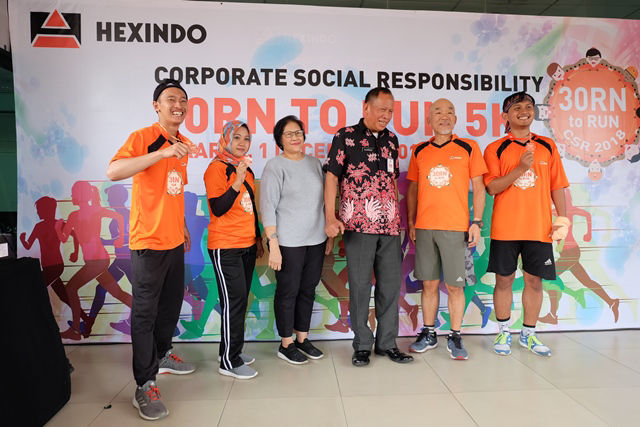 3 Best Runners with Hexindo CEO (second from the right), YPAC Director (fourth from the right) & Head of Sub District of Cakung Jakarta (third from the right)
On 1st December 2018, as part the contribution of PT Hexindo Adiperkasa Tbk related to Health, Human evelopment issue & to support community support, company was held a Corporate Social Responsibility (CSR) program entitled "30RN to RUN" which is related to sport activity. The activity was held as a part of 30th Hexindo Anniversary called as "CSR 30RN Series" ; 30RN to Care, 30RN to Share & 30RN to Run.
The 30RN to Run activity – 5K Charity Run was involved by CEO – Eiji Fukunishi and 125 employees with their family. Also joined some participants from media, this activity was held at JIEP Area. 30RN to Run is the charity activity that cooperative with YPAC (National Disability Organization) Jakarta.
This activity is a form of contribution to the community as well as enriching our gratitude to the blessings that GOD given to us, at the same time also encouraging our employee spirit of sharing with others.
Hexindo plans to make it as a continuous activity in the future. The opportunity to conduct program that closely related to health issue, at the same time also to contribute by giving charity to unfortunate people with disability factor has spurred us to think the idea to do an effective CSR program that encourage our employee' contribution to the community.
Flag Rise Start by Hexindo CEO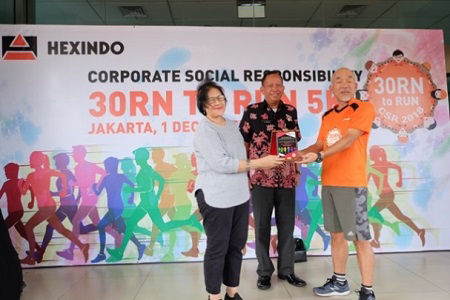 Symbolic charity ceremony given to YPAC