Forest Maintenance Activities at "Kocoro no Mori" (Hitachi Construction Machinery Banshu Works)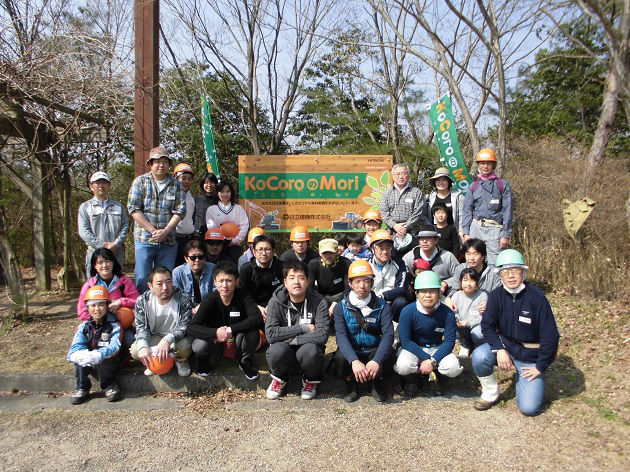 Commemorative photo of "KoCoro no Mori" participants
Hitachi Construction Machinery, Banshu Works regulary conducts forest maintenance activities with NPO Hyogo Mori Club.
The goal of these activities is to "transform an abandoned 'dismal forest' into a 'lively forest' after making provisions for revitalization, and enjoy the 'blessings of the forest' while living alongside all kinds of living things".
On April 6th, 2019, the 3rd forest maintenance was held at Hyogo Prefectural Mikiyama Forest Park in Miki, Hyogo. On this day with the weather was just clearing up and the Yoshino cherry trees fully bloomed in the park, about 40 of our employees and those involved were in attendance.
Divided in four groups, we spent about two hours on thinning and removing trees following the detailed instructions of NPO Hyogo Mori Club. Together, while putting safety first, we prepared a nice spot where just the right amount of sunlight shone through trees. Meanwhile, we also held nature observation activities for families and listened to lectures about the nature in the park from a tree surgeon. This time, attendance learned how to distinguish between varieties of the same types of spring flowers such as dandelions and cherry blossoms, learned trivia about all kinds of trees, and watched birds such as kingfishers and pale thrush living in the park, which helped us deepen my understanding of ecosystem conservation.
As part of the environmental conservation activities at the Hitachi Construction Machinery Banshu Works, we will continue to regularly hold "KoCoro no Mori" forest development activities to raise understanding of the environment through getting in touch with trees and plants in nature. Furthermore, as an employee of Hitachi Construction Machinery, we will endeavor to take the environment into consideration in my day to day actions.
* This forest maintenance activity was started in April 2018 by KCM Corporation.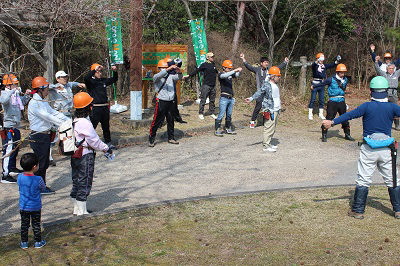 Warm-up exercises before working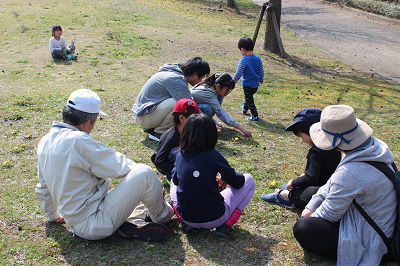 Participating in nature observation A teacher taught how to distinguish between different varieties of dandelion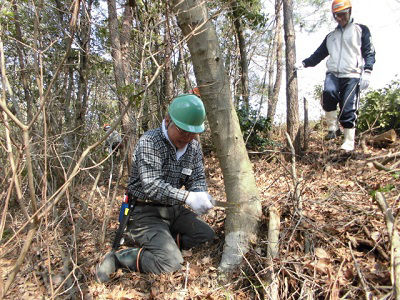 Forest thinning