Remanufacturing Workshop Kaizen Activities Win Highest Platinum Award at International Convention on QC Circles (Hitachi Construction Machinery Zambia)
The improvement (Kaizen) activities of the EXCAVATOR team from the parts remanufacturing workshop at Hitachi Construction Machinery Zambia (HCMZ) won the platinum award, the highest prize, at the 45th International Convention on Quality Control Circles (ICQCC) which was held from 1st to 3rd December, 2020.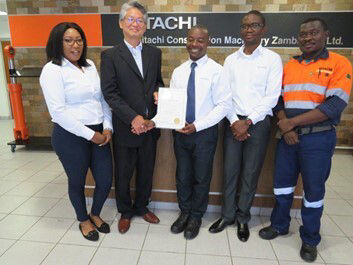 Members of Platinum Award-winning Team with Hideki Hattori, HCMZ President (2nd from left)
(*This photo was taken at the Zambia Kaizen Conference held prior to the International Convention on QC Circles. Masks were momentarily removed for the photo.)
ICQCC is a global convention of QC Circles held in Asia every year since 1976. This year, due to measures to prevent the spread of COVID 19, teams from the participating countries presented the results of their Kaizen activities at venues in their own countries which were connected online with the main venue in the host country, Bangladesh.
The topic of the EXCAVATOR presentation was "Parts Centralization" and the team focused on improving the workflow line for picking inner parts of mining machineries for remanufacturing. The team's efforts succeeded in decreasing the movement distance required to collect parts, thus reducing labor time. Greater efficiency was also achieved by consolidating the racks for heavy parts, thereby ensuring safety, alleviating worker fatigue, and freeing up time to perform other work by eliminating superfluous movement.
The EXCAVATOR team's presentation was highly rated by the judges, enabling them to win the top prize, the platinum award which ranks above gold and HCMZ was awarded in 2018.
Hitachi Construction Machinery Zambia intends to use the high praise received at this world conference to spur continued KAIZEN efforts in the future.
Presentation by EXCAVATOR team