Do you know why oil monitoring is vital for a good maintenance? It is necessary to know the condition of oil to reduce the number of machine failures!
エンジン・油圧機器のセンサが2種類のオイルを24時間(*1)監視。早期に異常検知。
[Oxidation]
Degradation of lubricating performance, clogging in various places, abnormal wear
[Abnormal viscosity]
Degrading of fuel economy, oil leakage, abnormal wear
[Contamination with water]
Corrosion in various places of the machine, accelerated oil deterioration
[Contamination with soot]
Clogging in various places, degradation of lubricating performance
[Contamination with fuel]
Degradation of lubricating performance due to dilution of the oil
It is vital to watch the oil condition on a continuous basis. 
It is possible to extend the life of your machine by keeping oil at a good condition by watching it with ConSite Oil and doing proper maintenance.
① Oil deterioration due to the way the machine is used and environmental factors and detection of the deterioration
Can you rest assured since oil is replaced periodically?
Normally, oil is kept at a good condition by priodically replacing it. However, due to the way the machine is used and environmental factors, prematured deterioration of oil may occur before replacement.
② Detection of a change of oil condition due to an occurrence of a machine problem
Can machine problems be detected from the oil condition?
Even if you eat lots of vegetables and do exercise everyday, you sometimes become with no prior warning.
That's the same with machines. Even if you do proper maintenance, machine problems may occur due to various unknown factors from time to time.
Also, since machines grow old, problems occur as operating hours progress.
These problems may show their signs in oil like signs in blood for humans.
Oil sensors for engine and hydraulic system watch*the two types of oil 24/7.Abnormalities are detected in early stages. They monitor oil condition 24/7 as far as the machine is operating.
Realization of the world first*2 oil monitoring sensor and continual oil monitoring based on a Hitachi Construction Machinery's own unique algorithm
Oil in construction machinery is subject to high pressure and rapid changes of temperature. And, it was difficult to judge whether oil was in a good condition at a moment-to-moment basis.
It was the main practice to take oil samples at certain intervals, analyze them and judge the condition at each time.
However, it became possible to monitor oil conditions at a continuous basis due to a unique algorithm developed by Hitachi Construction Machinery Co. 
In the case that a lot of water enters the engine oil all of sudden.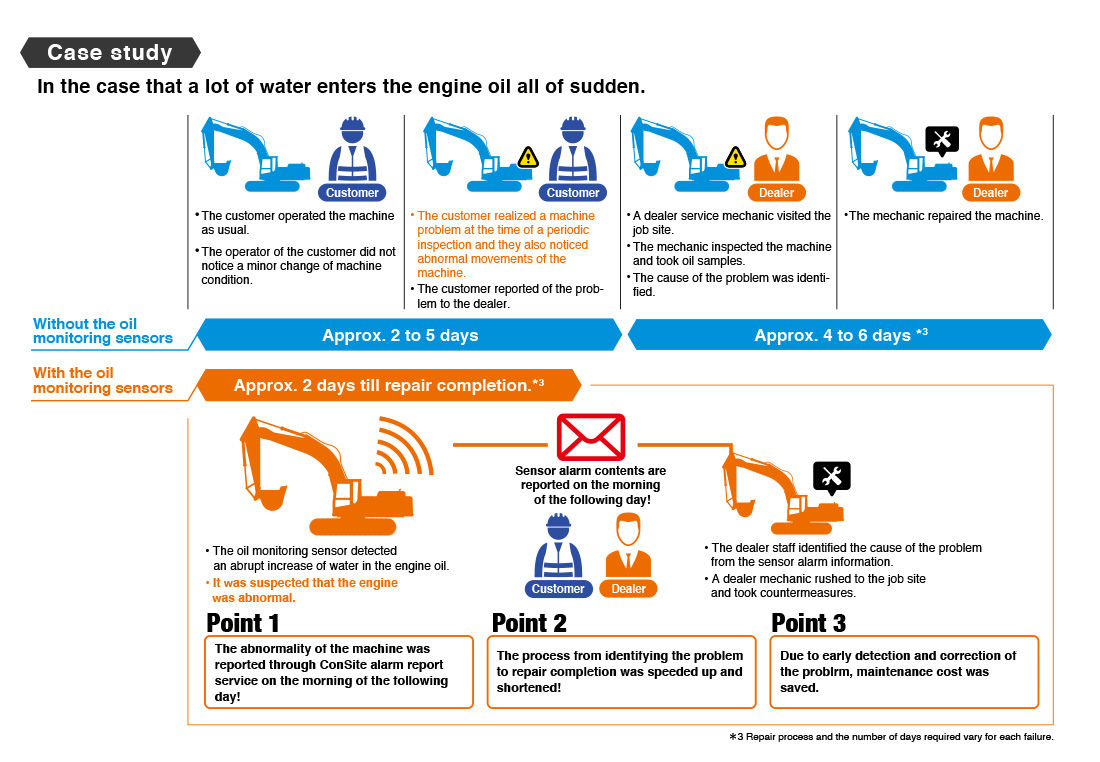 Because of the continual monitoring*, an abrupt change of the oil condition was not missed. (*Only while the machine is being operated.)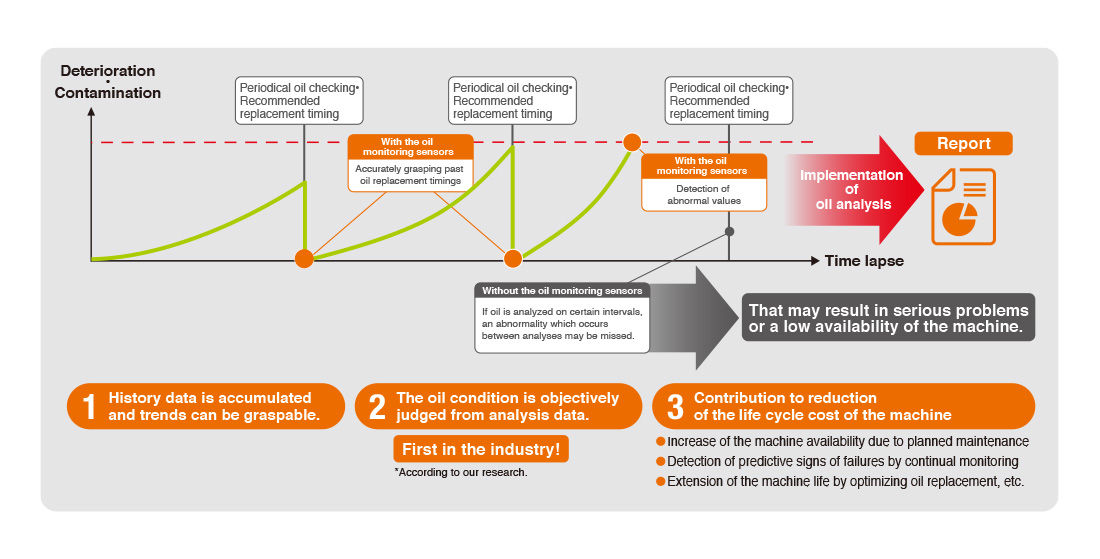 *1 A system which monitors oil conditions of engines and hydraulic systems of hydraulic excavators on a continual basis during operation
*2 Regarding oil monitoring solution for hydraulic excavators as of April, 2018. Based on our research.
*3 Repair process and the number of days required vary for each failure.
Flow of ConSite OIL services
When the oil monitoring sensors detect an abnormality of oil , the following events will follow in the sequence shown below;
The sensors installed on the machine monitor oil conditions 24/7 while the machine is being operated. (1)、If the sensors detect an abnormality, its information will be evaluated and judged by Global e-Service. Then an emergency report will be automatically sent to the customer and the dealer. In addition, a description of countermeasures will be attached to the report for the dealer.(2)
 A dealer mechanic will inspect and repair the machine according to the countermeasures. Also, the mechanic will take oil samples if necessary.(3)
The oil samples will be sent to a designated oil analysis company.(4) Then, after oil analysis, the result data is transmitted.(5)
The transmitted data will be automatically diagnosed and judged and an oil analysis report which includes analysis results and countermeasures will be sent to the customer and the dealer on the same day.(6)
(The report will be sent on the following day after 8 pm.)
A dealer mechanic will inspect and repair the machine according to the report.(7)
Then, the mechanic will upload feedback information of inspection and repair to Global e-Service for accumulation of information.(8)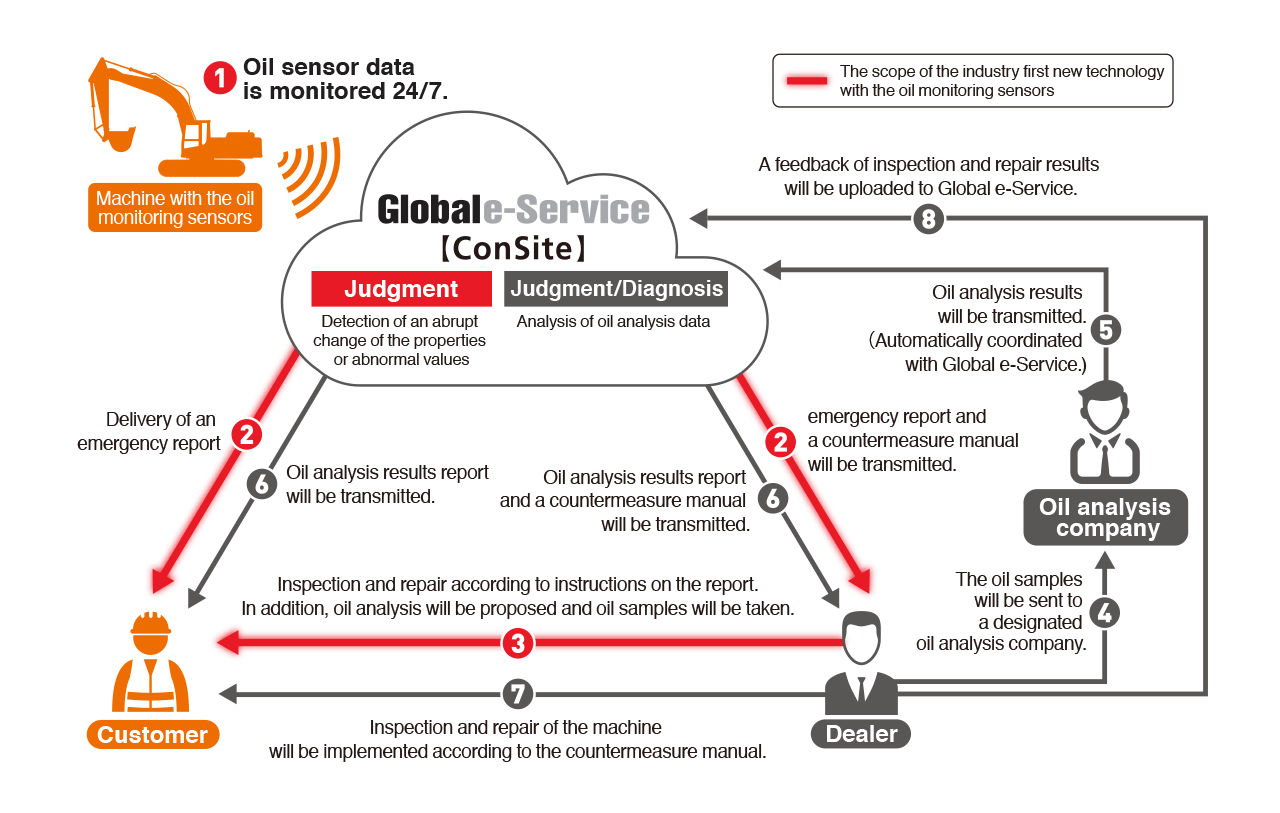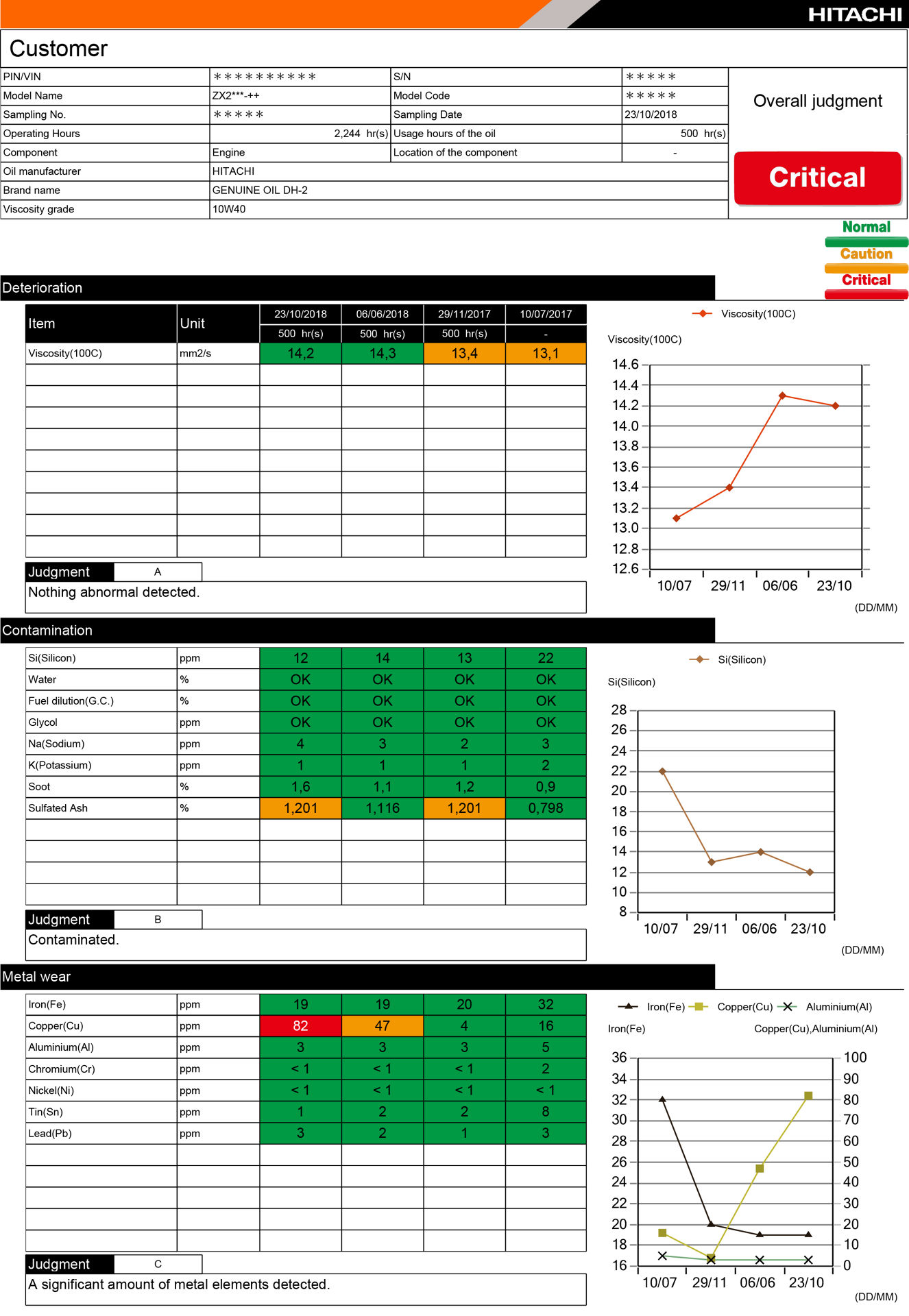 Auto-diagnostic report (sample)
It is necessary to register for Global e-Service to get ConSite OIL services.