ConSite is a consolidated solution service for linking to the customer and construction site.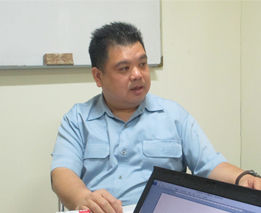 Industry: Coal Mining Contractor
PT. Primacon
VOICE OF CUSTOMER
Primacon is coal mining contractor having the units over one hundred of excavators and dump trucks.

ConSite Reports are almost complete. The Reports tell us the reasons of the problem in case of accidents. When we have the accidents we talk to the site managers. If we receive the same Alarm-Reports continuously, we call to the operator directly. We also follow up the Alarm-Reports in the morning meeting before starting the operation.
I also check ConSite Monthly-Reports on my mobile. In the reports, we keep watching the trends of non-operation ratio. If non-operation ratio is high, then we call to the site manager. Superior of the operator can evaluate the operation performance by confirming the reasons of high non-operation ratio with the operator. The reasons may be rainy, failure, fuel supply, etc.
Upon the contract, we need to pay the penalty when we exceed the fuel consumption limit. Therefore we focus on reducing the fuel consumption. In the report, we find the PWR mode and ECO mode index. The operators tend to use PWR mode on the machines. By showing the actual PWR mode ratio in ConSite Monthly-Report, we can control such high usage of fuel consumption.
The machine availability of Hitachi is really good. We have 87% machine availability of all our machines.
Mr. Surya, Owner