Simply upload to cloud and turn UAV images into point cloud data

Solution Linkage Point Cloud Overview
Aerial photography surveying using standard UAV requires high-performance computers as well as analyses using expensive software to create point cloud data after taking the photos, which makes for very high initial introduction costs. Even after all the trouble of preparing UAV for construction sites, these tools are often used for no more than taking simple aerial photos.
The Solution Linkage Point Cloud service enables each customer to create 3D point cloud data from the aerial photos taken of construction sites themselves without purchasing dedicated computer terminals or software to create point cloud data.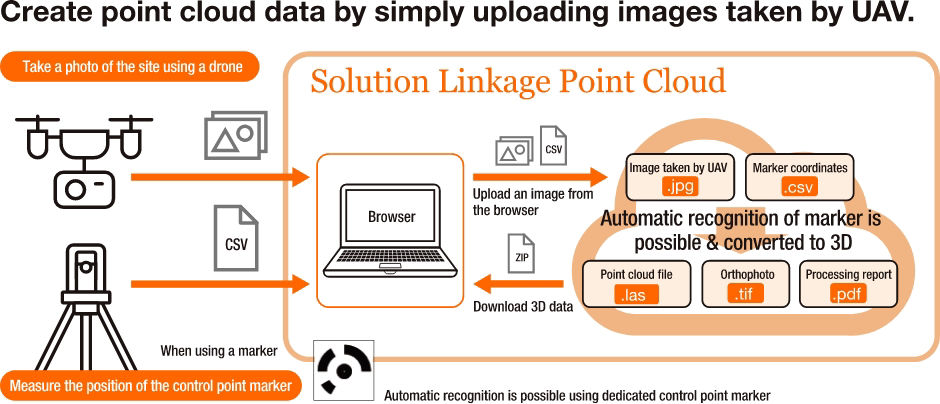 Solution Linkage Point Cloud creates point cloud data from photos using the following four steps:
Take aerial photographs of the site using UAV.
Access Solution Linkage Cloud via a browser using an ID and password acquired in advance.
Upload the aerial photos taken using the UAV and a CSV file with all the survey markers.
Download the point cloud data (point cloud data file [LAS format], orthophoto data [TIFF format], and processing report [PDF file]) processed in the cloud from the cloud.
Point cloud processing software can use the point cloud file created with the steps above for volume and distance measurements. The upper limit of photos to upload for the analysis of one data set is 400 images, which can create point cloud data for a large 5 ha site depending on the UAV flight altitude.
Differences When Using Solution Linkage Point Cloud
High initial introduction costs and expert knowledge are required to create point cloud data for the current state of sites.

Procedure for Using Solution Linkage Point Cloud

*The coordinates need to be measured using Total Station or another system by setting up control point and verification point survey markers to input when creating point cloud data in the cloud in order to compare data chronologically or against initial measurement data. Please specify coordinates separately for each picture when not using dedicated control point markers.
Solution Linkage Point Cloud Capabilities
Site Progress Management
Create point cloud data using images taken by UAV and confirm progress using point cloud processing software.
Site Visualization
Leverage 3D point cloud data created from photos taken of the current site using UAV to help in on-site meetings, explanations to customers, briefing materials for local residents, and more.
Usage Applications of Solution Linkage Point Cloud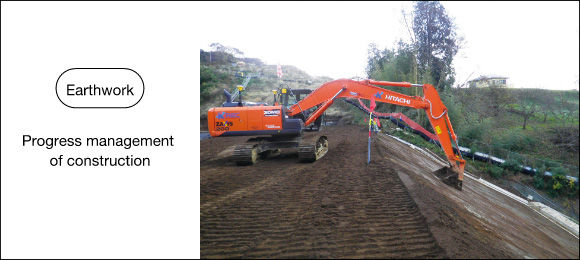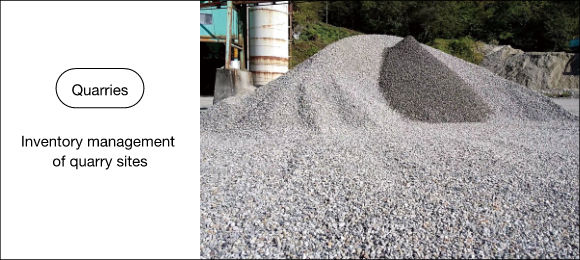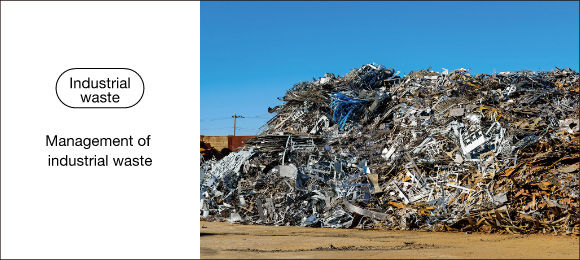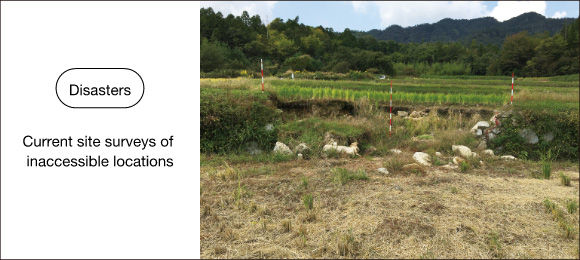 Introducing Solution Linkage Point Cloud
The information included on this page is current as of April 2021 and is subject to change without notice.
All images are for illustrative purposes only. The actual screens vary by version and model.
This service is provided in accordance with the latest service agreement. Please make sure to review the terms and conditions of this service agreement.
The service features may not provide intended functionality depending on the computer performance, operating system, network environment, and other such specifications.
Solution Linkage® is the registered trademark of Hitachi Construction Machinery Co., Ltd.
TREND-POINT is the registered trademark of FUKUICOMPUTER, Inc.