Construction Machinery with Restricted Emissions
HCM provides products that comply with the emission regulations designed for each country, including the European emission regulation, which is currently one of the strictest in the world.
HCM provides products equipped with engines that use urea SCR and CSF (Cordierite Soot Filter = DPF) systems designed to help respond to the tightening of PM (particulate matter) and NOx (nitrogen oxide) regulatory levels contained in exhaust gases emitted from construction machinery equipped with diesel engines. These products are also matched with highly-efficient hydraulically operated actuators.
Compliance with European Emission Regulations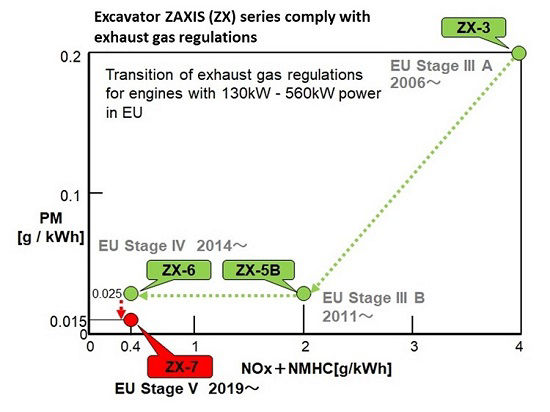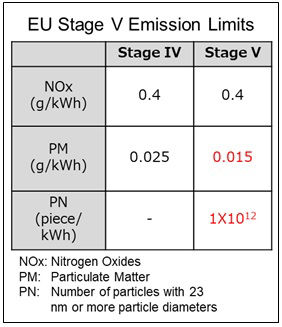 Hydraulic Excavator ZAXIS-7 Series
The new ZAXIS-7 Series of hydraulic excavators utilizes a new clean engine and a new hydraulic system which enable to reduce running costs through environmental consideration and low fuel consumption.
As environmental regulations become more stringent, the SCR system, which reduces NOx, is an essential system for next-generation diesel engines. Exhaust gas from the engine is mixed with the urea water injected in the connecting pipe and is resolved to harmless water and nitrogen by the SCR catalyst, resulting in clean exhaust gas.
ZAXIS-7 is compliant with Japanese regulations (The Offroad Act 2014), European regulations (Stage V) and North American regulations (Tier 4 Final), and the fuel consumption is reduced by 8% to 10% compared to the ZAXIS-6 series. (10% reduction for ZAXIS200-7, ZAXIS225US-7, ZAXIS225USR-7, 8% reduction for ZAXIS330-7, in PWR mode)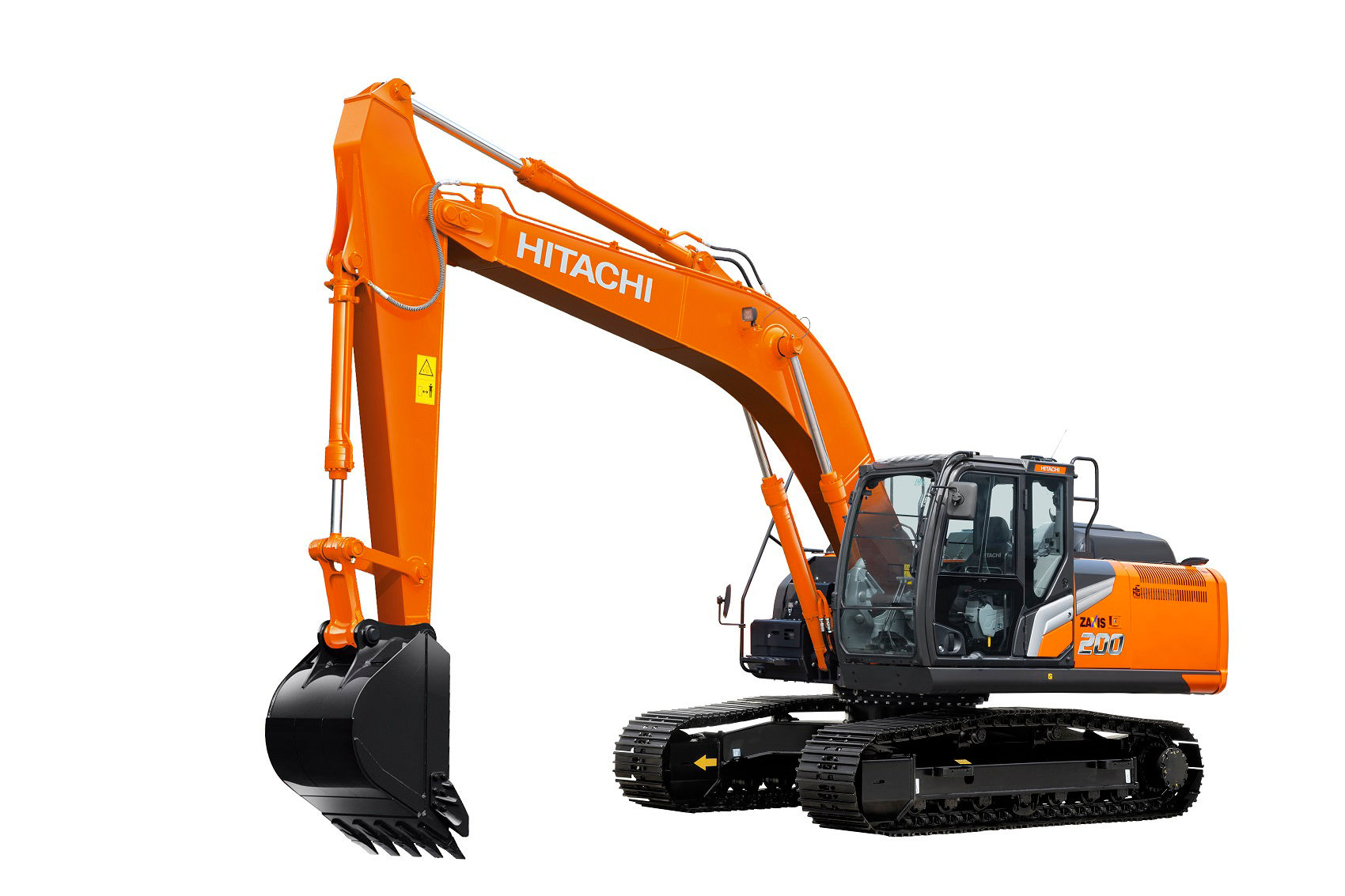 Wheel Loader ZW-6 Series
The ZW-6 Series of wheel loaders has reduced fuel consumption by 4% compared to the existing model with the ZW220-6 utilizing a new type of engine and reduced fuel consumption by 9% compared to the existing model with the ZW310-6 through advanced active engine control correcting unnecessary over-acceleration.
In addition, it utilizes an ammonia SCR system to significantly reduce the volume of PM (particulate matter) and NOx (nitrous oxide) emissions, is in compliance with the Offroad Act 2014 emission regulations, and will further improve environmental performance with the aim of realizing construction machinery meeting 100% of 2020 fuel consumption standards (application pending).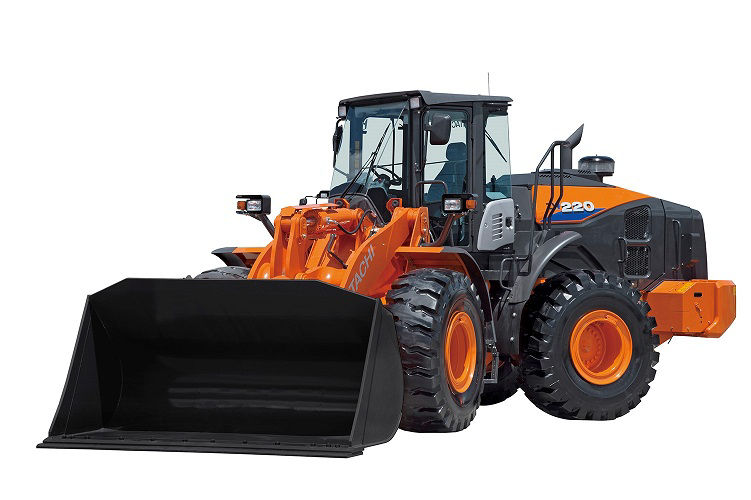 Wheel Loader ZW-7 Series
We launched the new ZW-7 Series in Europe in 2021.
The new wheel loader ZW-7 series utilizes a new engine and approach speed control which enable to reduce fuel consumption by 7% to 16%* compared to conventional models. (16% for ZW180-7, 11% for ZW220-7, 7% for ZW310-7)
This ZW-7 models also utilize a SCR system to significantly reduce PM (Particulate Matter) and NOx (Nitrogen Oxide) emissions, and complies with the European regulations (Stage V) and the Japanese regulations (Offroad Act 2014).
*Comparison with ZW-6 model under our test conditions, using power mode and approach speed control.