Products and solutions for mining operation
Major mining customers have set a goal of achieving net-zero emissions by 2050. As part of this effort, there is a particularly strong demand to reduce the emissions of dump trucks, of which there are a large number, to zero. To meet this demand, we are working with ABB Ltd. of Switzerland to make our dump trucks fully electric, and aiming to achieve net zero emissions for the entire mining site.
These trucks drive in trolley mode only when climbing hills, setting the engine to idle and drawing power from the pantograph installed on top of the body into the vehicle from the overhead wires. When loading or discharging earth, running downhill or on other locations where overhead wires are not installed, the trucks drives in diesel mode, powered by on-board generators(diesel engine power). From these functions, it leads prevention of global warming through the reduction in CO2 emissions, the reduction in fuel consumption, increase in productivity through higher speeds when climbing hills, and reduction in engine maintenance costs. These are all major benefits for our customers.
Full Battery Rigid Dump Trucks (Under development)
By replacing the engine of our current trolley-type dump trucks, which can run on electric power, with a battery, we will be able to use both the trolley electric supply and battery electric supply to achieve a fully electric machine. When our EH3500AC-3 rigid dump truck is fully electric, operating 20 hours a day will result in a reduction of 6.8 tons of CO2 emissions. *Hitachi Construction Machinery is jointly developing a fully electric rigid dump truck with ABB, a major Swiss heavy electrical equipment company, and plans to begin demonstration tests in 2024.
Ultra-Large Electric Hydraulic Excavators
Ultra-large hydraulic excavator has an external cable power supply and three-phase induction electric motor, and also many environmental benefits, such as no exhaust emissions and CO2 from the excavator itself (because no engine is on-board), as well as waste such as engine oil and filters not being generated.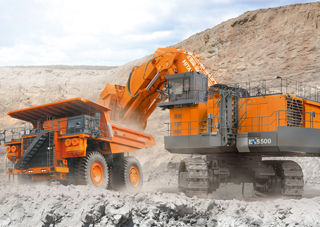 We reduce CO2 by improving product operating efficiency though our mine operation management systems. For example, ConSite® Mine leverages the power of IoT and AI to solve problems which can arise at mining sites. By monitoring construction equipment, it is also possible to predict machine breakdowns so that parts replacement proceeds in advance, maintaining high productivity. From this perspective, we will continue to help our customers reduce CO2 emissions.