Quality assurance — concept and system
Since our inception, Hitachi Construction Machinery has maintained a customer-first quality assurance system grounded in the legendary "Ochibo Hiroi" (gleanings) concept* of Hitachi, Ltd.
In September 1995, we obtained ISO 9001 certification, and established the quality policies and quality managements system for the Tsuchiura Works.  In addition, as the managing organization to promote quality assurance for the entire Hitachi Construction Machinery Group, the Quality Assurance Division at the Tsuchiura Works, our mother factory, strengthen our quality assurance system for the group as a whole by sharing essential information with, providing guidance to, building awareness among the quality assurance divisions of each Group company.
In April 2016, we launched the Global Quality Assurance Group, now called the Global Quality Control Support Section, Quality Control Strategy Department. This group reinforced our support system for standardizing quality assurance operations at overseas group companies. From April 2019, the Quality Assurance Division (which had been under the Development Production Department) was placed under direct control of the president. We aim to further strengthen governance related to quality assurance.
The Corporate Quality Assurance Division oversees quality assurance operations at all of the Group's companies in Japan and overseas. By doing so, we are able to standardize and raise the Group's overall level of quality to achieve uniform global quality.
Hitachi Construction Machinery's service-related departments of each Business Unit and the quality assurance departments of each group company collect comments and requests from customers and sales & service personnel as well as information about problems with products. This information is then consolidated at the Quality Assurance Division, Corporate Quality Assurance Group.
This information is reported at monthly product improvement meetings, which are attended by the president, and after investigation of the underlying cause of a particular problem, countermeasures are taken to prevent any recurrences of the problem in not only the product in question but all other similar products as well.
*Taken after the Japanese name of the painting by Jean-Francois Millet entitled The Gleaners. To Hitachi this means fully learn from each and every past mistake to prevent a reoccurrence of accidents and defects that happened in the past.
The Hitachi Construction Machinery Group carries out "Ochibo Hiroi", Hitachi's traditional approach meaning "gleaning" in English, through which we learn from failure and further develop our technologies. In FY2022, Hitachi Construction Machinery along with 4 Group companies in Japan and 5 Group companies overseas carried out gleaning activities.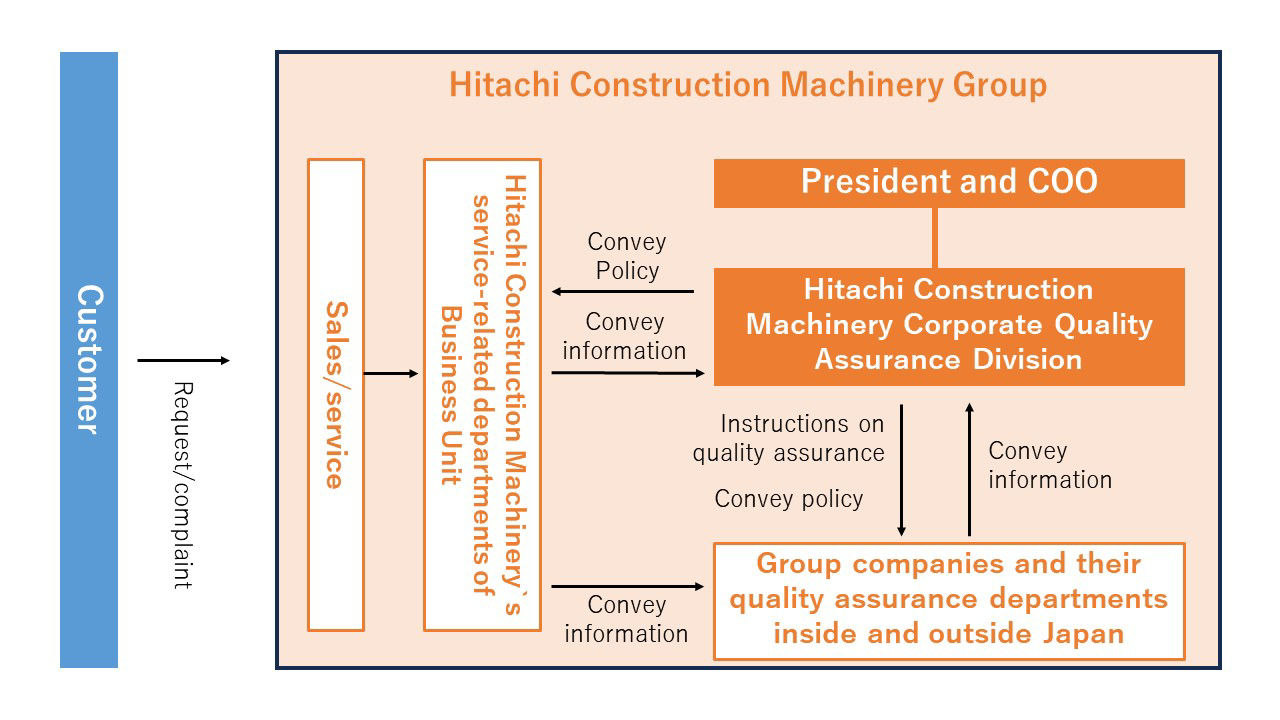 Quality assurance system of the Hitachi Construction Machinery Group
Guidelines on ensuring product safety
Our basic philosophy is to contribute to the enhancement of social capital and the improvement of people's lives by developing excellent proprietary technologies and products. We are committed to providing customers with safe products and reliable technologies that fully meet their needs both inside and outside of Japan.
Initiatives for ensuring product safety
The HCM Group carries out various initiatives in each division in order to ensure the safety of its products.
Design Department
Comply with public safety standards and the safety standards of manufacturing associations
Understand safety standards inside and outside of Japan and ensure in-house safety levels exceed these standards
Maintain and improve product safety design standards
Identify and assess latent risks
Safety against use outside of specifications, predictable misuse and breakdowns
Safety outside of operations, including installation, maintenance inspections, transport, and trouble
Ensure essential quality in design against predicted dangers
Clearly state presence of remaining dangers and ways to mitigate them using warning labels and manuals
Designate parts required for product safety
Conduct safety assessments using design reviews and product safety (PS) check sheets
Quality Assurance Department
Carry out inspections, testing, and assessments following public safety standards and the safety standards of manufacturing associations
Perform inspections on product safety and maintain/improve testing standards
Identify and assess dangers through various reliability testing, including durability tests
Function verification such as driving support equipment and collision mitigation assist equipment
Determine and implement inspection methods for designated parts required for ensuring product safety
Examine and assess whether manuals and warning signage is sufficient, details and practical
Ensure the traceability of products and parts even after delivery
Provide guidance on product safety to buyers and suppliers
Obtain information on defects concerning product safety after a product is sold and share this with relevant departments to improve products
By promoting DX (Digital Transformation), automatic judgment of various inspections/tests and improvement of quality compliance
By promoting IoT, improve efficiency of business quality, and share information with business partners
By reducing CO2 emissions,contribution to achieving SDGs
(1) Reduction of power consumption by regeneration power on the test bench of the developed model   
(2) Take measures to prevent accidents that occur in the market, thereby reducing CO2 emissions by reducing the production of new parts, transportation, replacement work, etc.
Implementation of Customer Satisfaction research
Promotion of various activities related to quality compliance (Audit,Education etc.)
Manufacturing Department
Clearly state product safety requirements for manufacturing in work standards and work instructions
Review changes in manufacturing from a product safety perspective
Manage and maintain instruments and manufacturing facilities for product safety
Ensure intensive quality management and traceability within the manufacturing process
Raise worker awareness about product safety
Provide guidance to suppliers from the perspective of product safety
Procurement Department
Oversight of guidance provided to business partners in terms of procurement, design, manufacturing, inspections and facilities
Indicate and request business partners to take necessary measures from the perspective of product safety
Clearly state in contracts accountability in case manufacturing liability issues arise due to a defect in a purchased product
Production Management Department
Identify impacts on products during storage and transport and ensure the same level of quality at customers as the time of shipment from the factory
Consider ways to protect against dangers from handling during transport using packaging and shipment format
Comply with laws and regulations during transport
If a safety defect is found in a product, the following countermeasures will be taken.
If a product safety defect is found after shipment or delivery to the customer, the quality assurance department will contact the department responsible for countermeasures and inform the customer of ways to mitigate dangers as well as take appropriate action, such as recalling and repairing the said product, including those in inventory and already delivered.
If a defect related to product safety is found after a product is already in use, the quality assurance department will identify the cause together with the department responsible for countermeasures and at the same time work together other related departments including legal affairs and services, to take action for preventing both the spread of damages and the future occurrence of similar defects.
Management system for product safety (Company-wide PS Committee)
The HCM Group has established the Company-wide PS Committee as its management system for product safety. This committee promotes activities that ensure we supply customers with products with an even higher level of safety and reliability.
Structure of Company-wide Product Safety Committee
Chairperson : General Manager of Corporate Quality Assurance Division
Members : One representative each from the design (for each product), manufacturing, production technology, quality assurance, document preparation, legal affairs and service divisions along with each Group company
Details of Activities
Holding of regular meetings
Projects under the Committee's organization, and activity reports by Working Group, such as fire prevention and safe driving education
Sharing of information on products safety (PS)/product liability (PL) inside and outside the company
Deliberations on PS/PL issues common to individual products or all products
Deliberations on countermeasures for product related defect information reported from service department
Establishment and review of company rules and regulations on product safety
Implementation of PS diagnoses (product safety operation audits) for each manufacturing base and each department (design, manufacturing, quality assurance)
Employee training on quality control
We conduct a variety of employee education and assistance activities with the aim of standardizing quality assurance levels across the HCM Group inside and outside of Japan.
We hold educational seminars to instill general knowledge on quality control including the Quality Control Course (Beginner&Intermediate), Reliability Engineering, and Product Safety/Product Liability Course. Moreover, the Global Quality Assurance Technician Training Program, which hosts trainees from overseas Group companies at the Tsuchiura Works to learn about quality control, has graduated 38 trainees to date. In FY2023, 5 trainees are undergoing training at the Quality Assurance Division at Tsuchiura Works over a one- to three-year period. In the past few years, it had stopped accepting trainees due to the COVID-19 pandemic, but it resumed in the second half of FY 2022.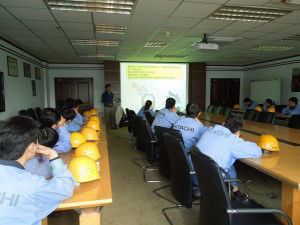 Also, in the Global Monozukuri Diagnosis activities that has been conducted since 2008, a diagnostic technician for each of the processes at Tsuchiura Works, from assembly, machining, can manufacturing, painting, and quality control, visited 13 production sites around the world to visualize vulnerabilities in each of these sites' manufacturing capabilities and quality management control through diagnosis, and provide assistance for improvement to promote the realization of uniform global quality.
Following the FY2021, overseas business trips were restricted to prevent infection with COVID-19, so we have been conducting remote diagnosis of production sites.
From FY2023, we will implement quality-compliance audits as the main focus, and if there are any weaknesses in these audits, we will implement Global Monozukuri diagnosis with a focus on areas and items.
"Kataribe" (Storytelling) sessions are held in which senior and active experts in each field convey their operational approaches, failures and technical know-how to engineers working on the frontlines. In FY 2022, these sessions were held on 64 occasions at the head office and Group companies, reaching a total of 808 employees(including web attendance). In FY 2023, we will invite new speakers and set up new sessions, with the plan to hold around of 60 sessions.
In addition, the Global Quality Control Support Section, Quality Control Strategy Department for overseas Group companies created an information link called "quality information navigation", we collect and publish educational materials on quality control that have been translated into English along with manuals and record-keeping forms on the Tsuchiura Works' quality control process and on detailed quality control operations so that quality assurance staff at our overseas Group companies can easily browse through this information.
In FY2020, we built a communication channel called Global QA Information Management System that not only sends information from the Tsuchiura Works, but also provides and publishes information from group companies. We share the excellent quality assurance activities of group companies and work to standardize and improve the quality level of the entire group.
In FY 2019, we implemented e-learning on quality compliance, mainly in the design, manufacturing, and quality assurance departments of domestic and overseas production plants.
In the future, we will continue to share the content with domestic and overseas group companies, and as a Hitachi Construction Machinery Group, we will strive to further ensure quality compliance.
Appropriate disclosure of product information
The prompt disclosure of information about our products and services is vital to earning and building trust with customers.
Therefore, Hitachi Construction Machinery shares information through various media, including its corporate website, and strives to ensure customers are informed of information concerning recalls.
For example, to ensure the quality and safety of our machines driven on public roads by customers, we collect, study and analyze information on defects that occur after a machine is sold. If a defect does not or may not conform with a safety standard, we have a system in place to ensure full compliance with the recall system stipulated in Japan's Road Vehicles Act. This includes immediately issuing a recall notice to Japan's Ministry of Land, Infrastructure, Transport and Tourism and repairing applicable machines free of charge.
Also, we provide correct information on preventive maintenance to prevent breakdowns, after-sales care, and service campaigns.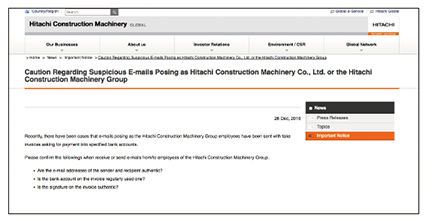 Information disclosed on our corporate website