Human Resources Development
Policies on human resources development
As needs of customer and demands of the society are changing and these changes have been dramatically accelerated, the company must respond to various changes by itself and continue to contribute to society. Human resource development is one of the most important management themes in order to realize the happiness of the employees who drive them and the sustainable growth of the company.
Under the vision of "Create an environment where each of employees learns and grows independently, lead them to resources (Kenkijin) who can create new values, challenge revolutions and contribute to society.", aiming for 2030, we will continue to contribute to society by creating comfortable living space as "close and reliable partner anywhere on the earth best solutions through Kenkijin Spirit", requirements provide Reliable solutions all over the world.
Training structure
Under the Company-wide Education Promotion Committee, which is chaired by the CEO, the Education Committee is an organization established in each department and is divided into "management", "technology/skills", "sales" and "services". It promotes measures related to human resource development. In addition, It will also support the promotion of human resource development education for Group companies through their respective divisions.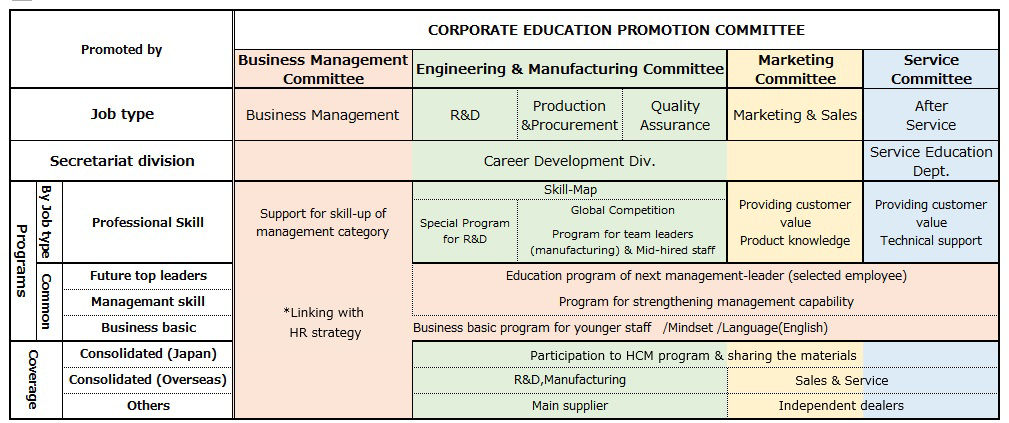 Functional Training Structure
We execute various education for future top leader programs for Hitachi Construction Machinery group employees all over the world to get the strong leadership in an era of reform through workshops and discussions.
Training system
Our educational system includes hierarchal and functional education courses as well as selective and optional training courses. (figure: Hierarchical education system)
Hierarchical education is to master the capabilities and mindset required for each job level from newly hired employees to management. The Career Development Div. provides this training to all employees requiring this training. For especially young employees, we provide various trainings to acquire core abilities for business person. (figure: Basic business training program)
Functional education is for mastering the functional capabilities required for development, production, sales, and service respectively.As for service specialist training, we have MSSP (Marketing Sales Support Program) as a program to strengthen sales agents, and for service technology, we have Hi-TEP (Hitachi Construction Machinery Technical Education Program), a certification program equipped with a training and certification system.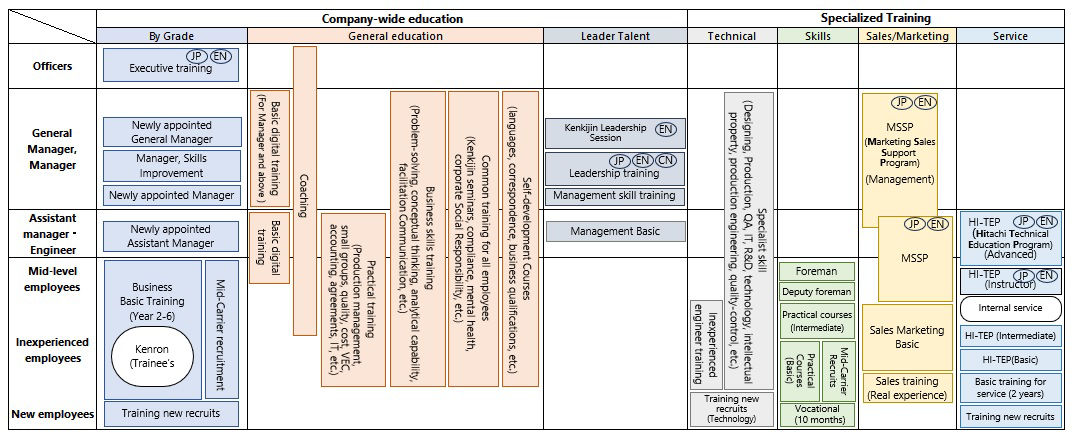 Hierarchical education system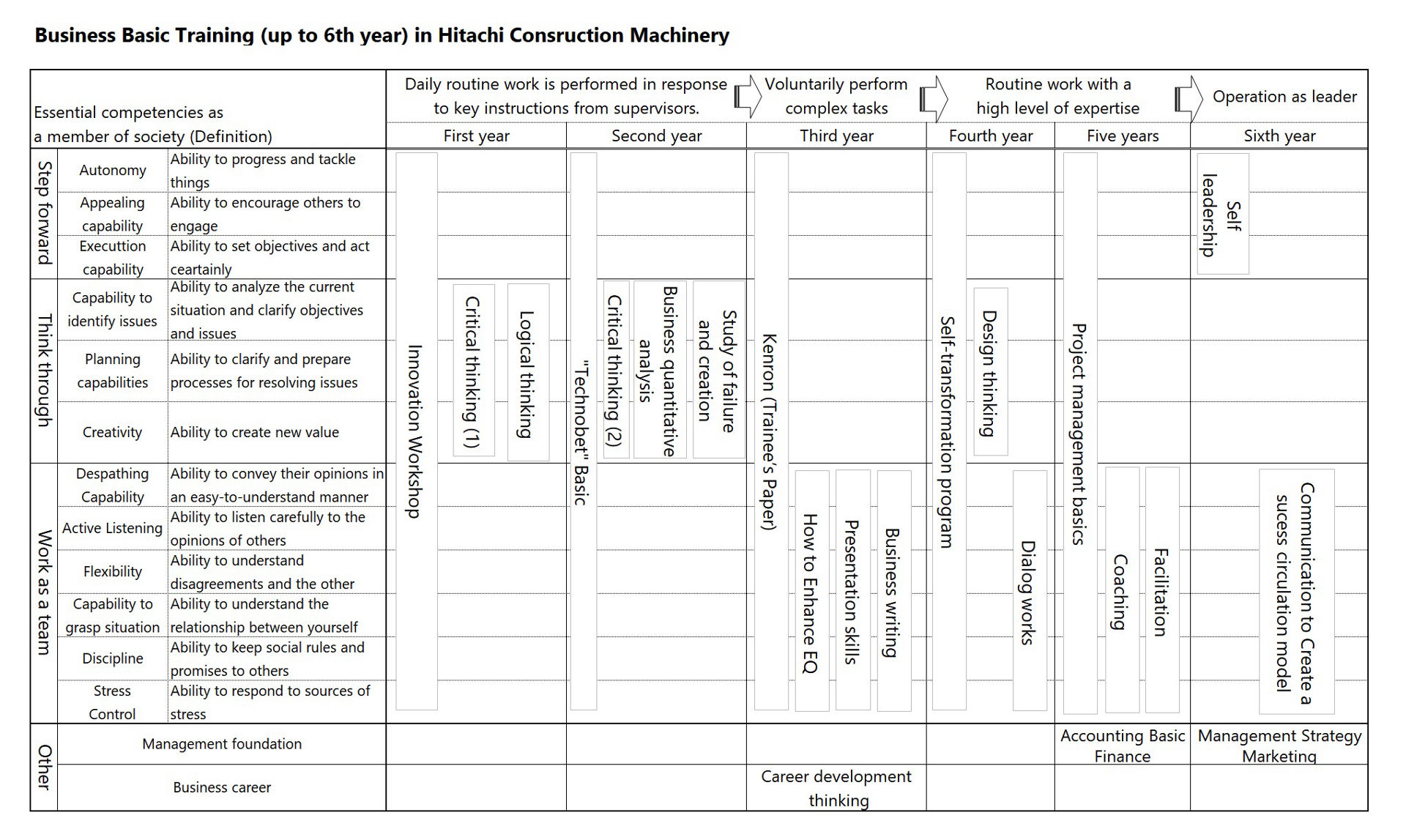 Basic business training program
The various training programs are conducted at various facilities, including the Kasumigaura Institute and the Technical Training Center (under the Career Development Div.). The Kasumigaura Institute and Technical Training Center (under Service Education Dept.) are equipped with classrooms, practice areas and machineries for skills training and accommodation facilities (Kasumigaura Institute only). An extensive range of training from skills training for new employees to management training for executives is offered. Trainees from overseas are also accepted.
Kasumigaura Institute
We have introduced e-learning because it makes it possible to acquire knowledge needed for group training and review curriculum after training. Starting from the middle of fiscal 2015, Hitachi Construction Machinery began employing Learning Management System (LMS). We are now gradually making this system available to group companies in Japan (started fiscal 2018) and abroad. Independent agencies started using the service in 2019, and we are expanding the number of companies using it as needed.
From FY2018, we have expanded the scope of use not only for e-Learning but also for group training management.
The system allows the head of a department to design a training plan for their subordinates and consider which programs the employee should take. This will enable more individualized training which focuses on key areas. We believe this will improve the motivation of each employee and facilitate the execution of a more accurate training program.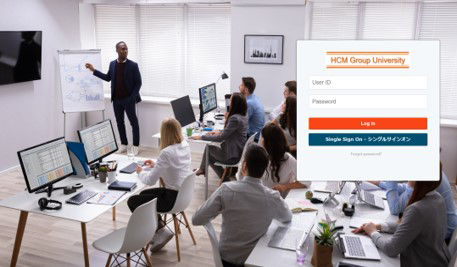 e-Learning screen
We aim to foster our human resources who will act based on the same values as Kenkijin. We hope that these Kenkijin all over the world will contribute to our customer's management as reliable partners by offering proposals and services that stay one step ahead.
Digital human resource development
We are promoting the development of digital human resources with the aim of strengthening front-line capabilities and technical capabilities. From 2021, we will open a digital challenge program as a practical DX human resource development, and digital basic training for the purpose of improving digital literacy. Approximately 1,000 people are scheduled to take the course by 2023.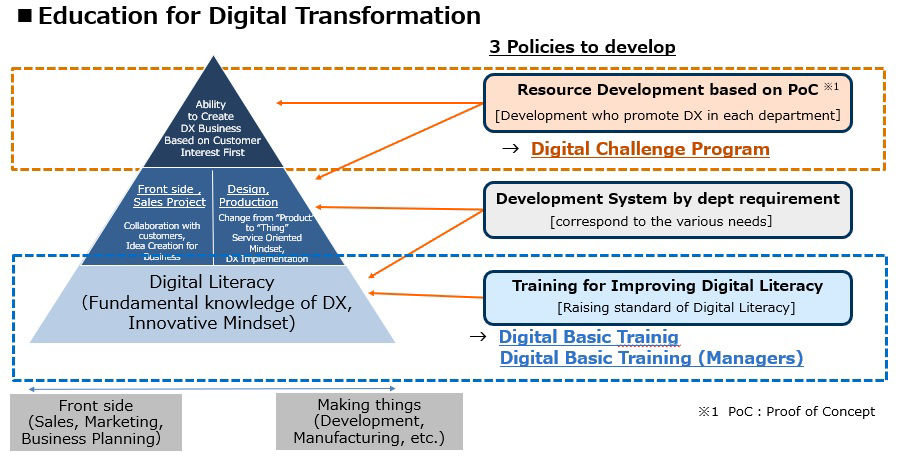 Approach to digital human resource development
Sales and service training program
Since 2013, we have been developing the MSSP (Marketing Sales Support Program) for sales agents in each region as a training program to strengthen sales agents who are responsible for sales services on the front line.

In terms of service technology, we will also provide training for service personnel with the aim of improving the technical skills of mechanics and standardizing service quality. In addition, we have developed a certification program, Hi-TEP (Hitachi Construction Machinery Technical Education Program), which has a certification system, for distributors in each region. As of the end of March 2023, 2,812 people at 53 agents in 30 countries around the world have been certified under this system and are providing daily services. (2,046 service technicians, 629 repair technicians, 4 professional technicians, 133 instructors)
Group Global Common Workshop
We  conduct workshops to create a common culture that is the foundation for improving performance and improving organizational health, with the aim of "creating an organizational culture to  survive the era of change." This is  a common essential basic business skills of Hitachi Construction Machinery Group, and consists of five programs (16 topics)  on the basic  skills required for business performance.
Hitachi Construction Machinery (non-consolidated basis), this educational program targeted Assistant Manager levels and above, including senior executives. It was held from April 2019 to June 2021, with a total of 105 times (39 online) and 96.4% of the attendance rate.

We have completed the training plan for young employees at Hitachi Construction Machinery alone, and supervisors and above at domestic group companies. Currently, we are promoting development mainly at overseas group companies. As of the end of May 2023, 4,670 employees (of which 577 are from overseas Group companies) have taken the training.

Business contest
In FY2022, a business contest for Hitachi Construction Machinery domestic group companies, "KENKI βUSINESS CHALLENGE(KβC)" was launched. The purpose of KβC is finding "seed of business ideas" and "employees with strong will to create new businesses" widely from employees, and fostering culture in which challenges are appreciated and adopted.
In FY 2022, 3,691 employees (1,620 from group companies) participated in "All Hitachi Construction Machinery Group Training Session". As a next step, "New Value Creation Workshops" were held to learn how to generate business ideas in advance to business contest entry, since generating business ideas is the first challenge for almost all employees.
Feedbacks from participants were very high, with "All Hitachi Construction Machinery Group Training Session": score 7.54/10(3,691participants) and "New Value Creation Workshops": 8.71/10(384).
100 teams have applied for KβC 2022-2023, and teams who passed the first screening proceeded to the "brush-up period", a step of enriching their business ideas with support of workshops and mentoring sessions by a business development professional coach.
Up to 10 teams will be selected at the final screening of KβC, and they will be able to spend designated amount of working hours and budget for further business development steps. By passing all gates after, they will be able to achieve commercialization of their business ideas in their own hands.
Through this business contest, we were able to increase the number of employees widely from group companies who can proactively promote new businesses and new projects. Through the brush-up period, opportunities for networking between highly motivated employees over company/department barriers were created, which helped to invigorate human resources including group companies.
In FY 2023, approximately 20 teams will take on the challenge of the KβC final gate held in July. Up to 10 teams will be selected at this gate. For the next six months, the selected teams are allowed to use 20% of their working hours for business development research and activities. After passing the next gate, the team will be able to dedicate themselves to business development, and by passing all gates after, they will be able to achieve commercialization of their business ideas.
Data on human resource development
Average hours of training per employee, amount invested in training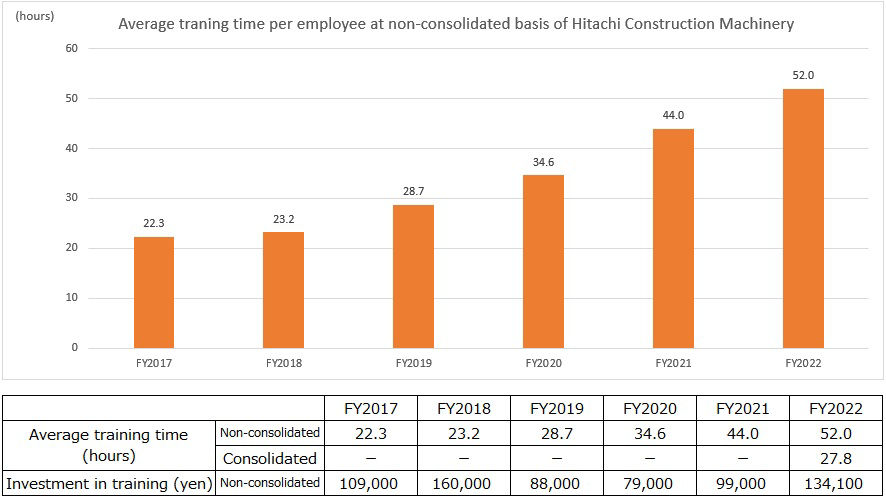 Hitachi Construction Machinery (non-consolidated basis) Excluding cost of employees. E-learning has been actively utilized since FY2019.