Fair Evaluation and Compensation
Fair evaluation and compensation policies and promotion system
There are three basic policies for personnel evaluation and compensation at Hitachi Construction Machinery: 1) performance-based personnel compensation, 2) a highly fair, transparent and credible personnel evaluation and compensation system, and 3) personnel compensation based on field-oriented policy.
In accordance with these basic policies, we have established a grade system for management level personnel that emphasizes their role and responsibilities. In addition, we have established a grade system that focuses heavily on the exhibition of skills for rank-and-file employees. We conduct evaluations and set compensations based on systems that completely eliminate any suggestion of seniority as a factor in evaluation or compensation. For non-managerial employees, we rivised the treatment system in April 2021 with the aim of improving the relationship between roles / work and remuneration, early development of human resources, and further strengthening the active participation of diverse human resources.
In addition, heavy focus is placed on achieving mutual understanding through dialogue between superiors and underlings. We are implementing Appraisal interviews and Career interviews. We believe these are contributing factors to sparking communication, the training of employees, and the credibility of evaluations.
From FY 2018, we introduced regular one-on-one monthly meetings between supervisors and their subordinates. During the one-on-one meetings, supervisors give subordinates their attention and support to help them solve problems on their own. This increases work performance and supports professional development. Through the meetings, supervisors and subordinates build greater mutual understanding and trust, and grow together. This serves to improve our human resources and strengthen our organization.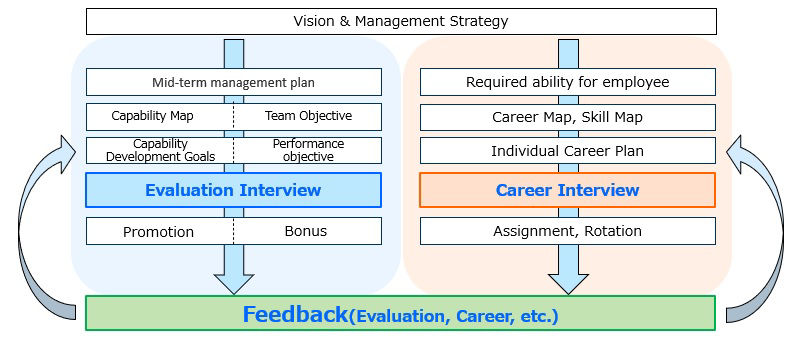 Hitachi Construction Machinery Evaluation System Flow Chart
Moreover, in determining compensation we comply with the laws of each region. The initial salary for new graduate recruits in Japan (where roughly half of our employees are located) is about 120% of the national weighted average of minimum wages in each region.
Appraisal interviews and Career interviews
In order to nurture corporate culture where each individual define what he or she should do by setting goals for each half year and voluntarily taking actions to achieve them, We have introduced an objectives management system.
In implementing the system, Appraisal interview and Career interview, where a senior manager performs for supervisors or lower subordinates that he or she manages, plays the key role. At the Appraisal interview and Career interview these three tools are used for promoting communication between the senior manager and his or her subordinate and for setting up the targets and career development plan tailored for the subordinate.