ZAXIS160W and ZAXIS210W Wheel-Drive Type Hydraulic Excavators
Hitachi Construction Machinery today announced that on November 1, 2003, it will release two new wheel-drive type hydraulic excavators in Japan, the ZAXIS160W, which has a standard bucket capacity of 0.6m3 and a total working weight of 15.5 tons, and the ZAXIS210W, which has a standard bucket capacity of 0.8m3 and a total working weight of 20.4 tons.
Developed based on the concept shared by all ZAXIS series models, the new hydraulic excavators can be operated on ordinary roads and are powered by clean engines that meet Class 2 emission standards.
In January the ZAXIS160W and ZAXIS210W were released in Europe, where they have already won an excellent reputation.
1. High level of basic functionality, reliability and ease ofmaintenance
Use of the same high-reliability front construction employed in ZAXIS crawlerhydraulic excavators.
Due to the use of tungsten carbide welds, the period between lubrication of the front pins and other bucket components has been extended to 500 hours, and a new hydraulic filter is used that only needs to be replaced every 1,000 hours.
2. Full compliance with environmental and safety standards
3. e-excavator functions
Data relating to operation (hours used, details of excavator operations, etc.) and location are collected and stored via a satellite-based or portable communication system, and used to provide more-efficient maintenance and preventive safety.
Main Specifications
 
ZAXIS160W
ZAXIS210W
Rated engine output
during operation (kW/min-1)
89.7/2,050
110/2,100
Working radius (mm)
9,000
10,150
Digging depth (mm)
5,340
6,420
Cutting height (mm)
9,090
9,850
Maximum dumping height (mm)
6,350
7,040
Maximum digging force (KN)
102
151
Speed, High/Low/Super-low (km/h)
32.0/9.0/2.3
25.0/6.6/2.0
Overall length during transport (mm)
8,440
9,740
Overall width during transport (mm)
2,480
2,485
Overall height during transport (mm)
3,100
3,320
Note: In SI international units.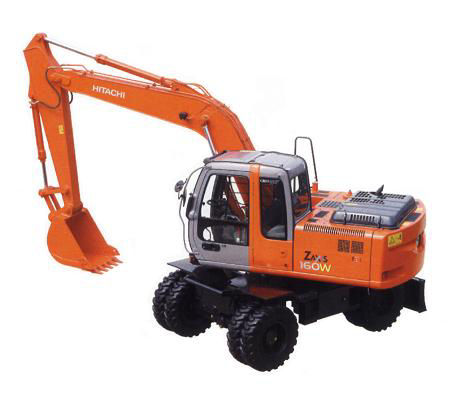 ZAXIS160W Wheel-Drive Type Hydraulic Excavator