Hitachi Construction Machinery Jointly Develops Overview Monitoring System with Clarion
24 Jan, 2011
– Supports Operator Safety Checks Surrounding Construction Machinery –
Hitachi Construction Machinery, Co. Ltd. (President: Michijiro Kikawa; hereinafter "HCM") and Clarion Co., Ltd. (President: Tatsuhiko Izumi; hereinafter "Clarion") have jointly developed an overview monitoring system to support operator safety checks surrounding machinery. The system enables synthesized images taken from several cameras mounted on construction machinery to be shown on a display from the operator's seat. The system has already completed basic performance tests using a prototype, and future plans call for commercializing the system in conformance with specifications of HCM's mining dump trucks and ultra-large hydraulic excavators by spring 2012.
Based on the development of in-vehicle compact camera technology promoted by Clarion under the concept of supporting safe, secure and comfortable driving, the overview monitoring system featuring several wide-angle cameras will be fitted on construction machinery. The images taken from respective cameras will be converted and synthesized and shown on a display from the operator's seat as a bird's-eye view focused on the construction machinery. Furthermore, in addition to the proximity of machinery, the operator can switch to "zoom display" and "wide display" in accordance with construction machinery needs requiring wide-area monitoring. With this functionality, operators can quickly comprehend situations surrounding construction machinery such as the positions of other construction machinery or service vehicles.
Up until now, HCM has been continuously promoting initiatives to enhance on-site safety. In 2001, the Company launched a rear monitoring system ahead of other companies that comprises a rear-view camera and display from the operator's seat as optional equipment for hydraulic excavators. In 2006, HCM introduced this system as the world's first standard equipment on all hydraulic excavators that are 6.5 tons or larger.
The overview monitoring system, which has been developed in collaboration with Hitachi Group companies, is expected to significantly contribute to operational safety on site, including the operation of mining dump trucks and ultra-large hydraulic excavators.
System Overview
(Example of mining dump truck equipped with overview monitoring system)
[Components]
4 cameras ([1]Front[2]Right side[3]Left side[4]Rear)
Image synthesis controller (inside operator's compartment)
Display (inside operator's compartment)
[External view]
Cameral equipment positions ([1] – [4])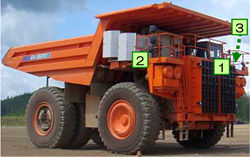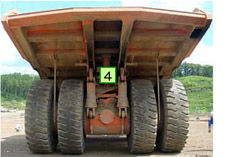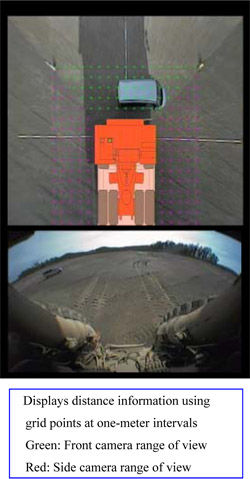 Overview (zoom display)+Rear camera image
Overview (wide display)+Rear camera image
Note: The display is currently under development.
Information presented in this press release is valid as of the date of release. Please note that information is subject to change without notice at a later date.