Hitachi Construction Machinery initiates Autonomous Haulage System Development
20 Sep, 2012
Hitachi Construction Machinery Co., Ltd. (HCM: President Yuuichi Tsujimoto) announces plans to develop a comprehensive suite of technologies aimed at delivering an Autonomous Haulage System (AHS) to the global surface mining industry by the year 2017. To develop the AHS solution, HCM will build upon existing synergies with Hitachi Ltd. that have to date delivered a world-class AC drive system specifically for HCM dump trucks manufactured in Japan.
The AHS solution will consist of a variety of advanced drive and traffic control system components on-board machines. When these are combined with wireless communications and a fleet management system, the dump truck loading, haulage and dumping operation will be automated. The AHS solution is aimed at delivering the highest levels of safety, efficiency and reliability when deployed in open pit mines. In addition, the AHS solution will enable higher productivity at a reduced overall cost per tonne. These capabilities are driven by the specific needs of mining clients for an AHS solution that can work in a variety of typical operational environments and scenarios.
HCM's objective is to deliver pragmatic yet optimized AHS solutions to their customers based on the proven Hitachi AC drive dump truck system in collaboration with the latest products from Wenco International Mining Systems Ltd. In addition, HCM will further leverage their successful technological collaboration provided by the Hitachi Group.
AHS solution field tests are planned to start in 2013 with incremental product deliveries through 2017. AHS product development will continue to evolve beyond initial product generations to meet the ever changing market needs of the global mining industry.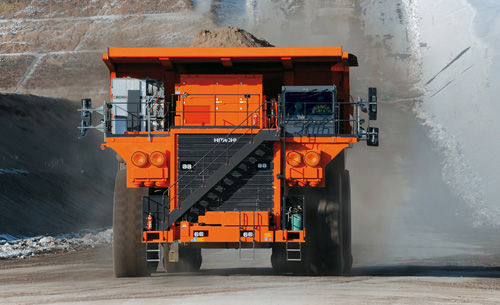 Hitachi AC Dump Truck
The contents of this news release consists of the latest information to date, and may change without notice.