Enhancing authenticity verification and traceability of service parts
Aiming to deepen Value Chain Businesses by improving the efficiency of component distribution
Tokyo, Japan January 12, 2021 —-Hitachi Construction Machinery Co., Ltd. (TSE: 6305; "Hitachi Construction Machinery") announced that the company have renewed labels on packages (hereinafter referred to as "Parts labels") of service parts sold by the Hitachi Construction Machinery group. Not only has the anti-counterfeit hologram been renewed but also it has become possible to verify the authenticity of parts by use of a smartphone because of a unique ID assigned to each part, the newly added QR code. Furthermore, a newly developed cloud-based system enables to trace the IDs assigned to parts through their distribution channels. From the beginning of January 2021 the new Parts labels has been applied to all parts shipped from Tsukuba Parts Center (Tsukuba City in Ibaraki Prefecture), which is the company's main shop to control the parts inventory of the Hitachi Construction Machinery group and ship service parts to the group's outlets throughout the world.
Customers can be easily verified the authenticity of their parts with an assured warranty.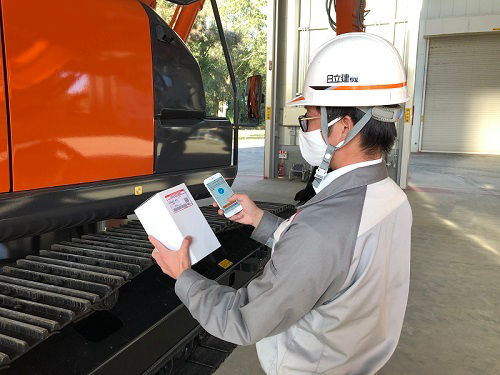 Situation of authenticity verification by a service mechanic (The image is for illustrative purposes)
The new Parts labels leverage Toppan Printing's anti-counterfeit holograms as well as the authenticity verification and traceability offered by its integrated cloud-based ID authentication service, ID-NEX®.

In April 2019, Hitachi Construction Machinery established Corporate Quality Assurance Group under the direct control of the president and has accelerated quality improvement of products globally.
Corporate Quality Assurance Group and Life Cycle Support Group collaborate to develop three categories of certified parts, "Genuine Parts," "Hitachi Construction Machinery Selected Parts" and "Remanufactured Parts" for aftermarket. This system enables customers to use service parts more reliably than before by introducing authenticity verification and traceability of parts.
By FY2022, we will use the information contained in the QR code to determine optimal transportation methods and inventory locations based on the weight and dimensions of components, and use it for parts stocktaking, actual products control, and supply operations. Through these and other measures, we aim to deepen our value chain business by improving the efficiency of parts distribution.
Main features of the new Parts labels
1. Authenticity verification of parts with smartphone

The authenticity verification of parts used to require our dedicated device to check the hologram on each part label. Now, with the new Parts labels, the authenticity verification can be easily done with smartphone by connecting to the dedicated website, activate its camera and read the QR code of the Part label. When the part's ID is legitimate, it is judged as "This part is authentic." If the ID is legitimate but the QR code has been read more than a certain number of times, it is judged as questionable and the verification count is displayed on the screen as a warning. If the ID is non-existent, a warning message "This part may not be authentic!" is displayed on the screen.
A hologram is printed on the rightmost field of the Parts label to prevent counterfeiting.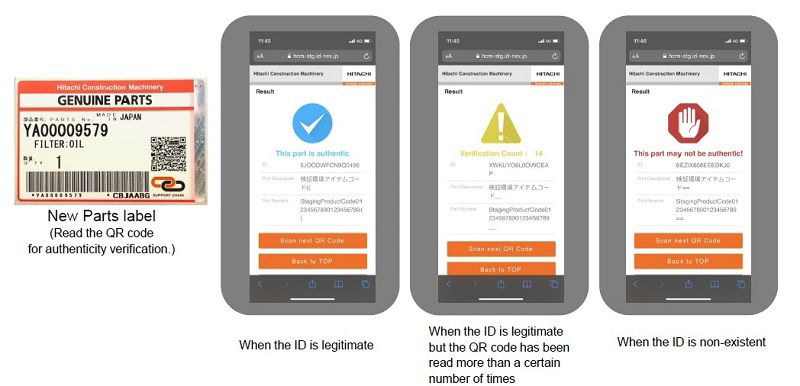 New Parts label and smartphone screen displays (for reference)
2.Strengthen traceability of service parts

QR code of the new parts label is read before they are shipped to the domestic and overseas parts depots. With this change, shipping records associated with the part IDs are cloud-stored, which enables management of individual parts information. In addition, we intend to manage inbound and outbound records of parts at domestic and overseas depots starting in 2023. This will help us establish traceability of legal distribution channels.
Hitachi Construction Machinery Group will continue to contribute towards stable operations of machines through appropriate distribution of service parts.
Trademark notes
QR code is a registered trademark of Denso Wave Incorporated.
ID-NEX is a registered trademark of Toppan Printing Co., Ltd.
Related Information
January 12, 2021
Information contained in this news release is current as of the date of the press announcement, but may be subject to change without prior notice.