Launch of ConSite Mine service solution that contributes to solving issues at mining sites by utilizing IoT and AI
Predicting anomalies such as stress-related issues in booms and arms, improving safety and productivity and reducing lifecycle costs
Tokyo, January 24, 2022 – Hitachi Construction Machinery Co., Ltd. (TSE: 6305; "Hitachi Construction Machinery") has today announced the launch of ConSite Mine to the global market – a service solution that provides machine analytics to help support the resolution of issues at mining sites by using IoT to remotely monitor mining machinery 24 hours a day, and AI to analyze the operational condition of machinery.

View of ConSite Mine Monthly Report
ConSite Mine performs round-the-clock remote monitoring of compatible ultra-large hydraulic excavators and rigid dump trucks and provides two types of status reports to the customer's maintenance staff or to service personnel at distributors. The reports are sent via email or the "ConSite Mine Shot" smartphone app. The "Monthly Report" provides updates on the machinery's operational condition each month, while the "Alarm Report" notifies personnel when any abnormalities are detected by the various sensors installed on the machinery that may require immediate attention.

A standout feature of the service is the "Load Index" function, which combines the use of AI with proprietary stress analysis technology based on Hitachi Construction Machinery's knowledge of mining machinery design and manufacturing. Load Index predicts anomalies in the booms and arms of ultra-large hydraulic excavators due to excessive stress or overloading, helping to prevent major damage or incidents from occurring.
Since mining machinery requires stable operations 24 hours a day, 365 days a year, operation data is historically collected from sensors installed on machines. However, it is generally difficult to make detailed predictions about the occurrence of problems using conventional methods; service personnel have typically used the operating time of the machinery as a guide for determining when to perform periodic maintenance, inspection, and parts replacement. The time and cost spent on inspecting machinery and identifying the causes of failures has been a burden for customers and service personnel.
By enabling service personnel to check the analysis results in reports to then perform maintenance, inspection, and parts replacement at the appropriate time according to the status of the mining machinery, ConSite Mine provides greater value to customers by improving safety and productivity, reducing lifecycle costs and minimizing the downtime of machinery.
Hitachi Construction Machinery plans to expand the features of ConSite Mine even further by connecting to the cloud-based "ReadyLine" asset health management system provided by Canada-based subsidiary Wenco International Mining Systems Ltd. Doing this will provide an integrated system management solution and enable functions such as a real-time dashboard that displays results such as fuel efficiency tuning adapted to the operations performed by the operator and the characteristics of the rigid dump truck operation site.
The Hitachi Construction Machinery Group has always aimed to serve as a familiar and trusted partner by providing reliable solutions that resolve customer issues. As we move forward with efforts to expand the mining parts and services business, we continue striving to resolve social issues around the world.
ConSite Mine is available now and customers wishing to utilize the benefits of this service solution should contact their dealer today to get started.
Delivery of "Monthly Reports" and "Alarm Reports"
ConSite Mine provides two types of reports that are sent by email or via the smartphone app "ConSite Mine Shot", to the nominated customer's maintenance staff or to service personnel at the relevant Hitachi Construction Machinery distributor. "Monthly Reports" provide updates on the machinery's operational condition, and "Alarm Reports" provide notifications when any abnormalities that are detected by the various sensors installed on the machinery requires attention.
Information provided in reports
| | | |
| --- | --- | --- |
|   | Monthly Report | Alarm Report |
| Ultra-large hydraulic excavator | Operating hours, fuel consumption, changes in coolant/hydraulic oil temperature, engine load ratio, recommended inspection points on each boom and arm part, etc. | Prediction of boom and arm damage such as stress-related fractures, detection of foreign material in hydraulic pump, overheating of hydraulic oil/coolant, etc. |
| Rigid dump truck | Operating times, fuel consumption, payload, operation time by trolley, brake frequency, etc. | AC drive system trouble, overload warning, etc. |
"Load Index" function for predicting anomalies in boom or arm
The accumulated load applied to the welded structure of the boom and arm while digging can be analyzed via the machine's sensors and AI to predict the possibility of anomalies, such as stress fractures. Unlike the common method of installing strain sensors that can detect such issues, the "Load Index" function makes it possible to provide advice on maintenance, inspection, and operation methods based on the state of the welded structure before any structural damage occurs.
Analysis of load on front structure
"Operation Data Recorder" function for recording operation data
Up to 10 minutes of machine data is recorded, automatically triggered by vehicle body conditions which may lead to an accident, such as sudden tilting of the ultra-large hydraulic excavator body. This safety feature is designed to provide insights to identify the causes of incidents, should they occur, and support the customer to establish measures to prevent similar accidents from occurring in future.
"ConSite Mine Shot" function for creating inspection reports with photos at site
As well as receiving Monthly and Alarm status reports, with the ConSite Mine Shot app, the customer or service personnel can automatically create inspection reports simply by taking photos of the inspected locations with a smartphone camera, and entering comments about the inspection results. This enables customers to maintain consistent and more accurate machine reports to better understand the status of the machine, and help support data obtained through inspection reports.

In addition to these features, Hitachi Construction Machinery plans to add a function for detecting abnormalities in hydraulic pumps on ultra-large hydraulic excavators, as well as the ConSite OIL service for remotely monitoring the hydraulic oil and engine oil information.
Supported Devices
ConSite Mine Shot is compatible with smartphone devices (not tablets) on both iOS and Android. It is available for download via the App Store and Google Play.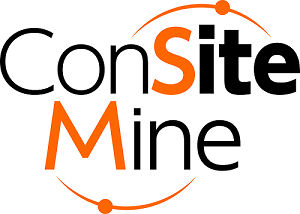 About Hitachi Construction Machinery Co., Ltd.
Hitachi Construction Machinery Co., Ltd. (TSE: 6305), headquartered in Tokyo, Japan, is a construction machinery manufacturer. The company engages in the development, manufacturing, sales, and service operations around the world for hydraulic excavators, wheel loaders, road construction machines, and mining machinery. Hitachi Construction Machinery is strengthening its focus on value chain businesses other than new machinery sales, such as parts and services, rentals, used equipment, and parts recycling, and is utilizing digital technologies to provide deeper solutions at all points of contact with customers. Hitachi Construction Machinery employs approximately 25,000 people worldwide. In fiscal year 2020 (ended March 2021), the consolidated sales revenue was ¥813 billion and the percentage of overseas sales revenue was approximately 75%. For details, visit the company's website.
Trademark notice
ConSite is the registered trademark of Hitachi Construction Machinery Co., Ltd.

Other company and product names mentioned in this document may be the or registered trademarks or trademarks of their respective owners.
Note that the information contained in this news release is current as of the date of publication, and may later be changed without prior notice.