Introduction of Business Unit System
Accelerating the resolution of customer issues and sustainable growth through business units that integrate design, manufacturing, sales, and services
Tokyo, February 24, 2022 –Hitachi Construction Machinery Co., Ltd. (TSE: 6305; "Hitachi Construction Machinery") has today announced the company will introduce a Business Unit System on April 1, aimed at accelerating the resolution of customer issues and sustainable growth. Formulated after conducting a review of the current function-based organizational structure, the new system is based on business units organized by customer type and product size, which integrate design, manufacturing, sales, and services. In the new business unit-based organization, operations will be conducted under a matrix structure supported by functional divisions such as those responsible for development strategy and quality assurance, as well as corporate divisions such as those responsible for general affairs, finance, and legal.
Through this restructuring, Hitachi Construction Machinery moves forward with the integration and reorganization of the development and production bases by customer type and product size, as announced in the "Major Domestic Restructure to Strengthen Global Competitiveness" in September 2018. By incorporating that operational structure into the Hitachi Construction Machinery business structure and establishing business units, Hitachi Construction Machinery aims to strengthen the products and services business and expand the solution business.
Specifically, five business units will be established. The (1) "Construction" business unit will handle medium and large machinery for general construction sites, the (2) "Mining" business unit will handle ultra-large mining machinery used in the mining and transport of resources such as iron ore, and the (3) "Compact" business unit will handle small construction machinery for urban civil engineering work and for the agriculture and forestry industries. In addition, the (4) "Parts and Service" business unit and (5) "Rental & Used Machine" business unit, which lead to the expansion of the value chain business the Hitachi Construction Machinery Group is focusing on, will be established. Each business unit will be set up under the direct control of the president and CEO, and the president of each business unit will be responsible for the profitability and sustained growth of the business.
In addition, the "New Business Creation Unit" will be established with the aim of generating and growing new business. The New Business Creation Unit will strive to expand the solution business by pursuing collaborative creation with other organizations, including customers, research institutions, companies, and promising start-ups.
The organizational changes associated with the introduction of this business unit system will apply only to Hitachi Construction Machinery itself. In addition, the consolidated business performance results will continue to be reported by business segment (construction machinery business and solution business).
Through the "Realizing Tomorrow's Opportunities 2022" medium-term management plan, the Hitachi Construction Machinery Group is promoting efforts to strengthen the value chain business, provide enhanced solutions, and form a highly flexible corporate structure. Hitachi Construction Machinery has always aimed to serve as a close and reliable partner by providing "Reliable solutions" that resolve customer issues. By strengthening the organizational structure, Hitachi Construction Machinery remains firmly committed to resolving customer issues and achieving stable growth.
Organizational structure from April 1, 2022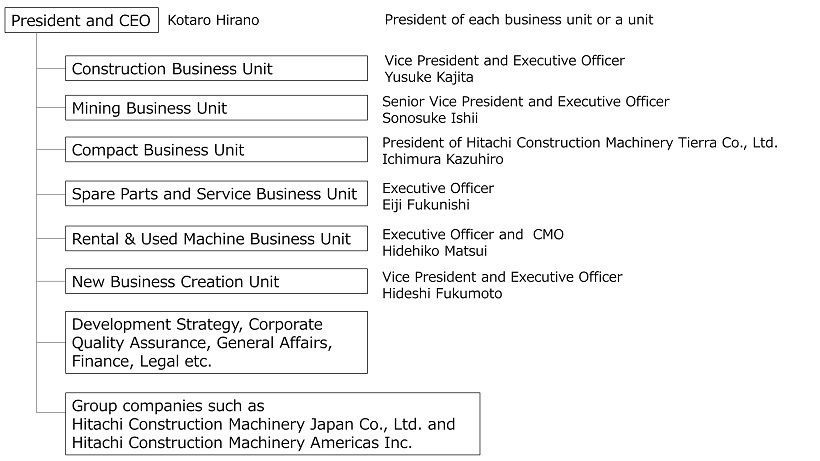 About Hitachi Construction Machinery Co., Ltd.
Hitachi Construction Machinery Co., Ltd. (TSE: 6305), headquartered in Tokyo, Japan, is a construction machinery manufacturer. The company engages in the development, manufacturing, sales, and service operations around the world for hydraulic excavators, wheel loaders, road construction machines, and mining machinery. Hitachi Construction Machinery is strengthening its focus on value chain businesses other than new machinery sales, such as parts and services, rentals, used equipment, and parts recycling, and is utilizing digital technologies to provide deeper solutions at all points of contact with customers. Hitachi Construction Machinery employs approximately 25,000 people worldwide. In fiscal year 2020 (ended March 2021), the consolidated sales revenue was ¥813.3 billion and the percentage of overseas sales revenue was approximately 75%. For details, visit the company's website.
Information contained in this news release is current as of the date of the press announcement, but may be subject to change without prior notice.