Strengthening Development and Product-Marketing Functions for Zero-Emission Construction Machinery, Assist Systems and Special Application Products in the European Market
Hitachi Construction Machinery to consolidate product-marketing, development, production, sales and service functions in joint venture company with subsidiary of an European distributor Kiesel
Hitachi Construction Machinery Co., Ltd. (President and Executive Officer: Kotaro Hirano; "Hitachi Construction Machinery") and Kiesel Technology GmbH (headquarters: Baienfurt, Baden-Württemberg, Germany, President: Toni Kiesel "Kiesel Technology"), a subsidiary of Kiesel GmbH, Hitachi Construction Machinery's European distributor, formed a basic agreement on Oct 19th, 2022 to expand their jointly funded development company EAC European Application Center GmbH (headquarters: Stockstadt am Rhein, Germany; "EAC"). This agreement will see the transfer of the product marketing, production, sales and service functions from Kiesel Technology to EAC.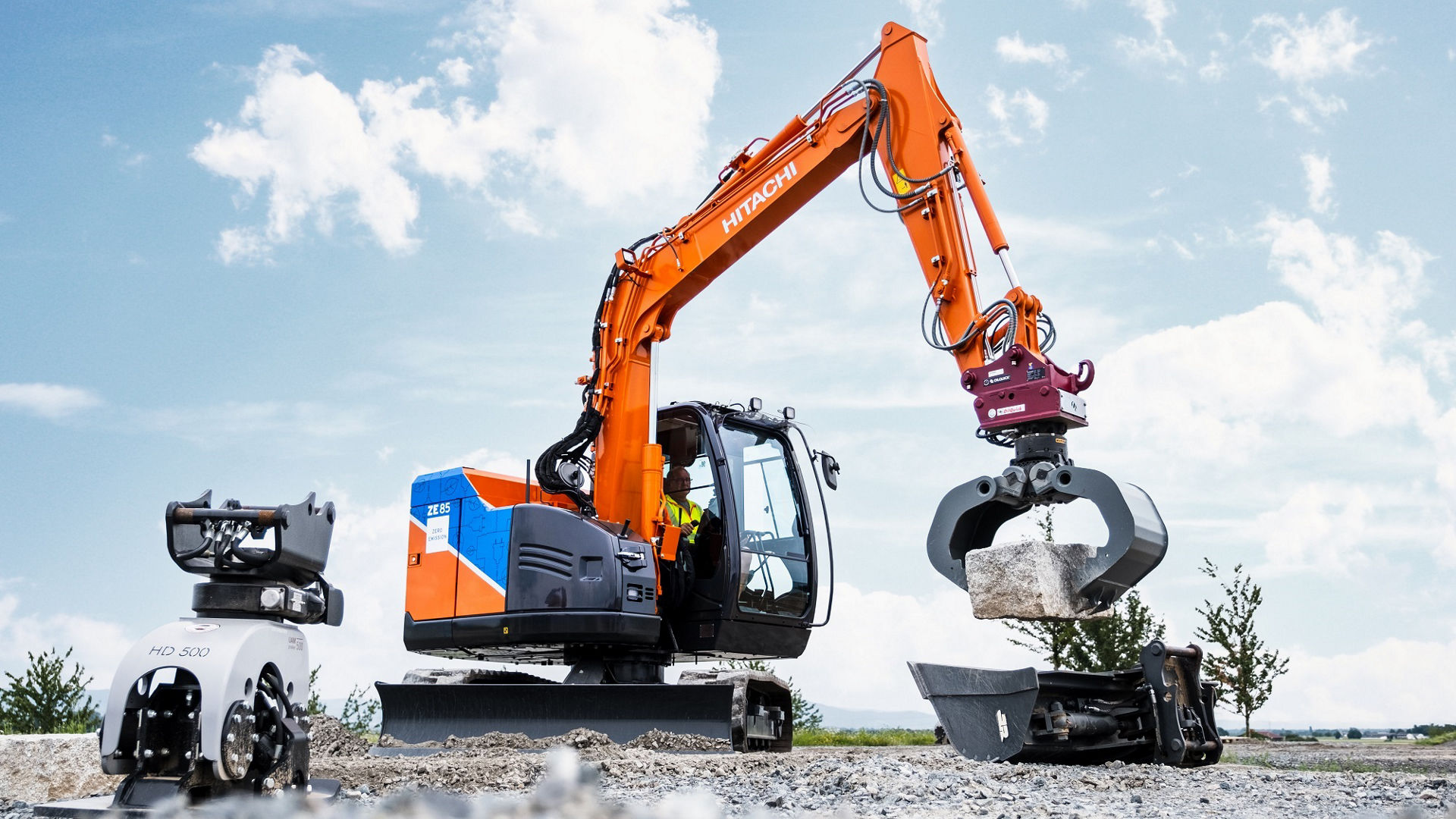 8-tonne electric excavator developed by EAC
Furthermore, EAC will be renamed KTEG GmbH ("KTEG", which stands for Kenki Technology Group) to account for its expanded responsibilities. This significant move will expedite the time to market for Hitachi's advanced zero-emission construction and special application machinery, as well as ICT(Information and Communication Technology)-supported products. It will also serve to meet the demands of the European market, with a focus on environmental concerns and the challenges faced by Hitachi owners.
Background to function expansion
The European construction industry, particularly Germany, consists of the most technically advanced/process-focused customers in the world, especially in terms of their construction machinery requirements. This is due to the strict regulations in place and the high level of awareness that exists for specific construction processes. In addition, the European market has some of the strictest regulations regarding the prevention of global warming and the realization of a low-carbon society. These initiatives in turn drive the strong demand for the electrification of cars, construction machinery and other vehicles with zero emissions.
Furthermore, there is a high level of awareness concerning the scarcity of skilled manpower and the efficiency of executing specialist projects. Therefore, it is common practice for distributors and third-party companies to develop, modify and sell excavators for multipurpose tasks, ICT construction techniques and special applications. With Kiesel Technology's wealth of knowledge and commercial expertise in the European market, EAC has developed electric construction machinery, assist systems and special application products – with a focus on demolition and civil engineering – based on standard Hitachi Construction Machinery models.

By combining EAC's and Kiesel Technology's functions in KTEG, Hitachi Construction Machinery will gain a more detailed understanding of the trends for advanced technology and the challenges faced in Europe. In addition, using products and technologies developed by KTEG, Hitachi Construction Machinery will be able to develop and mass produce cost-competitive zero-emission, special application and ICT construction machinery at the high-quality level mandated by the Hitachi Construction Machinery Group, and to expand globally, including Japan and North America.

And looking to the future, Hitachi Construction Machinery and KTEG will continue to create new industry values and contribute to the development of reliable solutions for the European market, while contributing to solve social, environmental and customer challenges.

Outline of the company after the business transfer
Name
KTEG GmbH*
*After the business transfer, EAC will be renamed to KTEG GmbH, which stands for Kenki Technology Group .
Head office location
Stockstadt am Rhein, Hessen, Germany
Representative
Toni Kiesel, Harald Thum
Investment ratio
Kiesel Technology GmbH 50.1%,
Hitachi Construction Machinery 49.9%

Established
September 2018
No. of employees
Approx. 50 (as of January 2023) (tentative)
Business operations
Product-Marketing, development, production, sales and service of zero-emission construction machinery, assist and fleet-management-systems, special application products.
Schedule
Business transfer agreement date November 2022 (tentative)
Business transfer effective date January 2023 (tentative)
About Kiesel Technology GmbH
In addition to demolition and special civil engineering machines (special application products), Kiesel Technology's business fields include "zero emission" as well as "digital, assistance systems" and "quick-change systems and attachments". The medium-sized company Kiesel Technology with its locations in Stockstadt (a. Rhein), Koblenz, Geisingen and Bad Friedrichshall is part of the KIESEL Group which consists of "Trade", "Manufacturing" and "Coreum (Exhibition platform).  Kiesel is a family-run company with headquarter in Ravensburg and is a dealer in construction, handling and used machinery.
About Hitachi Construction Machinery Co., Ltd.
Hitachi Construction Machinery Co., Ltd. (TSE: 6305), headquartered in Tokyo, Japan, is a construction machinery manufacturer. The company engages in the development, manufacturing, sales, and service operations around the world for hydraulic excavators, wheel loaders, road construction machines, and mining machinery. Hitachi Construction Machinery is strengthening its focus on value chain businesses other than new machinery sales, such as parts and services, rentals, used equipment, and parts recycling, and is utilizing digital technologies to provide deeper solutions at all points of contact with customers. Hitachi Construction Machinery employs approximately 25,000 people worldwide. In fiscal year 2021 (ended March 2022), the consolidated sales revenue was ¥1,025.0 billion and the percentage of overseas sales revenue was approximately 79%. For details, visit the company's website.
Information contained in this news release is current as of the date of the press announcement, but may be subject to change without prior notice.