Bradken Invests in Photovoltaics Specialist Enerparc Group
Increases renewable energy ratio at Coimbatore facility in India, reducing annual CO2 emissions
Tokyo, December 13, 2022 –Mining equipment parts manufacturer Bradken Pty Ltd. (headquarters: New South Wales, Australia; CEO: Sean Winstone; "Bradken"), a wholly owned subsidiary of Hitachi Construction Machinery Co., Ltd. (TSE: 6305 President and Chief Executive Officer: Kotaro Hirano; "Hitachi Construction Machinery"), has acquired 12.5% of the issued stocks of Enerparc AG ("Enerparc") group company Enerparc Solar Power 3, a photovoltaic power generation specialist with the aim of reducing CO2 emissions at its Coimbatore facility in India where power generated by solar panels will come on line in April 2023.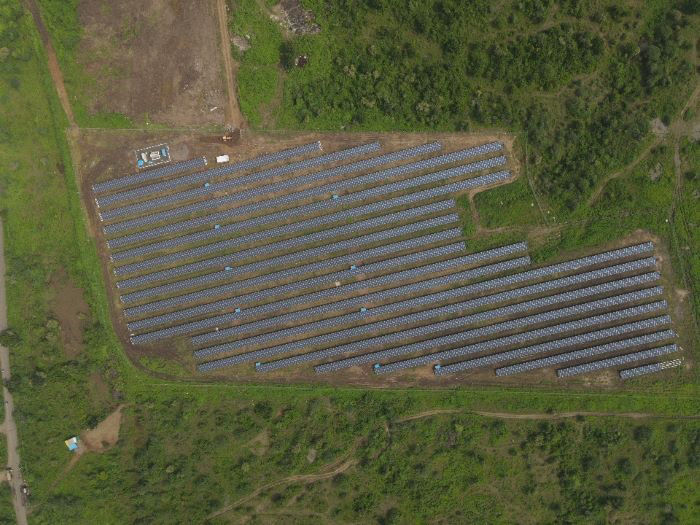 Solar panels installed by Enerparc India, Maharashtra
As a result, approximately 10.5 GWh a year, corresponding to around 40% of the current level of electricity consumption at the Coimbatore facility, will be supplied by solar power, increasing the ratio of renewable energy consumed at the entire facility to approximately 75% and reducing annual CO2 emissions by around 7,700tons.
Enerparc is a leading German photovoltaics company with operations in 25 countries worldwide, including Europe, the Middle East, Russia/CIS and Australia. It owns and operates solar power plants supplying approx. 2,500 MW of renewable electricity across the globe.

Accompanying its economic growth, demand for electric power in India is expected to grow at an annual average rate of around 4–5%* until 2030, but chronic electricity shortages often lead to disrupted power supplies. In addition, air pollution caused by coal-fired power generation and automobile exhaust emissions is a major problem. Under these circumstances, the Indian government has set a goal of 60% of the total power generating capacity from renewable sources, with plans to introduce 450 GW (510 GW if 60 GW of hydroelectric power is included) by 2030 to promote introduction of renewable energy.

* Forecast by Institute for Energy Economics and Financial Analysis (IEEFA) and JMK Research
Hitachi Construction Machinery Group has set a target of 45% reduction in CO2 emissions in its production processes by 2030 from 2010 levels and is promoting reduced CO2 emissions by converting to renewables, such as installing solar panels on the site of consolidated subsidiary Tata Hitachi's Kharagpur works in West Bengal, India in 2019. Of the approximately 134,000 tons of CO2 emitted by Bradken's total manufacturing CO2 emissions FY2021, its Coimbatore facility accounts for 24,200 tons or approximately 18%, but this current initiative will see a reduction of 7,700 tons.

Hitachi Construction Machinery Group is aiming for carbon neutrality through its entire value chain by 2050. Going forward, it will promote environment-friendly monozukuri at all production bases and group companies in Japan and overseas.

Overview of Bradken's Coimbatore Works in India
| | |
| --- | --- |
| Name | Bradken India Private Limited |
| Location | Chettipalayam - Palladam Road, Orathukuppai Coimbatore, India 641 201 |
| Number of Employees | 425 |
| Main Products | Mill liners (for mineral processing equipment used at mining sites) |
Name
Enerparc AG
Representative
CEO: Christoph Koeppen
Location
Zirkusweg 2
20359 Hamburg, Germany

Number of Employees
Approx. 310
Main Business
Development, design, construction and operation of photovoltaic power generation systems
About Hitachi Construction Machinery Co., Ltd.
Hitachi Construction Machinery Co., Ltd. (TSE: 6305), headquartered in Tokyo, Japan, is a construction machinery manufacturer. The company engages in the development, manufacturing, sales, and service operations around the world for hydraulic excavators, wheel loaders, road construction machines, and mining machinery. Hitachi Construction Machinery is strengthening its focus on value chain businesses other than new machinery sales, such as parts and services, rentals, used equipment, and parts recycling, and is utilizing digital technologies to provide deeper solutions at all points of contact with customers. Hitachi Construction Machinery employs approximately 25,000 people worldwide. In fiscal year 2021 (ended March 2022), the consolidated sales revenue was ¥1,025.0 billion and the percentage of overseas sales revenue was approximately 79%. For details, visit the company's website.
Information contained in this news release is current as of the date of the press announcement, but may be subject to change without prior notice.