Hitachi Construction Machinery Signs Memorandum Concerning Collaboration on Mobile Energy Storage Systems for Construction Sites
Promoting collaboration in the zero emissions field with a focus on the European market where advanced initiatives are making progress
Tokyo, October 24, 2023 – Hitachi Construction Machinery Co., Ltd. (TSE: 6305, President and Executive Officer: Masafumi Senzaki, "Hitachi Construction Machinery") signed a memorandum on 19th October with Alfen B.V. (Head office: Almere, Netherlands, CEO: Marco Roeleveld, "Alfen") and ITOCHU Corporation (Head office: Minato-ku, Tokyo, President & COO: Keita Ishii, "ITOCHU") regarding collaboration on mobile energy storage systems for construction sites aimed at achieving zero emissions at construction sites in Europe.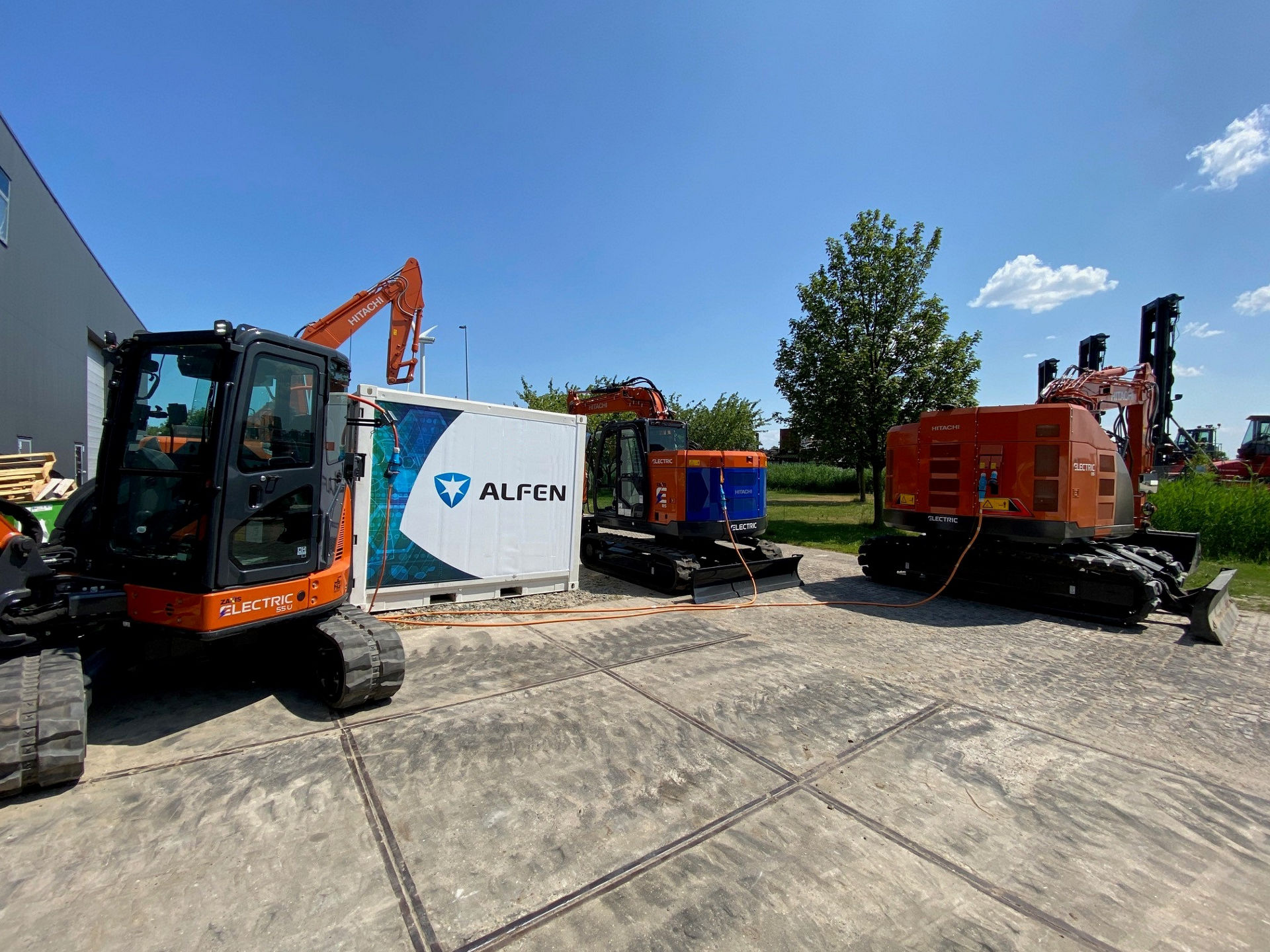 Hitachi Construction Machinery's battery-driven excavators powered by Alfen's mobile energy storage system
Based on the signing of this memorandum, Hitachi Construction Machinery Europe, a sales and servicing subsidiary of Hitachi Construction Machinery, will begin sales and rentals of Alfen's TheBattery mobile energy storage system to the European market through its sales network in 2024. In addition, as part of the procurement scheme, ITOCHU and its overseas affiliates will provide financial support and cooperation to Hitachi Construction Machinery Europe and its dealers. Going forward, the companies will consider a business model that includes sales promotion to regions outside of Europe, the reuse and recycling of used portable charging equipment, and the offering of solutions aimed at helping construction sites achieve zero emissions and more efficient energy use.
1. Background to the signing of the memorandum
Interest in electric construction machinery, which does not produce carbon dioxide or other greenhouse gases during operation, has been increasing in recent years. The European market in particular is one of the world's toughest markets in terms of regulations to combat global warming and realize a decarbonized society, and it is a region with a strong need for electric construction machinery. At the same time, because construction machinery is frequently used in locations which lack nearby charging equipment and temporary power supplies and then moved to a different construction site when the work is finished, it is not efficient to install extensive charging equipment at each site. Therefore, it is essential that mobile energy storage system be provided to achieve zero emissions at construction sites, which led to the signing of this memorandum. Alfen's mobile energy storage system fits into a 10-foot container size, which enables it to be moved by truck similar to container transportation in Europe, and on a full charge the system can charge a 13-ton class battery-driven excavator roughly two times.
2. Objectives and details
The three companies signed a memorandum regarding the handling of mobile energy storage system for construction sites and will collaborate to achieve zero emissions at construction sites.
They will utilize their experience in the future business to consider horizontal deployment to other markets.
Hitachi Construction Machinery
sales and rentals of mobile energy storage systems
Alfen
product development, production, delivery, and maintenance of mobile energy storage systems
*Alfen web site

ITOCHU

sales, financing, and rental support for mobile energy storage systems
Building and procurement of power storage systems at construction sites and the recycling and reuse of power storage systems
In August 2022, Hitachi Construction Machinery signed a capital alliance agreement with a special-purpose company jointly owned by Japan Industrial Partners and ITOCHU which will promote collaboration in all areas including the sales, distribution, financing, rental, and used sales of construction and mining machinery, etc. In the zero-emission construction site field, Hitachi Construction Machinery is currently taking orders for four models of battery-driven compact excavators for urban civil engineering together with KTEG GmbH ("KTEG") in the European market. However, to achieve zero emissions at construction sites, it is necessary to realize not only the electrification of construction machinery but also the development and efficient operation of charging equipment and other forms of infrastructure. This collaboration is as part of Hitachi Construction Machinery's efforts to promote zero emissions as announced in the press release titled "Hitachi Construction Machinery Strengthens Structure for Promoting Zero Emissions at Construction Sites" on September 21. By increasing the number of partner companies through this collaboration, the company aims to enhance its product lineup and service menu in addition to KTEG Power Tree, a mobile energy storage system already marketed by KTEG, and accelerates its contributions to the realization of zero emission construction sites, which is an area of rapidly growing interest.
About Hitachi Construction Machinery Co., Ltd.
Hitachi Construction Machinery Co., Ltd. (TSE: 6305), headquartered in Tokyo, Japan, is a construction machinery manufacturer which globally deploys development, manufacturing, sales, and service businesses for its hydraulic excavators, wheel loaders, compaction equipment, and mining machinery, etc. In addition to its new machinery business, Hitachi Construction Machinery is expanding its "value chain businesses" of parts and services, remanufacturing (parts and machines), rentals, and used equipment as it aims to grow together with customers as a true solutions provider that offers innovative solutions to customers. With roughly 25,000 employees around the world, the consolidated sales revenue for Hitachi Construction Machinery was ¥1,279.5 billion for fiscal year 2022 (ended March 2023) with an overseas sales revenue ratio of 82%. For more details, please see the the company's website.
Information contained in this news release is current as of the date of the press announcement, but may be subject to change without prior notice.