EX8000 – The Orange Colossus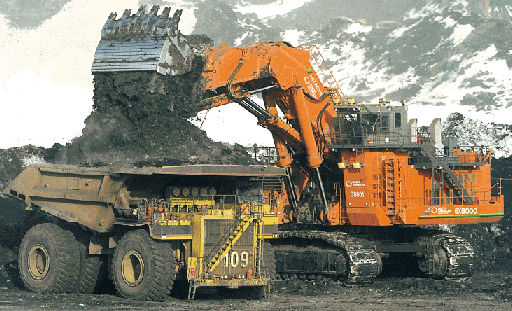 "I'm very impressed with the EX8000 and the support the Hitachi organization has given us. We're very thankful to have a great customer like North American who is dedicated to the Hitachi line. It's very evident when you go to their jobsite and see the sea of orange." – Dean Coleman, Sales Manager, WAJAX Industries, Fort McMurray, Alberta
One can't help be awed by the sheer size of Hitachi's EX8000 shovel. The 1,719,600-pound behemoth looms Bunyanesque over 350-ton capacity haul trucks and dwarfs large dozers as if they were mere Matchbox™ toys. And watching it devour earth while four-pass loading a 350-ton haul truck in just two minutes is nothing short of astonishing.
The first EX8000 was undergoing fieldtests in the oil sands of northern Alberta. It landed at the Port of Vancouver, British Columbia, last fall and made the 940-mile (1500 km) trek to Fort McMurray by train and by truck. It took five railcars and 20 trucks to accommodate this monster, and we're told the hight of the caravan carrying the unassembled machine created quite a stir in the towns and cities along the way.
The EX8000 is based upon the reliable and highly successful EX3600 platform.
It uses two Hitachi S16R engines that generate a combined horsepower of 3,760 hp (2800 kW). This means that engine parts, service, and warranty are a ll through Hitachi, for simplified one-stop shopping.
The cab is almost twice the size of the EX5500's – giving the operator more room and better visibility, as well as providing a large utility space. Wide-angle cameras, located on the two back corners as well as on the right side, feed a color monitor to give the operator an excellent splitscreen view all around the machine.
Assembling a machine of this magnitude is a monumental task even in ideal conditions. Getting it done in the sub-zero / high-wind-chill climes of northern Canada was a job to try men's souls.
Source is from JDCFC, John Deere worldwide construction & forestry division.