Hitachi excavators climb to new heights
19 Jul, 2006
Russell LeQuesne owns TPP Contracting, a company with a close connection to the earth and sky. TPP Contracting are contracted to Ruapehu Alpine Lifts and the Department of Conservation for excavation and maintenance work in and around the World Heritage Tongariro National Park, including Mt Ruapehu, New Zealand's largest active volcano. The contract, which TPP have held for a number of years, includes maintaining the mountain, its roads and car parks and in recent times the installation of a sewage scheme on the ski field, approximately six kilometres of pipe work, installation of a snow making system and other civil contracting work at heights of up to 2,000 metres altitude.

World-famous Mountain view around Tongariro National Park
Russell runs a Zaxis 120 which he purchased from CablePrice in 2005. This is the fourth Zaxis120 that has been purchased new from Cable Price as well as a ZX160LC which replaced an earlier EX150-5 and a CablePrice KiwiClass Import Dynapac RC45 roller. Russell recalls "TPP purchased its first EX120-2 from CablePrice in 1991 and have had a trouble free run out of the excavators and can't fault CablePrice on service".
Both the ZX120 and ZX160 slowly and steadily walk their way up the mountain, walking over tyres to assist with traction, but mainly to avoid damaging the lava on the mountain. The excavators are also fitted with JB quick hitches and a pick which is used to assist stability during the assent, and to being preparation work for pipe laying. Tight conservation requirements mean all earthworks must return the land to the way it was prior to the work being started.
The mountain hungry Hitachi ZX120 was recently utilised by TPP to run new pipelines to the top café/restaurant on the Whakapapa Ski Field as part of a mountain resource upgrade for D.O.C and Ruapehu Alpine Lifts.
The busiest time of the year for TPP's general maintenance and contracting work is the off-peak ski season. In the summer Russell rushes around the National Park preparing it for the next winter ski-season, while in the winter months Russell also gets into snow and track clearing on the mountain, with a ZX120 based on the mountain year round.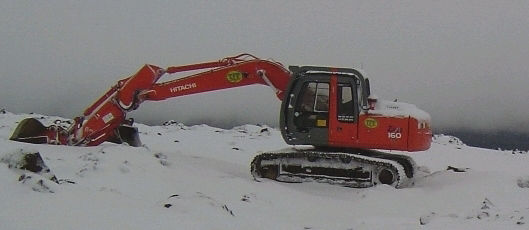 Zaxis 160LC working in the snowy mountain
TPP's Hitachi excavators are yet another example that every morning in New Zealand, thousands of Hitachi excavators start up and go to work…even at 2,000 metres altutude!
The article is from our dealer Cable Price in New Zealand, and the dealer is just released on Track & Wheel magazine. If you have some interests, just see this magazine!