Hitachi Construction Machinery (Europe) NV wins Deshima Netherlands Award
10 Jan, 2008
The Dutch Economic Affairs Minister Van der Hoeven has presented Hitachi Construction Machinery (Europe) NV with the Deshima Netherlands "newcomer" Award for 2007. Fujifilm Manufacturing Europe BV has also been recognised with the prestigious "well established" accolade.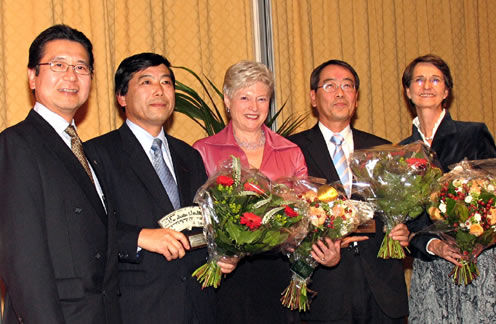 The two Japanese companies are the inaugural winners of the Deshima Dutch Award. The Government's Economic Affairs department is eager to highlight the importance of Japanese investment in The Netherlands.
The award recognises the impact which companies are making in The Netherlands from an economic point of view. Other factors considered in the judges' decision were stability, corporate social responsibility and relationship with Dutch business.
During her speech, Minister Van der Hoeven referred to the importance of the economic relationship between The Netherlands and Japan. More than 400 Japanese subsidiaries have been established in The Netherlands over the past 400 years. With a combined turnover of 12 billion euros and the creation of more than 24,000 jobs, The Netherlands is ranked third among countries in which Japan invests.
Hitachi Construction Machinery (Europe) NV has enjoyed successful trading since it was established in Oosterhout as a subsidiary of the Hitachi Construction Machinery Group. In 2001, the company expanded its operations in the Amsterdam port area to concentrate on the European market and its rapid development since then has led to this "newcomer" award.
Nowadays the company employs nearly 500 people in Amsterdam and the expectation is that this figure will continue to grow. HCME employs a total workforce of more than 800 people.
Hitachi Construction Machinery (Europe) NV has also been able to significantly increase its turnover and profitability on an annual basis. This has been attributed to the company's anticipation of the growth of the European construction machinery market, an active sales network and the expansion of the efficient operation.
After only five years, the factory is shipping around 6,000 mid-range excavators per annum and sales have increased from 401 million euros in 2003 to 1.052 billion euros in 2006.