Environmental Activities Site Launch
21 Jun, 2013
Hitachi Construction Machinery Co., Ltd. has redesigned "Environmental Activities Site" of its official web-site. To provide expanded and plain information, we use photos and pictures that can visualize the contents.
Hitachi Construction Machinery Group implements various initiatives for ESG (Environment, Society, Governance). This site shows "Environment(E)" subjects, such as environmentally-conscious products, activities to reduce environmental burden, co-operation with local community, also provides environmental load data of the HCM Group.
Construction machines work under tough conditions, you may not image the words ""Ecology" or "Environmentally friendly". However, our environmentally-conscious products can help to reduce CO2 emissions during the use, and it contributes to the prevention of global warming.
We consider the future environment through our products.
You could see how "Construction Machinery" and "Ecology" relate each other on "Environmental Activities Site".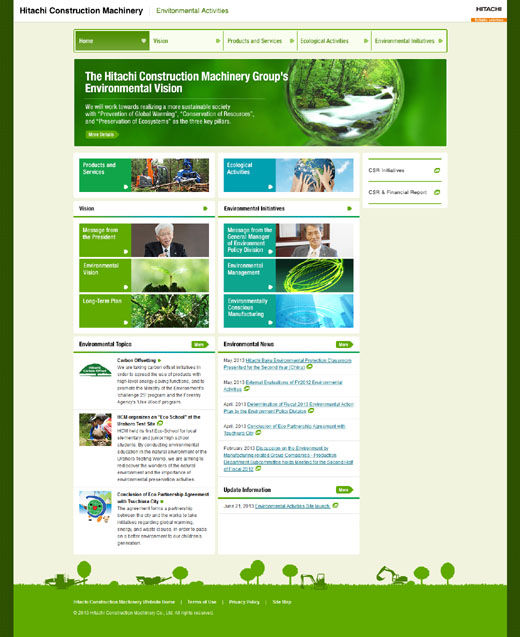 Environmental Activities Site's layout