3rd Eco School at Urahoro Test Site
On July 29, Hitachi Construction Machinery hosted the third Eco School at the Urahoro Test Site. This "school" is a part of the Youth Leaders' Training Seminar, which was sponsored by both the Urahoro Board of Education and the Urahoro Children's Association Liaison Council. Eight elementary and junior high school students from the Urahoro school district participated this year.
The environment class utilizes slides and panels to introduce the global environment and nature of the Tokachi and Urahoro areas. Students learned about the traits and ecosystem of salmon and trout family, while being exposed to the Japanese trout living in the stream at the test site. In the hands‒on learning segment of the program, students were given the opportunity to ride on excavators and dump trucks, and experienced digging holes without the help of machinery. This provided them with the experience of what it was like to work with this type of machinery and the impact it has on the environment. Furthermore, at the reservoir on the site, students used fishing nets to catch 4‒5 types of aquatic insects. Teachers explained the names, varieties, and the ecosystem of the insects the students caught.
Lastly, the half day program was ended with a lecture on rice and rice bran by Ms. Murata, a food researcher from a group that studies the local culinary dishes of the Tokachi area, as the students ate their lunch.
The Eco School provides a great opportunity to learn about the correlation between our lives and the environment. We plan to continue to contribute to local communities and raise public awareness through our environmental education activities.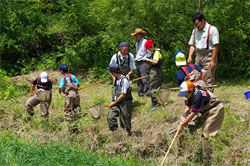 Catching insects in the reservoir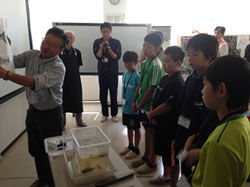 Learning about fish using a live Japanese trout as a example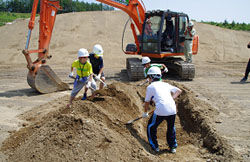 Digging holes the old‒fashioned way takes time and strength!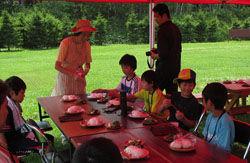 Listening to a lecture on food during lunch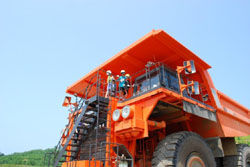 Taking a ride on a dump truck! Students exclaimed about how big and high off the ground it was!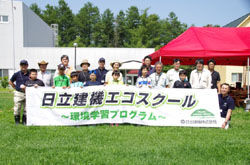 Commemorative picture in front of the Urahoro Test Site