Private-sector Training for School Teachers
Hitachi Construction Machinery Co., Ltd. conducted private-sector training for school teachers over a three-day period spanning August 18-20, 2014. This training, held at the request of the Bunkyo City Board of Education, enables school teachers to experience firsthand the corporate activities of a private-sector company. The objective is to give teachers the opportunity to directly come in contact with management strategies developed based on corporate philosophy, customer service, and cost awareness issues, and get them to use what they learn in school activities and to improve classes. We began implementing this program in FY2011. This year 18 teachers participated.
Day 1 of the program consisted primarily of listening to a lecture on corporate philosophy, CSR (Corporate Social Responsibility) and environmental activities. On Day 2, teachers took a tour of the Tsuchiura Works, Technical Training Center, and the Kasumigaura Institute. At the Tsuchiura Works, the teachers observed the Monozukuri manufacturing process as well as safety management of employees working at Tsuchiura. In addition, at the Technical Training Center, participants watched a demonstration of actual machinery in action, including the ASTACO (Advanced System with Twin Arm for Complex Operation) construction machine, and also practical training for global services and sales-related employees. Day 3 of the program was carried out at the Kasumigaura Institute. Teachers were given the chance to experience firsthand a portion of the Monozukuri process by using a welding simulator, and exchanged opinions with institute employees on human resource training.
We received some of the following comments from the teachers that participated‒"It was great to get a chance to see what activities private sector companies are carrying out," and "The Kenkijin Spirit being implemented by the HCM Group will be particularly helpful as a reference point for conducting future school activities." We feel encouraged by the opinions we received and plan to continue to invite people to participate in corporate training.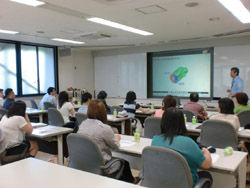 Teachers intently listen to the lecture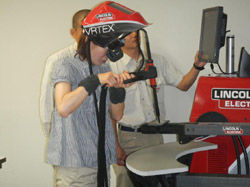 Training using the welding simulator
Demonstration of ASTACO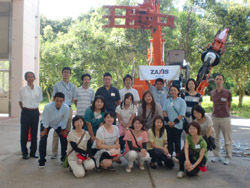 Commemorative picture taken in front of the ASTACO