Environmental Communication with HCM Tierra Hekisui-kai-Itoen Co., Ltd. Gives Special Lecture on CSR/CSV (Hitachi Construction Machinery Tierra Co., Ltd.)
HCM Tierra holds a production briefing four times a year (includes both main and sectional meetings) with the Hekisui-kai (Chairman Kazuo Murata), a group made up of major suppliers. Communication is carried out regarding company policies, including environmental initiatives.
At the FY2014 autumn briefing, which was held at the Hotel Granvia Kyoto on September 11, 2014, we explained our production plans and plans to reduce our cost of sales to 81 suppliers (176 participants). We also briefed participants on environmental activities, including the ongoing promotion of energy efficiency as one measure for reducing our cost of sales. Many suppliers expressed their interest as environmental activities not only impact costs but are also associated with laws and regulations. At this briefing, Mr. Sasaya, managing executive officer and director of CSR promotion at Itoen Co., Ltd. gave a special lecture on fortifying partnerships with suppliers for CSV (creating shared value) and sustainable development.
CSV is an initiative the Hitachi Construction Machinery Group is undertaking in the environmental medium-term plan and is a theme being carried out together with stakeholders. At HCM Tierra, we plan to work with our procurement department to engage in communications with suppliers from a CSV perspective, which will become more important going forward.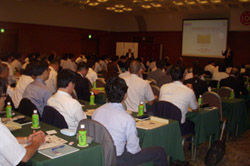 Full house at the autumn meeting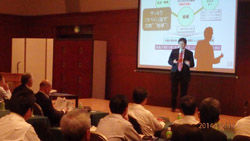 Lecture by Mr. Sasaya of Itoen Co., Ltd.