Environmental Protection Classroom-an original skit and quiz to teach children about the environment (Hitachi Construction Machinery China)
On November 20, 2014, Hitachi Construction Machinery (China) Co., Ltd held its environmental protection classroom at Yi liu ba qiang wei xue yuan-elementary school in Hefei City, Anhui Province. This is the sixth time the classroom was hosted. This time the Environmental Protection Office for Hefei City Economic Development Zone offered its cooperation. A total of 108 elementary school children participated in this huge event, which was a collaboration between industry, academia, and government.
An environmental quiz and skit∗, which was performed by employee volunteers, were used as tools to promote communication with the local community and to raise environmental awareness among the children. The theme of the skit was separating garbage. The skit showed the children in a way they could understand that waste was actually a valuable resource that was just in the wrong place. This was a significant event for raising environmental awareness among both participants and sponsors.
∗ The skit was titled "Mobilizing people to separate garbage". The story is about a PET bottle that is thrown away by a human but goes on a journey in pursuit of self-worth as the PET bottle is convinced it still has value for other uses. During his travels, the PET bottle encounters Hitachi-chan who is working hard to carry out eco-activities. As the two join forces to take on eco-activities, eco-warriors gather from neighboring areas to help improve the living environment for humans.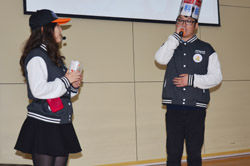 Employees volunteered to be in the skit
Children are drawn into the skit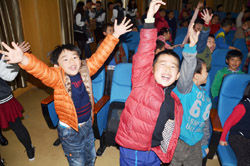 Children give a rousing round of applause for the quiz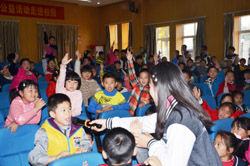 What's the answer to the quiz?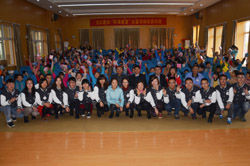 Group picture of all participants