Volunteer at Animal Lovers League (Hitachi Construction Machinery Asia and Pacific)
Animal Lovers League (ALL) is a Singapore registered charity and home to approximately 700 dogs and cats. The animals under its care consist of vagrant strays, abandoned, traumatised, abused and rescued animals.
Eleven Hitachi Construction Machinery Asia and Pacific (HMAP) Corporate Social Responsibility (CSR) committee members and volunteers had an enriching time with the shelter's residents on 26 June 2015. We were greeted by the excited barks from the shelters' dogs at the front gate when we arrived. They walked alongside us as we were led into the shelter through the wired gates. We could really sense their friendliness towards us. It is also interesting to find dogs and cats roaming freely in the open compound and co-existing harmoniously at the shelter.
Soon, we got down to work at the shelter. We cleaned up waste and cleared the dried leaves that littered the grounds so that the dogs and cats were able to play and relax in a clean, uncluttered and comfortable environment. We gladly scrubbed and washed the soiled cages and cleaned up the kennels. We also removed the spider webs that spanned in the kennels. All this time, the shelter's animals seemed to understand our efforts at the shelter. They mingled freely around us as we worked, as if it was their way of saying "thank you" to us.
We also took the dogs out to the open compound for walks. They were extremely eager and excited as they usually have their walks only on most weekends. Some of the members even made four rounds of walking different dogs!
We did not forget to make sure that they are well taken care of after we left. To relieve the financial strain of the shelter, we bought a total SGD830.84 worth of canned and dried food for the animals.
We applaud the works of Animal Lovers League as it aims to encourage the public to adopt animals instead of buying them so as to prevent the profiteering of cruel puppy mills, and endeavour to help match animals at the shelter with loving and committed families.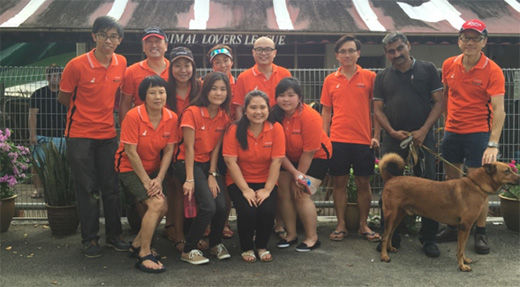 Commemorative photo with ALL staff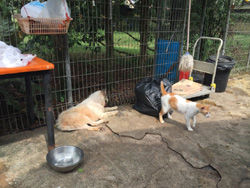 Dogs and Cats living in harmony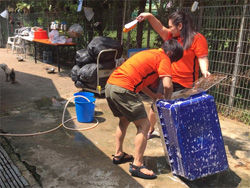 HMAP staff washing the soiled cages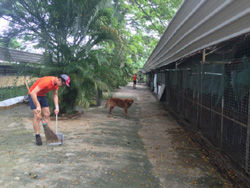 Cleaning the waste and dried leaves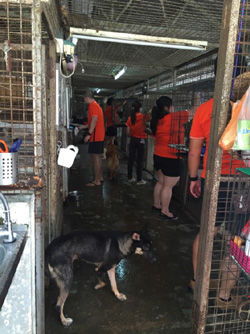 Removing spider webs and cleaning the kennels