Reduce VOCs by Using High Solid Paints (Low Solvent Paints)
Hitachi Construction Machinery is implementing the proper control of chemical substances and instituting measures aimed at reducing usage. This is to conform to laws and regulations on chemical substances and to deal with environmental risks.
The majority of chemical substance emissions consist of the discharge of volatile organic compounds (VOCs) that are contained in coatings, paints, solvents, and other products.
At the Tsuchiura Works, the ratio of solid (non-volatile) substances used is higher than the amount of general solvent-based paints. Tsuchiura Works has been gradually expanding its use of high solid paints to reduce its VOC emissions. Indexing the VOC atmospheric emissions for FY2006 at 100, the rate of emissions in FY2014 was 28% lower, compared with levels had we used conventional paints.
In FY2015, we are considering using high solid paint for the front end1 (boom, arm and bucket) of the excavator. By doing so, HCM will become the first company in the industry to use a high solid paint for the entire body of its construction machinery. That being said, in FY2015 we estimate a reduction in our VOC atmospheric emissions of 32% versus FY2006.
Coating process (painting the frame)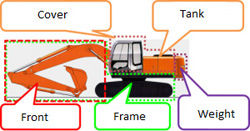 *1 Excavator diagram