Contributing to the Global Environment by Reusing Resources and Saving Energy (Hitachi Construction Machinery Southern Africa)
Hitachi Construction Machinery Southern Africa Co., Ltd. is making its contribution to the global environment by embarking on energy-saving activities at its office and reusing resources.
The company replaced its office ceiling with a transparent ceiling to save on energy use. This enables them to take advantage of the natural sunlight that shines during the day. Energy consumption was cut by 30% thanks to this. The company also introduced high-efficiency lighting. LED is now being used for the outside security lights and fluorescent lighting was installed to replace the old light bulbs in the warehouse. On an annual basis, this reduced the company's electrical power usage by around 34,560kWh.
There is a high level of environmental awareness among employees at HCM Southern Africa. Employees make it their job to conserve on energy usage in their immediate surroundings on a daily basis. HCM Southern Africa is also actively partaking in the effective use of resources. Spent fuels, paper, plastic, wood, and steel scraps are recycled. Water used to wash machinery and parts is reused in the company. Soil that is removed or oil is sent to a government-certified vendor for recycling.
HCM Southern Africa plans to continue to carry out these initiatives and implement business activities that gives full consideration to the global environment.

Outside security lights converted to LED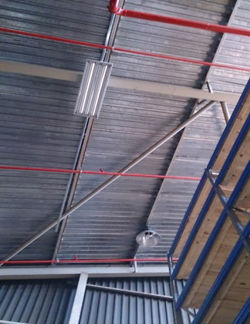 New fluorescent lighting
Using natural light