Lake Biwa Dragon Boat Race and Fishing Tournament (for the eradication of non-native species) (Hitachi Construction Machinery Tierra)
In 1991, Shiga Prefecture signed a sister city agreement with Konan Province, China. Konan Province donated two dragon boats (long, narrow paddle boats that originated in China) to Shiga Prefecture the same year. This is where the dragon boat race got its start. Today, the Lake Biwa Dragon Boat Race is hosted annually. This year the race was held of August 23, marking the race's 25th anniversary. Two teams of 20 employees each from Hitachi Construction Machinery Tierra participated (one boat was manned by members from both Tierra and Hitachi Construction Machinery).
Lake Biwa is home to many endemic species. However, the introduction of various species of non-native fish, including blue gill and black bass, over the past 45 years or so has damaged the local ecosystem. The oily bitterling (Tanakia limbata), which could be caught using a grain of rice as bait, has vanished from the lake. Now, in its place, are schools of blue gill. Shiga Prefecture began promoting the eradication of non-native invasive fish species to protect endemic species. The project has been successful. In 2013, there was 916 tons of non-native fish species living in the lake, nearly half the estimated 1,914 tons in 2006.
This year Tierra planned its first event to eradicate non-native fish species to coincide with the dragon boat race. 41 Tierra employees, their families, and partner companies participated in the event. The participant brought in a big haul. A total of 4.7 kilograms or around 200 non-native fish were eradicated from the lake.
The event introduced the initiatives Shiga Prefecture was carrying out to eradicate non-native fish species, as a part of its activities to preserve the Lake Biwa ecosystem. This event was a good opportunity for families to think about the environment.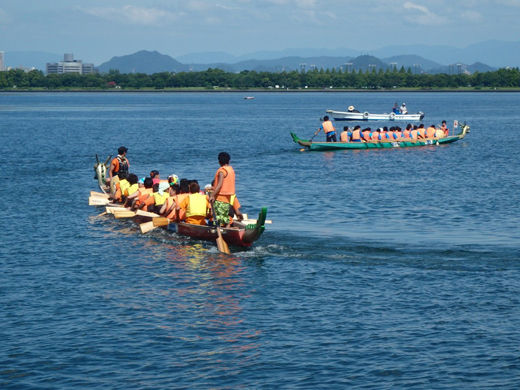 The Tierra team heads for the semi-finals!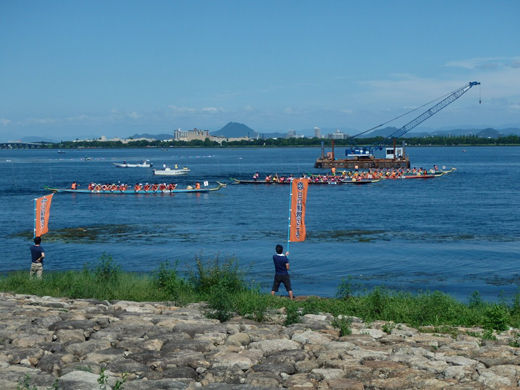 Cheering on the dragon boat race in between fishing for non-native fish species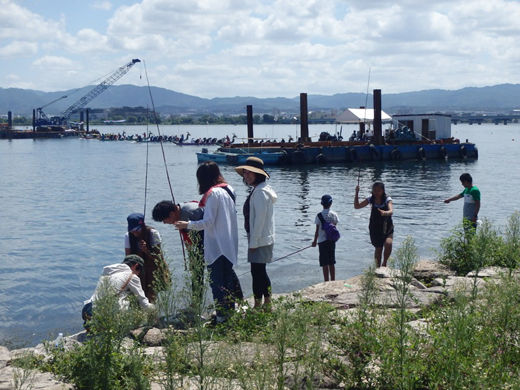 Watching the start of the dragon boat race while fishing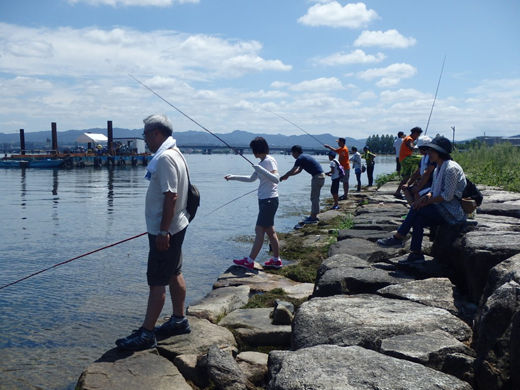 It will be fun if we catch a lot of non-native fish species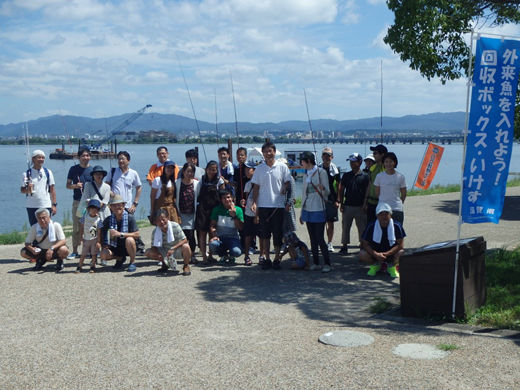 Successfully eradicated non-native fish species. Victory!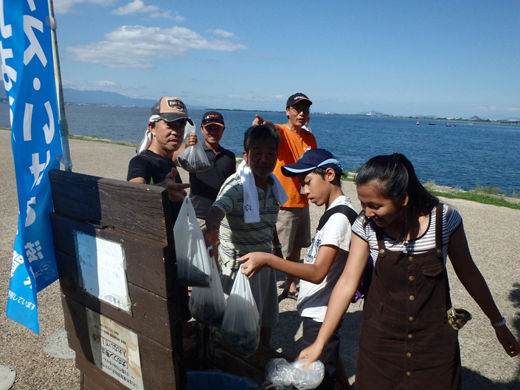 Ban on release of non-native fish species! Into the collection box they go!