Compliance Initiatives-Corporate Ethics Month
The Hitachi Construction Machinery Group has designated October of every year as Corporate Ethics Month. This is carried out in conjunction with initiatives implemented by the overall Hitachi Group. The goal of Corporate Ethics Month is to strengthen and assess group compliance. On October 1, Chairman and CEO Hiroaki Nakanishi of Hitachi, Ltd. and President and CEO Yuichi Tsujimoto of Hitachi Construction Machinery Co., Ltd. sent out messages to encourage employees to undertake operations with a better awareness of compliance.
The following is an introduction of the compliance initiatives the Hitachi Construction Machinery Group is carrying out in FY2015.
1. Compliance training for middle and lower management employees in Japan
In Japan, we adopted a "zero scandals" goal which we aim to attain by boosting the level of compliance knowledge, awareness, and actions among employees. Compliance training was implemented for senior staff, supervisors, and managers at Hitachi Construction Machinery and its domestic group companies.

This training was first implemented for the directors of Hitachi Construction Machinery in October 2014. This was expanded to management level employees mainly consisting of training for top executives at domestic group companies, and middle management training, ranking higher than section chief. Training is also conducted at all levels, as a part of compliance training.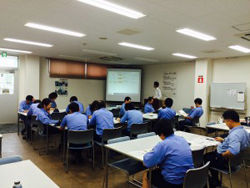 Training program underway at Tadakiko Co., Ltd.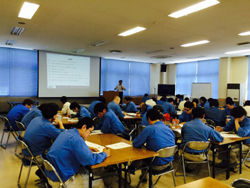 Training program underway at Tadakiko Co., Ltd.
2. Compliance training for management for overseas group companies
At overseas group companies, compliance training is implemented at the management level. Many of these group companies conduct training workshops that present trainees with challenges that are closer to actual issues faced on the job. The focus of this training is to encourage employees to nurture compliance-thinking that can be immediately used in the field. Trainees highly praise the benefits of this training, stating that it was easy to undertake owing to the use of familiar examples; interesting because it was not just a lecture; and because is provided a clearer recognition of compliance risks.

Training session at Hitachi Construction Machinery Australia Pty., Ltd.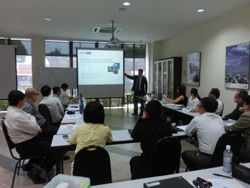 Training being carried out at Hitachi Construction Machinery (Malaysia) Sdn. Bhd.
The Hitachi Construction Machinery Group plans to further enhance compliance awareness throughout the entire group by actively taking on the creation of various training systems.