Main CSR Activities in Canada in FY 2015
Wenco International Mining Systems Donated Christmas Gifts to Children
On November 20, 2015, Wenco International Mining Systems (Wenco) gave 51 present-filled shoeboxes to children via Samaritan's Purse, a Christian humanitarian aid organization

This project, which is known as 'Operation Christmas Child' was established by Samaritan's Purse in 1993 to send a Christmas present of a shoe box filled to the brim with goods to children who face war, hunger and poverty in over 100 countries in the world. It is the largest Christmas project of its kind in the world.
At Wenco most employees, including our President and Vice-president, took part in this event. While picturing the children receiving and delighting in the gifts, we packed school supplies, toothbrushes and similar hygiene items, toys and other gifts as well as a personal note into the shoeboxes.
Wenco will continue activities to support children in the future.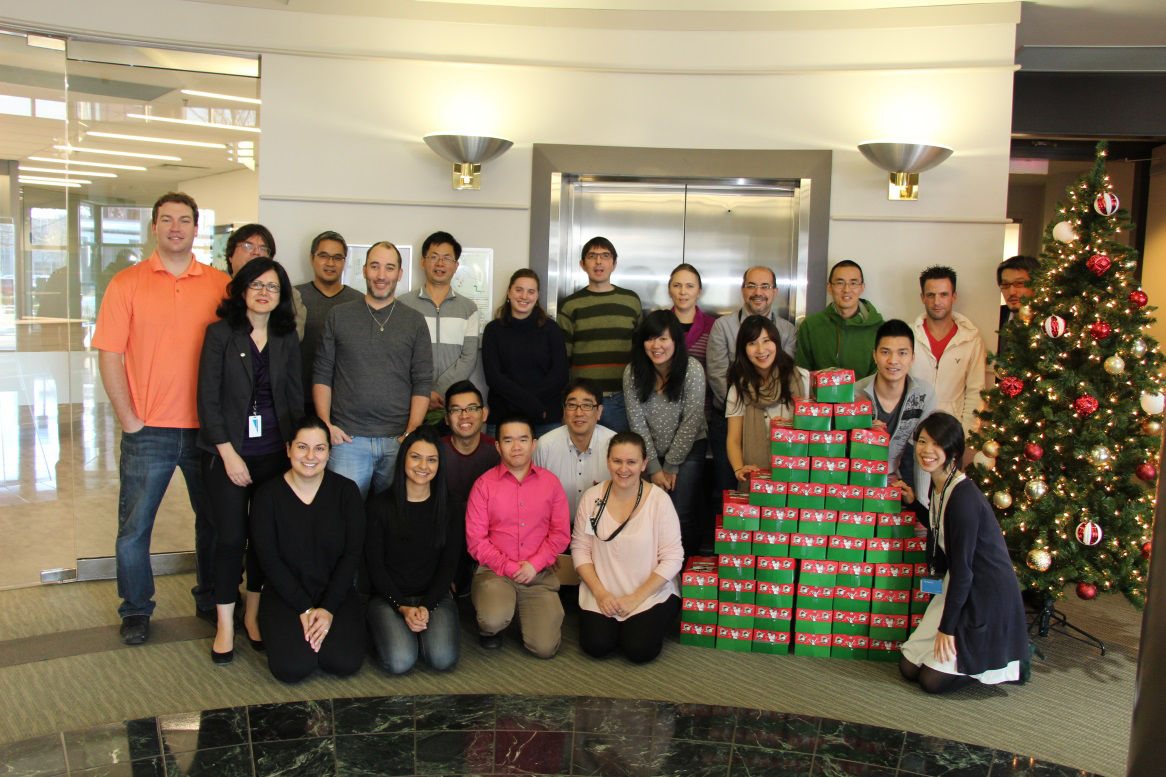 Employees surrounding the shoebox gifts
Other Main CSR Activities in Canada in Fiscal 2015
●Hitachi Construction Truck Manufacturing
Supported charity activities by donations to multiple charity organizations
Gave food, clothing and a wish list item to three families in need at Christmas
Participated in the Heart & Stroke Big Bike charity event for heart disease and stroke research. In 20 minutes, we rode two kilometers on a 30-seat bicycle.
Participated in charity activities for the Guelph Community Food Drive, which collects food for people in need
Implemented employee group discounts for theme parks, zoos and the like
●Wenco International Mining Systems
Carried out office spring cleaning. Two hours were given to cleaning and organizing workstations.
Supported charity activities by donations to multiple charity organizations
Participated in the Vancouver Sun Run, a charity run
Throughout the office, we began using energy saving power plugs, which switch off electrical devices when no activity is detected for 30 minutes or more
Installed LED lighting in place of halogen and flood lighting for energy efficiency in the reception area