Completed Construction of Primary School Teachers' Dorms in Prahop Village, Cambodia Thanks to Fund-raising Activities
In June 2017, construction was completed on the teachers' dormitory for a primary school in Prahop Village, Battambang Province, Cambodia. The construction project was completed with the support of Good Earth Japan (GEJ), a certified NPO.
The primary school itself was constructed in 2010, thanks to a financial contribution from an NPO in Spain. Previously one of the classrooms was used as both the teachers' dorms and office given difficulties commuting due to an extremely poor road and transportation system. Several years back, GEJ received a request from the village for the construction of the teachers' dorm to free up the classroom and also improve living conditions for the teachers. This year in June, GEJ realized and completed this plan. Hitachi Construction Machinery, Hitachi Construction Machinery Tierra and Hitachi Construction Machinery Japan worked together and contributed a portion of their mini excavator sales to GEJ for this project. This donation, along with other financial aid, was used to fund the construction which began in April and completed in June.
The dormitory consists of four rooms for the teachers and small kitchen in the back of the dorm. There is no electricity nor running water so the dormitory uses a battery cell as its power source and rain water is stored for use in daily life. We expect that the improvement in the environment will likely allow the teachers to focus more on their students' education.
GEJ is working to improve the lives and support the independence of local farmers that live in areas in Cambodia that have been cleared of landmines. The NPO looks to better living conditions by providing training that familiarizes farmers with agricultural technologies and also improves current agricultural technologies, and also through the construction of roads and water reservoirs. GEJ is also pouring energies into educating children. The HCM Group is a supporter of GEJ's activities.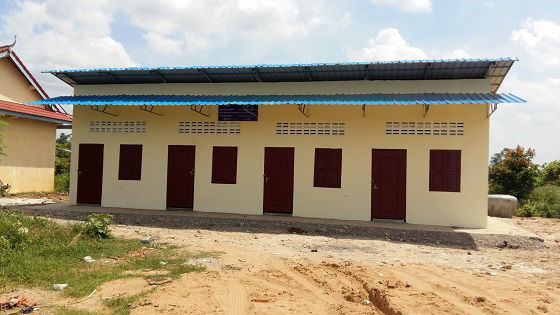 Completed teachers' dorm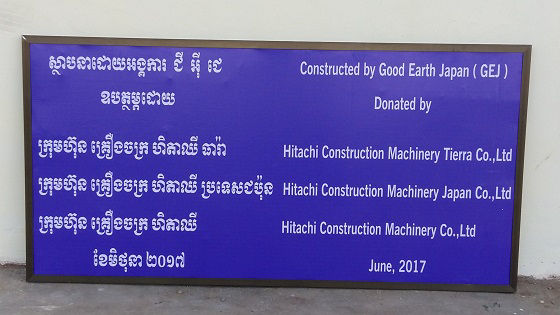 Commemorative plate hung in the middle of the dorm