Honored with Hefei City Project Hope Award for Contribution (Hitachi Construction Machinery (China))
On August 25, 2017, Hitachi Construction Machinery China (HCMC) was given the Hefei City Project Hope award for contribution by the City of Hefei in Anhui Province, where HCMC is headquartered.
The Hefei City Project Hope was started by Hefei City in October 1992. This initiative promotes philanthropy to help support youths. The project is endorsed by the many companies in Hefei City in various fields and has carried out numerous activities thus far. Hefei City commemorated the 25th anniversary of this project by presenting 20 companies with the Hefei City Project Hope award for contribution in recognition of their particularly outstanding activities.
Since its establishment, HCMC has valued its philosophy of social contribution. In light of this, it has participated in social and pro bono activities hosted by Hefei City. In particular, in the area of children's education, the construction of the Hitachi Construction Machinery Songgang Xi Wang Elementary School in 2010 was financed in part with an education fund HCMC donated to Hefei City. HCMC continues to interact with the children of this elementary school through regular visits, the donation of educational supplies, and by providing opportunities to the children so they can have various experiences.
HCMC plans to continue to support the initiatives of the Hefei City Project Hope and keep on support children who will build the future.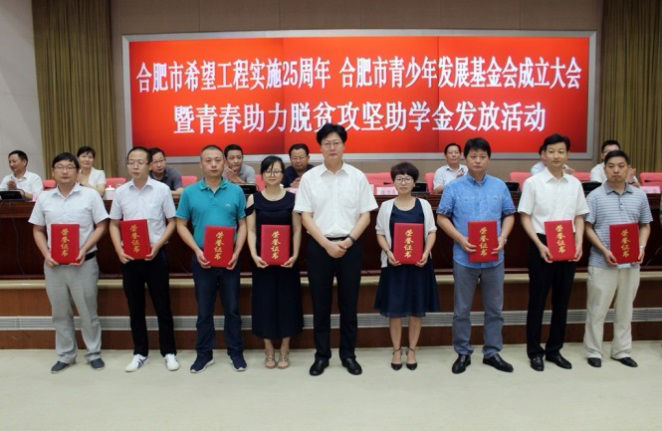 Commemorative photo with Wang Wei-Dong, deputy secretary of the Hefei City government (center) (Representative from HCMC fourth from the right)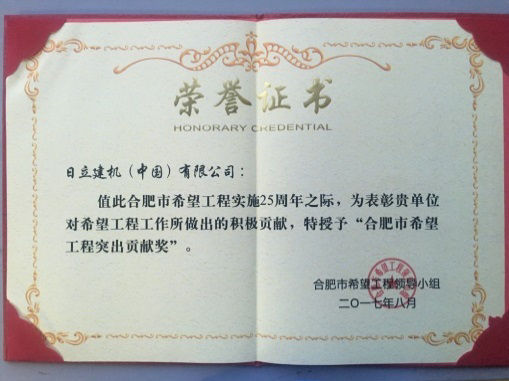 Received the Hefei City Project Hope award for contribution