Introduction of e-learning at Rupnarayanpur primary school, Kharagpur, West Bengal (Tata Hitachi Construction Machinery)
Tata Hitachi Construction Machinery(THCM) has created an e-learning centre at the Rupnarayanpur Primary School, Kharagpur as part of its literacy initiative on June 2017. Through this initiative THCM has introduced a unique e-learning platform which is a first of its kind in the village and amongst the few at the primary level. This digitized platform, along with government prescribed modules, grants the students access to information and learning material from across the world. It also helps them communicate with schools in urban areas: thereby eliminating the rural-urban divide.
Through this e-learning centre, it is now possible to impart the much needed basic skills in e-learning to foster the spirit of lateral thinking and creativity. The teachers too, are satisfied with this platform as it will enhance their capabilities to teach using more innovative methods. More than 200 students are going to benefit from this initiative.
THCM strives to enhance the scope of education particularly at the primary level keeping in mind the importance of technology in education. This e-learning centre is a step towards creating sustainable smart class rooms of the future powered by technology and innovation. Mr Biren Pal Headmaster of the school commented saying "We are extremely grateful to Tata Hitachi for creating this facility and it has exceeded all our expectations". As a step towards a sustainable literacy program, this centre will also be used for adult literacy initiatives and health care awareness programs.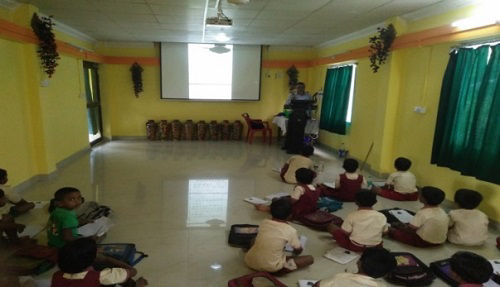 Children attending e-learning sessions