Shintohoku Metal Exhibits Products at 12th Kitaakita City Industrial Fair (Shintohoku Metal)
On October 27‒27, 2018, the City of Kitaakita held its 11th Kitaakita City Industrial Fair at the Takanosu Gym. The event aims to promote local industries. Shintohoku Metal Co., Ltd., which is located in the city, exhibited products at the fair.
This was the sixth time since FY2013 that Shintohoku Metal participated in the industrial fair. 65 companies and organizations set up booths, indoors and outdoors, at the fair to sell and showcase local specialty products.
At indoor booths, Shintohoku Metal utilized video images and panels to introduce an overview of the company as well as the manufacturing process for the casting parts it produces. The images especially looked at casting parts known as spindles, which are used in the front tires of dump trucks functioning at mines. Using 3D drawings and photographs, they introduced in detail the process from design and analysis to pouring molten steel into a cast (casting).
During the two days of the fair, we were able to widely promote ourselves to the residents of Kitaakita City as a Hitachi Construction Machinery Group Company that makes casting parts. Shintohoku Metal aims to continue to carry out initiatives that contribute to the local community.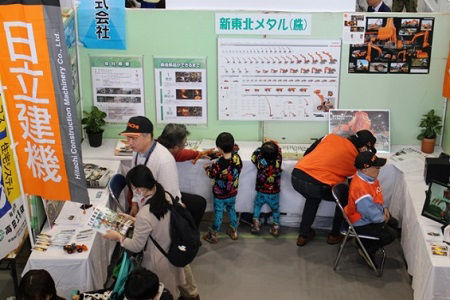 A staff member explains the company's initiatives at the indoor booth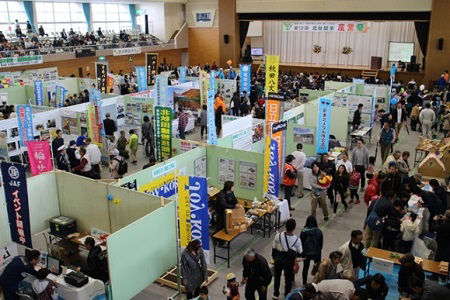 Indoor display