Forest Maintenance Activities at Hyogo Prefectural Mikiyama Forest Park (KCM)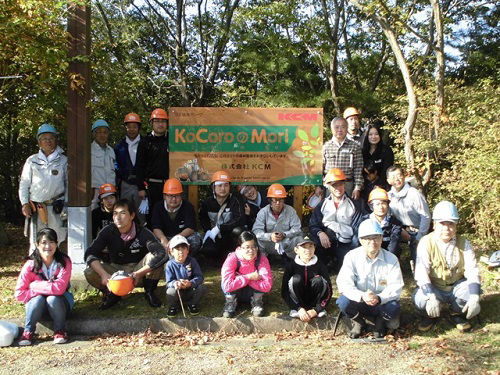 Commemorative photo of "KoCoro no Mori" participants
At KCM Corporation, forest maintenance is a part of our CSR activities. KCM carried out forest maintenance for the second time at the Hyogo Mikiyama Forest Park in Miki City on November 10.
On April 1, 2018, KCM entered into the "Agreement Concerning Initiatives for Forest Maintenance Activities by Companies" with Hyogo Prefecture, Miki City and the Hyogo Green Promotion Council. We established the approx. 1.2 hectare a field for activities named "KoCoro no Mori" within the park. This park is near Inami Town, in Hyogo where our head office and Banshu Works are located. We included the letters KCM in the name "KoCoro no Mori" with the ideal of nurturing a spirit that treasures greenery by nurturing a single sapling into a wood, and onto a forest.
This activity follow on the initial activities we conducted on April 21 to coincide with the opening of the forest. About 30 employees and related personnel participated at this time. Although there were many who participated for the first time, thanks to the courteous guidance of Hyogo Forest Club members, tree clearing work was done about three hours. After thinning, what was once a gloomy wood little penetrated by light, became a bright sunlit forest. At the same time, they held a nature observation gathering for families. An arborist led the group on a walk through the spacious park, explaining the nature within as participants observed plants and animals. After the activities had finished, participants deepened friendships over a barbecue at facilities within the park.
KCM intends to continue these activities in the future. And we hope that regular interaction with plants and animals, and experiencing forestry work first hand, will deepen awareness of environmental conservation and lead to more environmentally friendly behavior.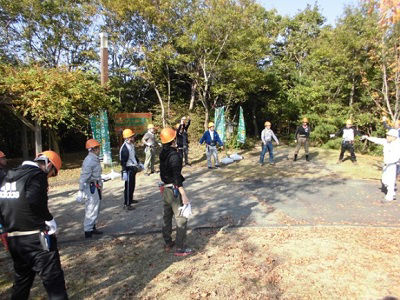 Warm-up exercises before working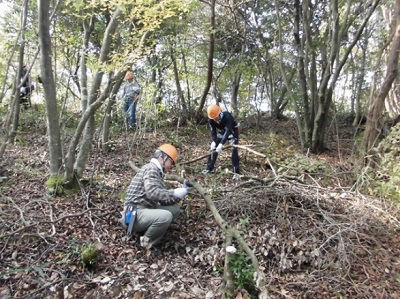 Forest thinning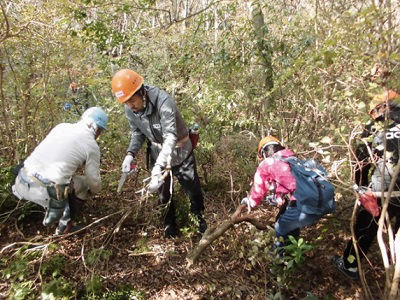 Participants worked under teacher supervision