Supporting GOBY Environmental Project (Hitachi Construction Machinery Southern Africa)
Hitachi Construction Machinery Southern Africa sponsors Project GOBY which stands for Global Organisation for Brighter Youth. This initiative promotes environmental conservation activities which in turn will create socio-economic benefits for communities in their country.
In partnership with UNICEF South Africa, FIFA Beach Soccer Worldwide Foundation, Hitachi Construction Machinery Southern Africa and the Durban Regeneration Project 2022, the GOBY Environmental Project symbolised by a 5 meter fish structure, launched in July 2019 on Durban New Beach to combat marine pollution, while educating South African families on the importance of reducing, reusing and recycling waste and removing plastic waste from our beaches.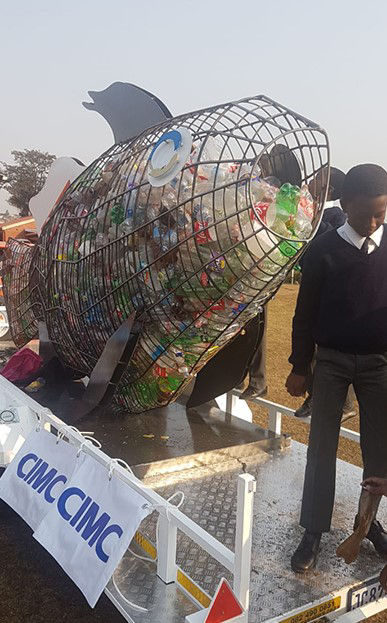 Collecting plastic bottles "GOBY loves plastic, please feed him!"
Hitachi Construction Machinery Southern Africa has been a partner of this project since the launch with the impact so far being, 127 Primary Schools in disadvantaged communities have been engaged (including three special needs schools), 17,342 learners have participated, 176 educators have been trained as physical education instructors, and 2,891 kg of plastic waste has been collected from schools during the month of October and November 2020 for recyclin

GOBY addresses the broader United Nations Global Sustainable Development Goals and facilitates priority sport development interventions for disadvantaged children, including the education of learners on the importance of recycling and to provide the tools to create sports equipment from repurposed plastic.
Hitachi Construction Machinery Southern Africa is very proud to be a part of this initiative and will keep contributing to environmental conservation and community development.
[About GOBY]

GOBY contributes to Asset Based Community Development through the placement of young people or Youth Leads into schools to assist with functions such as sports coaching assistance, writing reports, parent communication, assisting with the execution of Life Orientation Syllabus plus plastic waste projects. In addition, the Youth Leads are ambassadors for social issues including;
 Gender Based violence
 Substance abuse
 Sanitization
 Bullying