Hitachi Construction Machinery Indonesia Achieves Milestone of 40,000 Medium-size Hydraulic Excavators Shipped
On June 10, P.T. Hitachi Construction Machinery Indonesia (Head Office: Bekasi, West Java, Indonesia; President Director: Kozo Nagao; "Hitachi Construction Machinery Indonesia"), Hitachi Construction Machinery's production base in the Republic of Indonesia ("Indonesia"), achieved a new milestone of shipping an accumulated 40,000 11- to 30-ton medium-size hydraulic excavators.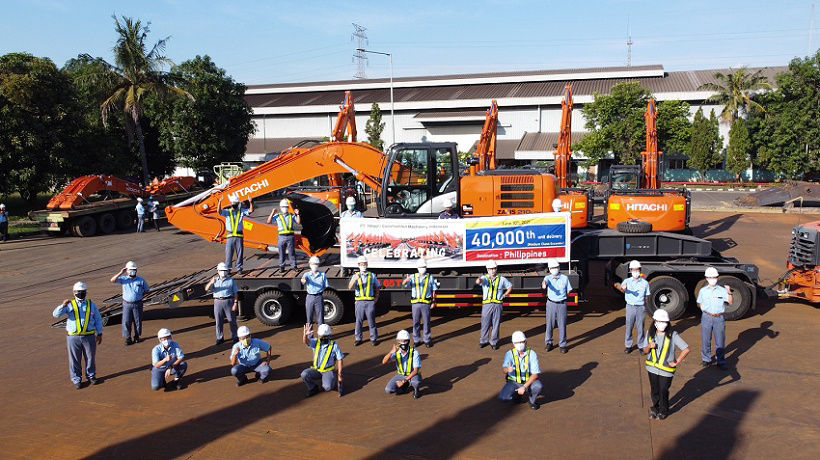 ZX210LC-5G was the 40,000th medium-size hydraulic excavator shipped
Established in 1991, Hitachi Construction Machinery Indonesia celebrates its 30th anniversary in 2021. The Cibitung 1 Factory commenced production of medium-size hydraulic excavators in 1993, turning out 222 units in the first year. With the subsequent growth of demand in Southeast Asian markets, production was steadily increased, resulting in the current achievement of 40,000 units.

Southeast Asia boasts a thriving palm oil industry and Hitachi Construction Machinery hydraulic excavators have long been highly regarded by customers in the forestry and agriculture sectors for their durability and quality such as when clearing land for new palm oil plantations. In addition to developing and manufacturing products that meet customer needs in the Southeast Asian region, Hitachi Construction Machinery Indonesia is striving to strengthen its value chain business. In June 2021, the company brought a new parts remanufacturing plant on line, its second in Indonesia.
Going forward, the Hitachi Construction Machinery Group is committed to providing products and solutions that exceed customer expectations and to being "a close and reliable partner" to our customers.
Related information
News Release, April 15, 2021