Japan-India Institute for Manufacturing (JIM) graduation ceremony (Tata Hitachi Construction Machinery)
On December 17, 2021, Tata Hitachi Construction Machinery held a graduation ceremony for trainees at the Japan-India Institute for Manufacturing (hereinafter "JIM") at their Dharwad Plant in India.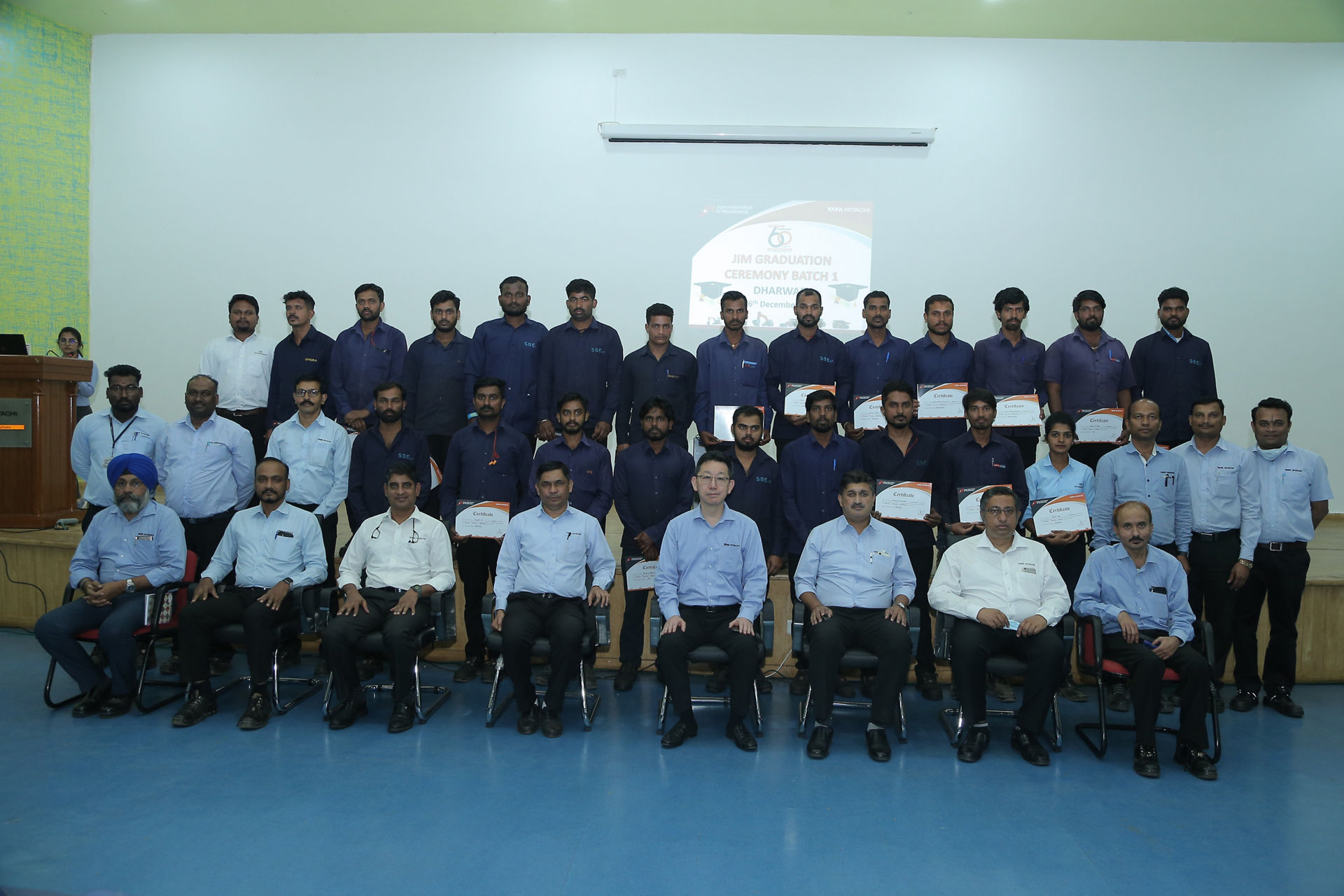 JIM is a human resource skill development program* that is promoted through public and private partnerships between Japan and India, and is certified by Japan's Ministry of Economy, Trade and Industry. Through the program, Japanese companies establish educational facilities in India, where trainees can gain technical skills and study concepts that are fundamental to Japan's manufacturing industry, such as "Kaizen" and "5S" (sort, set, shine, standardize, and sustain). The aim is to cultivate human resources capable of playing a central role at India's manufacturing sites in the future.

The Hitachi Construction Machinery Group, which announced its participation in the program in 2017 and has been certified as a JIM institute by the Ministry of Economy, Trade and Industry, has established educational facilities and started cultivating human resources within the Dharwad Plant.
At the ceremony, which was held jointly for the first and second batches of trainees to complete the program, a total of 54 trainees were presented with a certificate of completion. Over the course of three years at Tata Hitachi's Training Center, the trainees worked to improve their own skills in processes such as welding, machining, assembling, and painting through practice, classroom lectures, and on-the-job training.
In India with its remarkable economic growth, the Hitachi Construction Machinery Group will continue to contribute towards the cultivation of human resources through this program and other initiatives, as well as provide hydraulic excavator and other construction machinery used in social infrastructure development.
* This program is part of the Manufacturing Skill Transfer Promotion Program established between the governments of Japan and India under an agreement that was signed in November 2016. The program aims to cultivate 30,000 human resources in India's manufacturing field over 10 years.