Takahashi Construction Co., Ltd
Tsuno cho, Takaoka gun, Kochi prefecture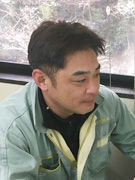 Director
Mr. Nobuyuki Takahashi
Company Profile
Established in January 1966 (Showa 41).
A company that supports the region mainly in the construction of roads etc. with projects in the Kochi Prefecture and in the town of Tsuno. As the company is dedicated to its local people, it helps to contribute to the development of the areas local communities. The company makes a continued effort to pursue new technologies that keep ahead of the times.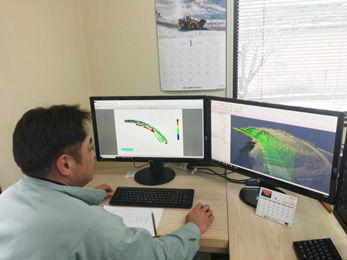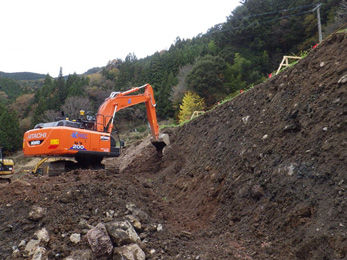 Site: Tsuno city, Takaoka-gun, Kochi prefecture
Construction: September 5, 2017 – March 25, 2018
Construction extension: 125m Digging: 5,300m² Earth Retaining wall work: 668m³
ICT Solution used:
ZX200X-6 (3DMC), UAV surveying, 3D point cloud processing, 3D design data creation, UAV work quality management
Construction content
National Highway No. 439 General Grant Project for Social Capital Development (Kochi Pref., Susaki Civil Engineering Office)One of the important arterial roads in the city. Construction of two lanes for Route No. 439Went to an on-site workshop as the first ICT utilization project for the Kochi prefecture.
Background of introduction
The construction work using ICT at Takahashi Construction is the first work on this site.
An evaluation on the on-site-support system was carried out between Fuji Co., Ltd – a measurement device company in the Kochi Prefecture – and HCM Japan, which resulted in a decision to for us acquire a 3DMC hydraulic excavator.
"Although there is the inevitably cost up front in the initial investment, the system does have its merits. We have also purchased software to help with handwritten drawings so that we can convert them into digital based electronic delivery using 3D data. Although the investment can never be recovered from just one site, it can be depreciated as it is used in other areas, and as the system adds to our own knowledge base, I would like to pro-actively engage in ICT work going forward."
Using the software of for a construction system, Mr. Takahashi was able create his 3D design data. UAV photo surveying & point cloud processing was conducted in cooperation with Aratani Civil Engineering Consultants co., Ltd.