Hagiwara Zoen Doboku Co. Ltd
Tamamura cho, Sawa-gun, Gunma Prefecture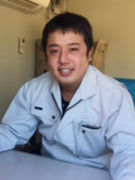 Representative Director
Mr. Shinya Hagiwara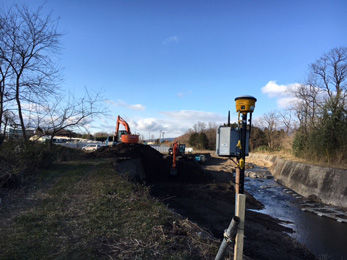 Company Profile
Originally established April Showa 21 (1946) as "Hagiwara Farm" Reestablished as "Hagiwara Zoen Doboku Co., Ltd" as a result of incorporation in Showa 51 (1976). We are constantly pursuing the improvement of our technology and skills on a daily basis in order to respond to the demands of the many varied and complex areas involved in the construction and management work of landscaping and civil engineering work. We aim to be a company of existential value by contributing to the local society with our expertise and business diversification in public and private business operations etc..
Site: Isezaki City, Gunma Prefecture
Construction period: September 8, 2017 – February 28, 2018
Area: 5,000m²  Material Volume: 1,500m³
ICT solution used:
ZX200X-5B (3DMC), LS survey, 3D point cloud processing, 3D design data creation, LS form control
Construction Overview
Removal work on river sediment
Background of implementation
This construction was to be an ICT construction as designated by the customer for the civil work required in the in the prefecture. As the main work required was in exterior construction, land scape specialist Hagiwara Zoen Doboku Co. Ltd. was contracted. "This was the first site using i-Construction at our company, I have never used ICT construction machine, so I was very anxious because there was no knowledge about ICT utilization at all. When I heard the explanation of ICT from Hitachi Construction Machinery Japan Co., Ltd. in such a case, I learned that the case of the site that I introduced so far, and even if there is something troubled after introduction, I will respond quickly. Through the meetings, I realized that HCM Japan, which has proven experience in ICT construction, would be helping with the implementation, I decided that we should go with the project" (Hagiwara Zoen Doboku Co. Ltd.: Mr. Hagiwara)
Comment
"As this was the first time for the customer and for us to use ICT, I was naturally a little uneasy. Hitachi Construction Machinery Japan Corp. was very encouraging as they offered support in all areas from 3D surveying to completed work quality management. The use of ICT machinery reduced labor required for surveying and staking by engineers and made work significantly easier. Especially, in sedimentary soils such as that in rivers which have high moisture content, it takes time to set up the site due to the soft and dense characteristic of the base, but it is very effective to our work even if there are no previous 3D drawings available. And this makes the customer happy as they are able to visualize the work progress much more easily" (Hagiwara Zoen Doboku Co. Ltd.: Mr. Hagiwara)
It was my first time using an ICT equipped machine, however it was much easier to operate than I thought, and it didn't take long to get used to at all." (Operator: Mr. Fukasawa)
Future Challenges and Prospects
The work was initially only 5,000m³ of soil, the work became 1,500m³ due to some design changes. "Although I felt at the time that the system did not significantly reduce the construction work required or its efficiency on a day to day basis, I am sure that we will continue to actively accumulate our experience using ICT construction, and improve our knowledge going forward."
In this construction site, two hydraulic excavators, we used. A conventional machine for rough drilling work, and an ICT machine for finishing work.
"The work was much more accurate and flowed smoothly. The range where ICT based construction machines will increase significantly as the price comes down in the future." And they are already thinking about placing their next order.