Occupational Safety and Health
Basic philosophy and promotion system
We are promoting various health and safety activities that are derived from our basic stance of giving the highest priority to protecting the safety and health of employees.
The Occupational Health and Safety Promotion Committee is held every year. The committee undertakes various initiatives, including sharing information on work-related accidents with group companies, issue reports on activities, and create health and safety plans.
In addition, the committee sets up subcommittees, trains employees to be in charge of promotion occupational safety and health activities, conducts technical reviews, mutual inspection tours and check the status of compliance with relevant laws and regulations. The committee also assists in the establishment of management systems at each Hitachi Construction Machinery Group companies and for acquisition of certification.
Hitachi Construction Machinery Group has established their in-house Safety and Health Committee. These committees regularly hold discussions on information sharing and measures regarding occupational accidents and health and safety, and measures against serious incidents. Our Safety and Health committee comprises members including a representative from the company's labor union. This ensures that initiatives are carried out in a concerted effort involving both labor and management.
Thus far, things like the president's messages have ranked health and safety as important administrative points, as well as ensuring all staff consistently place safety first. In order to create a workplace where everyone can work with strong leadership, we are engaged in daily safety and health activities based on communication with management.
Policies and key measures in FY2023
1. Basic philosophy
"Preservation of safety and health should always come first"
2. Policy
① Act with a strong belief that "all occupational accidents can be prevented".
②Promote health management and establish a vibrant work environment where "everyone can work lively".
3. Promotion for Eliminating Occupational Accidents (For the Entire Group)
(1)Rebuild a Safety Culture
•Thoroughly prevent the recurrence of similar accidents and incidents through continuous improvements by ensuring the PDCA cycle functions autonomously based on the occupational safety and health management system (ISO45001).
•Create a strong safety culture by instilling "safety first" awareness and behavior in organizations. Achieve that by establishing and promoting an accident investigation system, utilizing accident and incident examples, ensuring thorough compliance with occupational safety and health-related laws and ordinances, actively participating in safety and health-related workshops, education and training, and promoting and reliably executing investment relating to safety and health.
•Once again thoroughly ensure that accidents involving construction machinery, forklift trucks and other vehicles never occur.
(2)Achieve Intrinsic Safety
•Protect the safety of workers by thoroughly ensuring the intrinsic safety of machines and facilities and promoting automation and visualization.
•Conduct risk assessments on machines and facilities at each stage from planning to practical use to thoroughly eliminate the sources of hazards.
•Promote the further qualitative improvement of risk assessments to eliminate risks by revealing the sources of hazards.
(3)Implement Safety and Health Activities with Full Participation under the Strong Leadership of the Top Management in the Organization
•Conduct safety and health activities with the participation of all employees under strong leadership in terms of not allowing accidents and incidents to occur.
•Thoroughly identify unsafe matters and take measures against them based on two-way communication in the workplace.
•Conduct global safety and health audits and strengthen governance of the group in occupational safety and health.
(4)Strengthen Health Management
•Strengthen efforts to acquire the status of an Excellent Health and Productivity Management Corporation with the aim of maintaining and promoting mental and physical health.
•Utilize the results of stress checks and other psychological health surveys. At the same time, enhance the structure to allow those with a high level of stress to ask for advice. Moreover, safety and health departments and personnel and labor departments should work together to stop the occurrence of mental health disorders by integrating the enhancement of the industrial health structure, work style reforms and measures to reduce the workload on workers.
•Take the measures necessary to prevent the spread of COVID-19 and ensure they are known by all organizations.
Establishment of an occupational safety and health system and corresponding activities
Hitachi Construction Machinery Group has established an occupational safety and health management system and is promoting and supporting activities aimed at obtaining international standard certification. We continue to systematically promote the acquisition of ISO45001 standard certification as a common theme for the Group.
The occupational safety and health management system is an important mechanism for preventing occupational accidents by identifying the source of danger through risk assessment. It is our goal to further strengthen the foundation of our business by implementing effective risk control.
Sites scheduled to acquire ISO 45001 certification
Hitachi Construction Machinery domestic group companies have been promoting the certification and renewal of occupational safety and health management systems based on the OHSAS18001 standard since 2012, but from 2019, we will proceed with activities to acquire the international standard ISO45001 certification, In April 2020 Hitachi Construction Machinery obtained ISO45001 migration certification and all group companies in Japan also migrated to ISO45001 during FY2021. In addition, all oversea companies have been promoting OHSAS18001 certification and renewal overseas as well and promoting ISO 45001 certification acquisition activities from FY2019.
 
 Factory
FY2019
FY2020
FY2021
HitachiConstructionMachinery
Tsuchiura
ISO45001migration
ISO45001
ISO45001
Kasumigaura
ISO45001migration
ISO45001
ISO45001
Hitachinaka
ISO45001migration
ISO45001
ISO45001
Hitachinaka-rinko
ISO45001migration
ISO45001
ISO45001
Ryugasaki
OHSAS18001*1
ISO45001
Banshu
OHSAS18001*1
ISO45001
Hitachi Construction Machinery Tierra
OHSAS18001
ISO45001migration
ISO45001
Hitachi Construction Machinery Camino
ISO45001migration
ISO45001
ISO45001
Tadakikou
Internal certification system*2
ISO45001
ISO45001
Shin Tohoku Metal
Internal certification system*2
ISO45001
Hitachi Construction Machinery Japan (Tokyo Service Plant)
OHSAS18001
ISO45001migration
ISO45001
*1 Obtained OHSAS18001 certification at the former KCM 2 factory, and integrated it into ISO 45001 in FY2021.
*2 Hitachi Construction Machinery Safety and Health Department audits and certifies with OHSAS compliant management system
Safety and health education
We believe that  promoting safety and health education in a straightforward manner according to a plan is the basis of safety and health activities.
We are implementing safety training, mainly for leaders that are in the position of offering guidance to protect inexperienced employees from work-related injuries and accidents. We are also promoting training for employees at our manufacturing sites as well as employees dealing with indirect operations. This simulation-based training enables employees to understand the importance of being able to predict danger. In particular, we are promoting the strengthening of the education system, reviewing the safety and health education system, expanding the educational curriculum implemented at the hands-on training facility (safety training center) in the factory, digitalizing VR hands-on training and video learning, etc.

Incidence of work-related accidents
The number of occupational accidents at Hitachi Construction Machinery in FY 2022 was 45, an increase of 20 from the previous year. "Zero occupational accidents" are not yet achieved, based on the recognition that we are in a critical situation, we recognize the importance of investigating the root cause of disasters, implementing true fundamental countermeasures, and ensuring horizontal deployment of those countermeasures.
There were 80 work-related accidents at our Group companies in Japan, and of these 68 occurred in manufacturing divisions (increase 30 over the previous year) and 12 in sales and services divisions (increase 6 from the previous year).
Aiming for a mutually enlightening safety culture
Since our company "controls (safety)", we believe that it is important to have a "management" system functioning through the PDCA cycle. We will continue to utilize our occupational safety and health management system, improve the quality of our risk assessments, and focus on visualizing hazard sources based on risk assessments and strengthening investment in systematic and reliable safety measures.
Based on our basic philosophy of "prioritizing safety and health above all else," we strive to ensure safety in the workplace by giving top priority to safety. In particular, with the aim of strengthening communication in the workplace, we will introduce the "Safety Talk" and "Safety Time" initiatives from fiscal 2022 to create a place to regularly provide information and knowledge about safety and health.
Based on our basic philosophy of "prioritizing safety and health above all else," we strive to ensure safety in the workplace by giving top priority to safety. In particular, we aim to create a mutual enlightenment-type safety culture in which each individual in the workplace takes the initiative and wants to be safe with each other.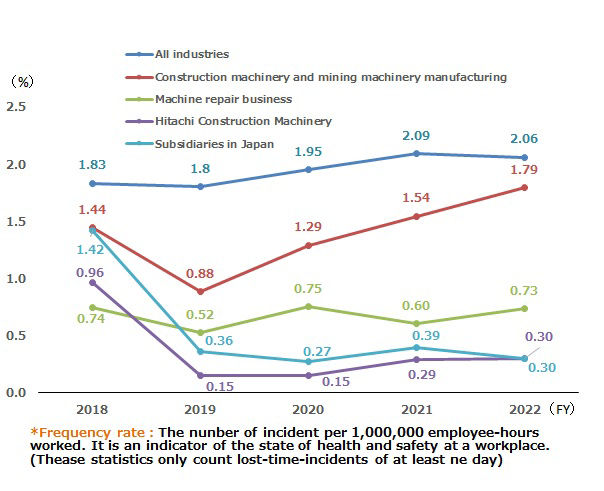 Frequency of lost-time-incidents (frequency rate*)
Initiatives to prevent work-related injuries―Safety and health presentations
Hitachi Construction Machinery Group shares the achievements of the safety and health activities carried out by Hitachi Construction Machinery and its domestic group companies. Hitachi Construction Machinery Group Safety and Health presentation is held once a year for the purpose of utilizing the activities conducted by the group.
In FY 2022, under the circumstances of COVD-19 infection countermeasures, we connected the companies remotely and held the presentation in July under the participation of labor and management.
Initiatives for health and productivity management ― Attention to the happiness of working people
Hitachi Construction Machinery Group is promoting initiatives for health and productivity management to contribute to measures for the mental and physical health of employees and their families and for prolonging the healthy years of workers' lives.
In FY 2022, we implemented "group walking," which was held by 34 teams 224 participants (compared to the previous year + 3). In addition, we will continue to strengthen and promote specific activities in health management, such as strengthening occupational health system and specific health guidance, by cooperating with the Health insurance association to prevent lifestyle-related diseases and smoking cessation treatments.
We aim to be a company where employees can fully demonstrate their performance, increase labor productivity, and work in a healthy and lively workplace. We believe that health management is an important theme of management. In October 2017, we released a declaration on health and productivity management issued in the President's name.
Health and productivity constitutes the very foundation of our initiatives for work style reform, work-life management and post-COVID-19. We focus on making employees' work a healthy and comfortable everyday occurrence. In order to enhance the creativity of the Organization in the future, we aim to realize every day that we can focus on the happiness of our employees and work brightly and positively.
In March 2023, following 2022, Hitachi Construction Machinery was certified as a "Health Management Excellence Corporation" from the Nippon Kenko Kaigi in fiscal year 2023.
"Health and productivity management" is a registered trademark of the Workshop for the Management of Health on Company and Employee.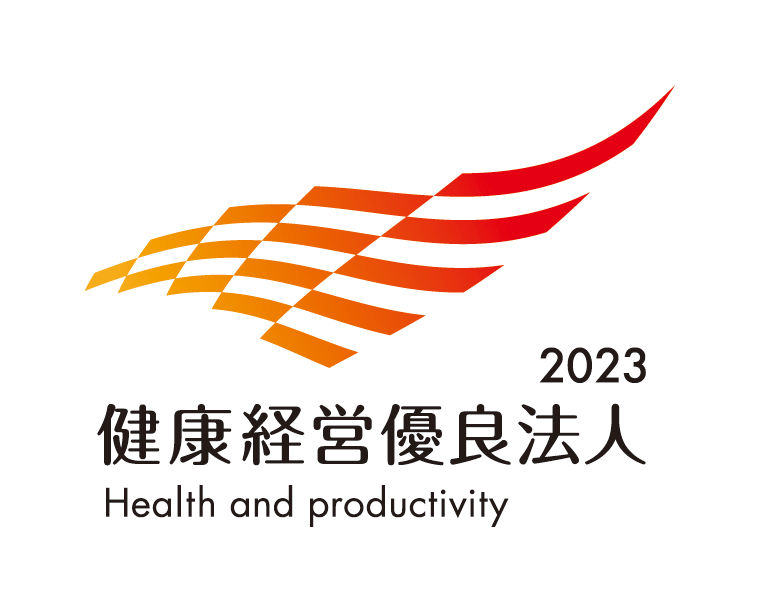 Mark of large-scale Superior Corporation
Addressing mental health
Recognizing the importance of mental health care, Hitachi Construction Machinery Group continues to carry out activities focused on four aspects of care based on the guidelines published by Japan's Ministry of Health, Labor and Welfare.  In particular, we developed training that was conscious of timely content, such as content related to the prevention of harassment and stress coping in COVID-19.
We have conducted stress checks annually from before they were required by law. These checks have enabled us to raise awareness among employees about stress, create a comfortable work environment, and promote the use of hotlines staffed by professional counselors. In FY 2022, stress checks were performed in November, with approximately 10,000 employees across Hitachi Construction Machinery Group in Japan receiving one. Stress checks represent an important initiative that leads to employee awareness of stress and is deeply related to excessive labor prevention measures and appropriate medical measures and guidance, and is one of the important foundations for protecting the health of the mind and body of employees. We have been holding stress check result report meetings to raise awareness of mental health care. From FY2022, we are developing more detailed activities to grasp the needs of the workplace and connect them to concrete measures from the results of the questionnaire after the debriefing session.
Additionally, we strive to carry out activities with an eye on both employees and their families, including self-care training targeting all employees, line-care training for managers including discussions on improving the workplace, support for employees returning from leave, and health counseling support, including for families, through the Employee Assistance Program (EAP).
Going forward, we aim to be a company in which human resources, which are irreplaceable for a company, can fully demonstrate their abilities and work in a healthier and more comfortable manner. To that end, we will work to improve the quality of occupational health in general, while being aware of work style reforms and improving employee satisfaction.