Meeting a Wide Range of Needs
Application Products by Hitachi Construction Machinery
Construction machinery with a front end that can reach 50 m up in the air and demolish a high-rise building. Construction machinery that can dig 30 m down into the ground. Machines made to demolish cars and machines that can withstand the harsh conditions of a steel mill. It's hard not to be amazed by the variety of construction machinery that exists. Hitachi Construction Machinery Co., Ltd. has custom-developed many machines tailored to the unique conditions of a customer's sites and the nature of their work. Our development history is a long one: for more than 40 years, we have met the needs of customers in industries from civil engineering and construction to recycling and building demolition by adapting our commercial hydraulic excavators, changing the specifications or adding new functions to develop one-of-a-kind products. A wide range of customers are now using many different Hitachi Construction Machinery products every day, from telescopic arm (rope-type) machines to material-handling machines and multi-boom demolition equipment. At the heart of our machinery development is a sincere desire to reach out to our customers, listen to what they have to say, solve their issues not simply as a manufacturer that supplies products but as a partner for them, and be part of the success of their business. The section professionals in our New Products Development Department work closely with other departments, including sales and services. We asked key members of the New Products Development Department to tell us why Hitachi Construction Machinery is so dedicated to application  product development, and share some case studies about types of products and the development and design process.
Text: Toshiaki Saito. Illustrations: Kotaro Takayanagi. Photos (portraits): Norio Sekine.
WHAT
What are application products?
These are application products developed by customizing Hitachi Construction Machinery's standard hydraulic excavators and wheel loaders to meet customers' needs. We've illustrated some of these machines, from those that are a mainstay on sites to machines so rare that you almost never see them.
An Illustrated Guide to Our Special Construction Machinery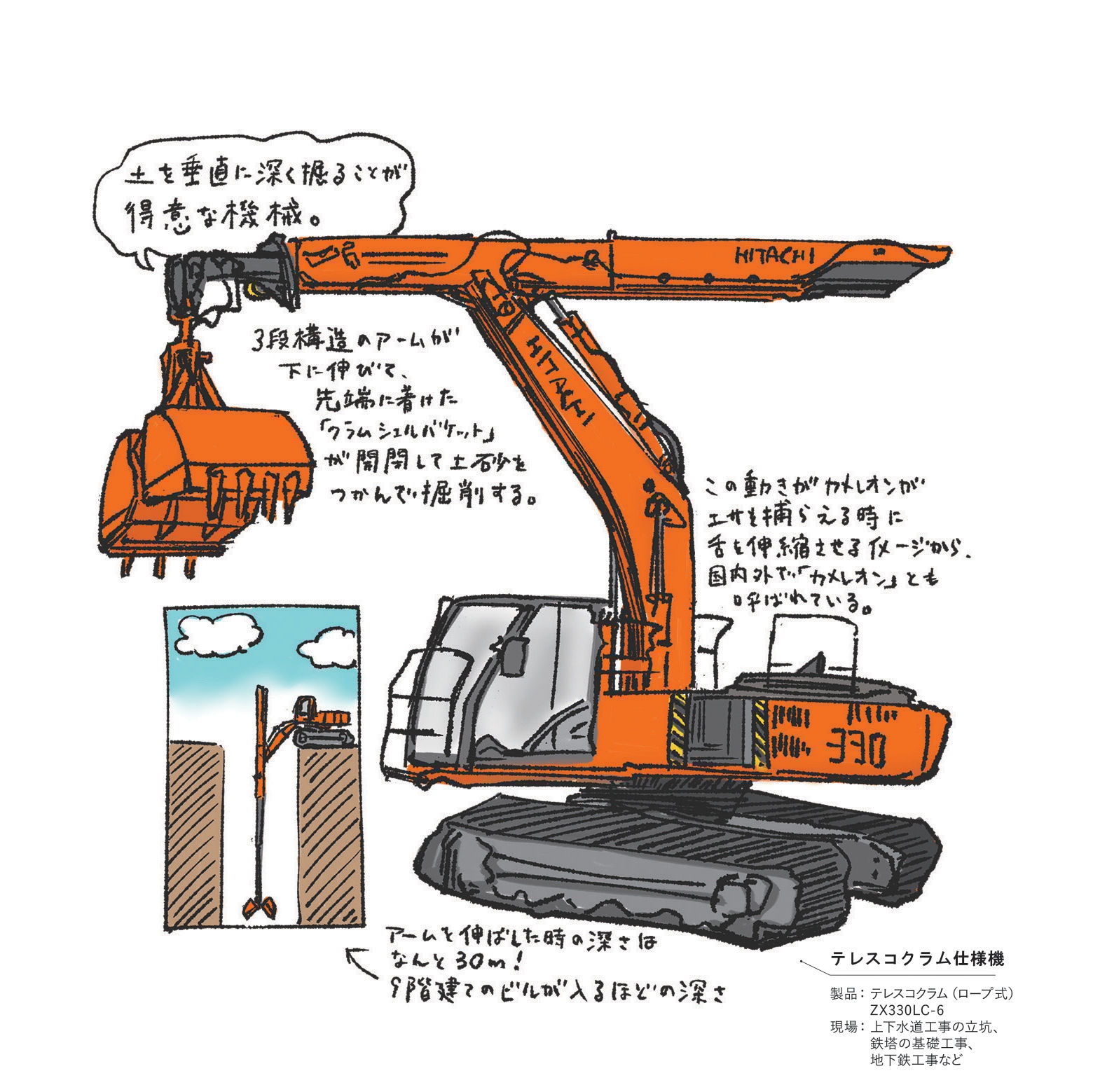 Telescopic Arm (Rope Type) Machine
Product: Telescopic Arm (Rope Type) Machine ZX330LC-6
Job site: Pile driving for water and sewage construction projects, construction of foundations for steel towers, subway construction, etc.
This machinery is well suited to digging straight down deep.
Its three-layered arm extends downward and the clamshell bucket at the end opens and closes to grab soil. This movement resembles a chameleon's tongue flicks out to grab prey, earning this machine the nickname of "the Chameleon," both inside and outside Japan. The arm can extend as far as 30 m. That's deep enough to fit a nine-story building!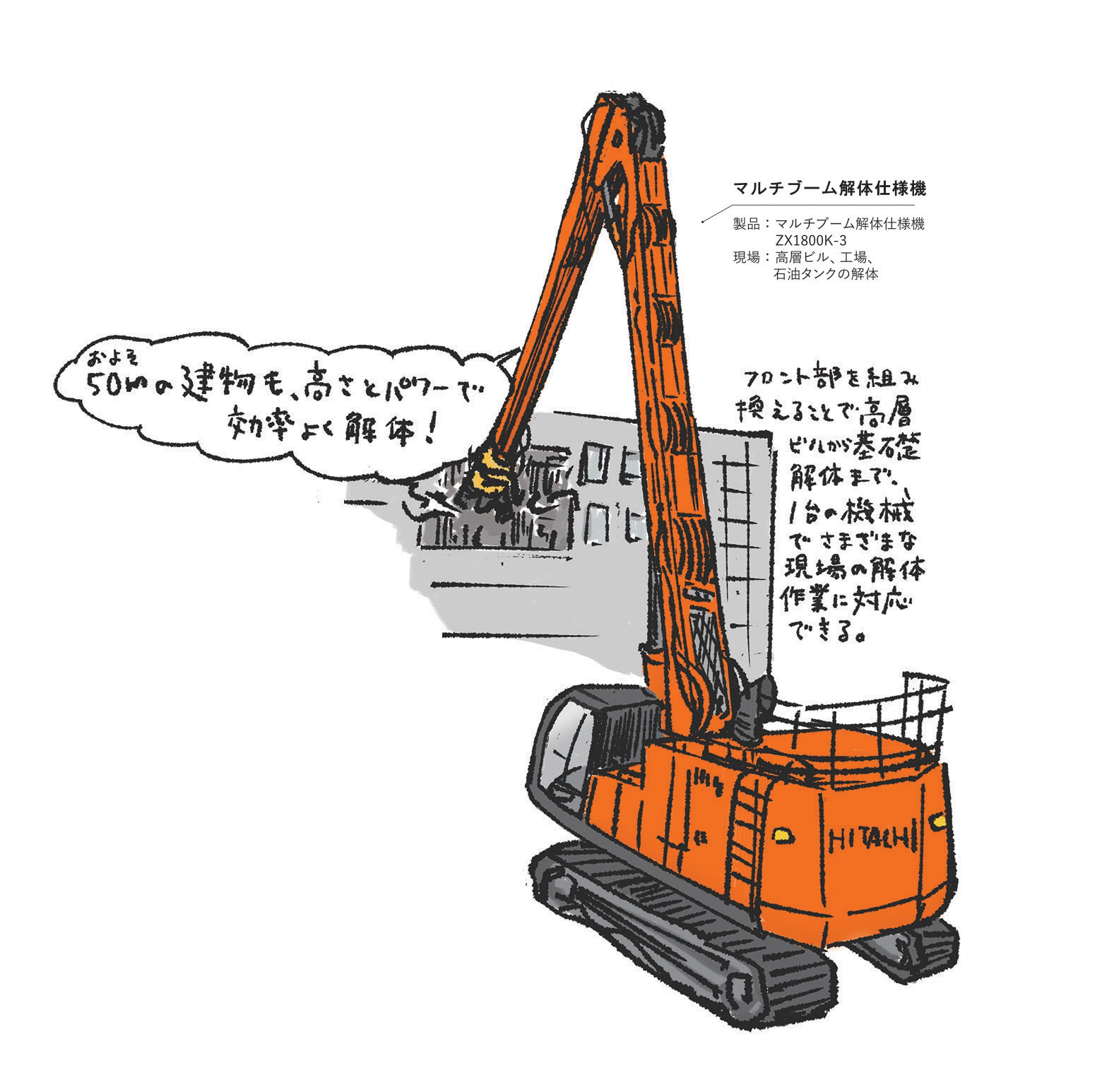 Multi-Boom Demolition Equipment
Product: Multi-Boom Demolition Equipment ZX1800K-3
Job site: Demolition of high-rise buildings, factories and oil tanks
This machine has the height and power for efficient demolition of buildings up to around 50 m high!
Different front ends can be attached, allowing demolition at a wide range of sites, from high-rise buildings to foundations, by a single machine.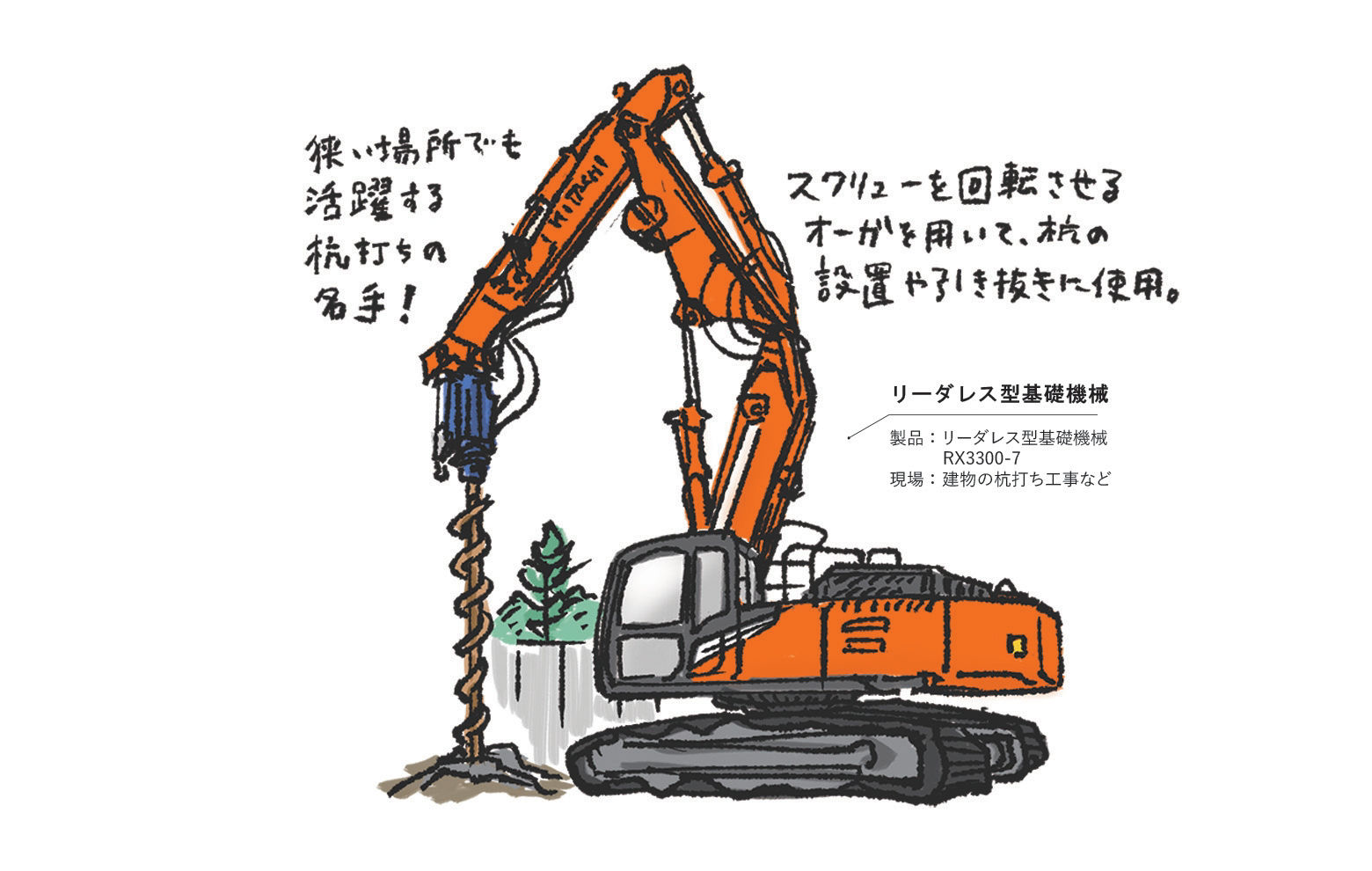 Product: Leaderless Pile Driver RX3300-7
Job site: Pile driving for buildings, etc.
A star in pile driving, even in confined areas!
This machine uses a screw-rotating auger to drive and remove piles.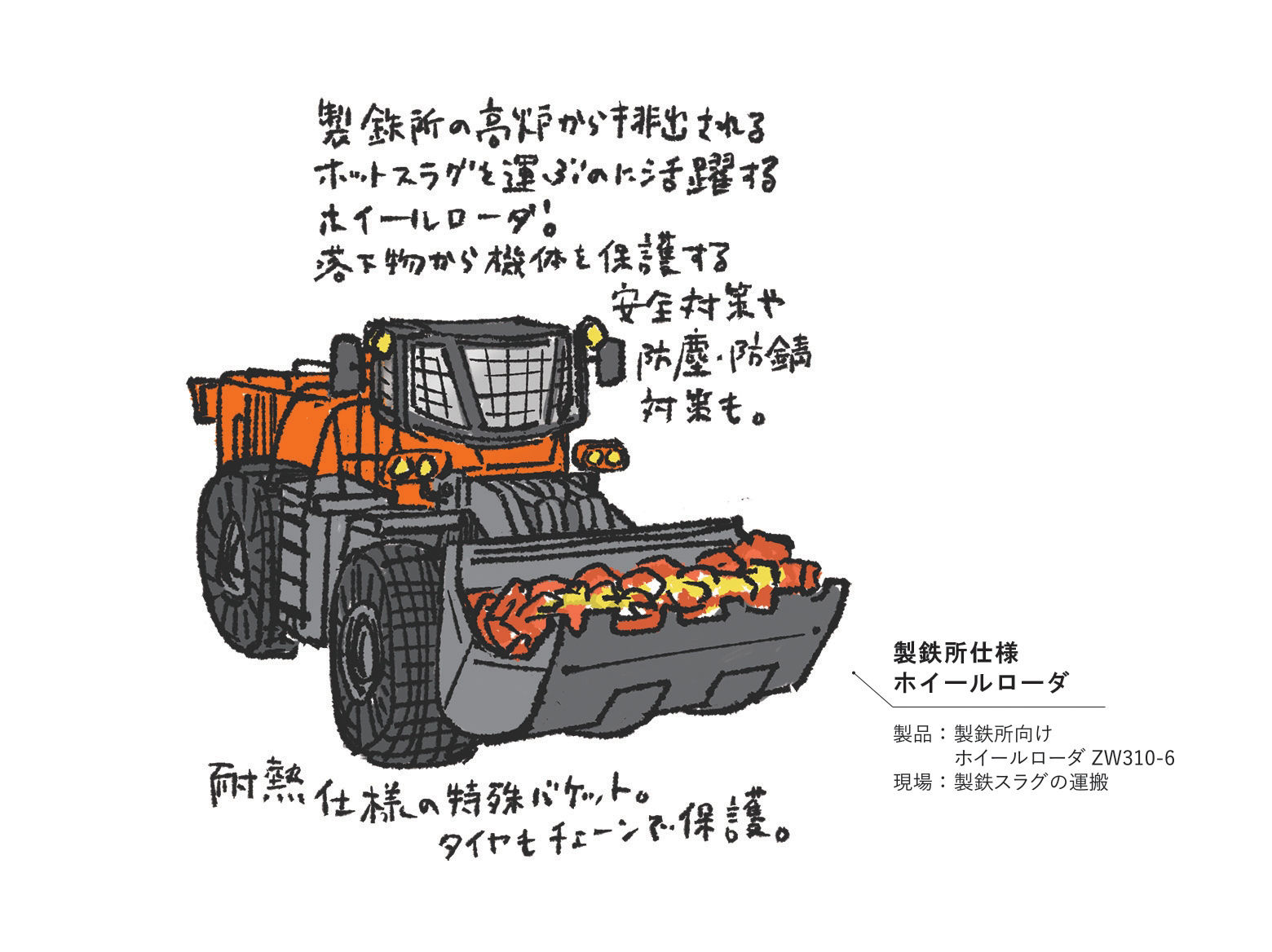 Product: Steel Mill Wheel Loader ZW310-6
Job site: Transporting steelworks slag
This wheel loader is used to carry hot slag discharged from blast furnaces at steel mills. It comes with safety mechanisms to protect the machine from falling objects, and is dustproofed and rustproofed. A special heatproof bucket is used. The tires are also protected by chains.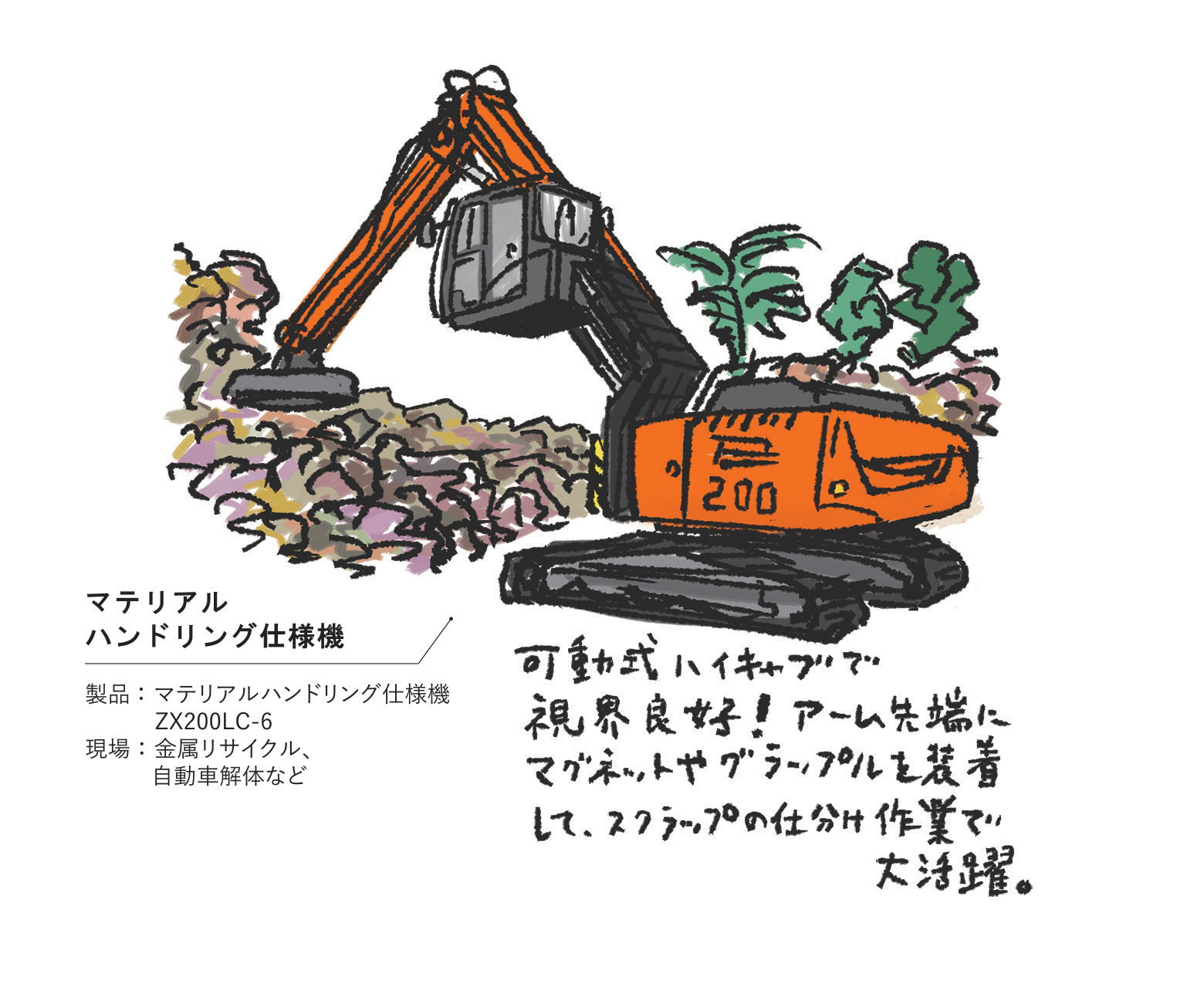 Material-Handling Machine
Product: Material-Handling Machine ZX200LC-6
Job site: Metal recycling, vehicle demolition, etc.
High, movable cab for good visibility!
A magnet or grapple can be attached to the end of the arm, making it useful for sorting scrap materials.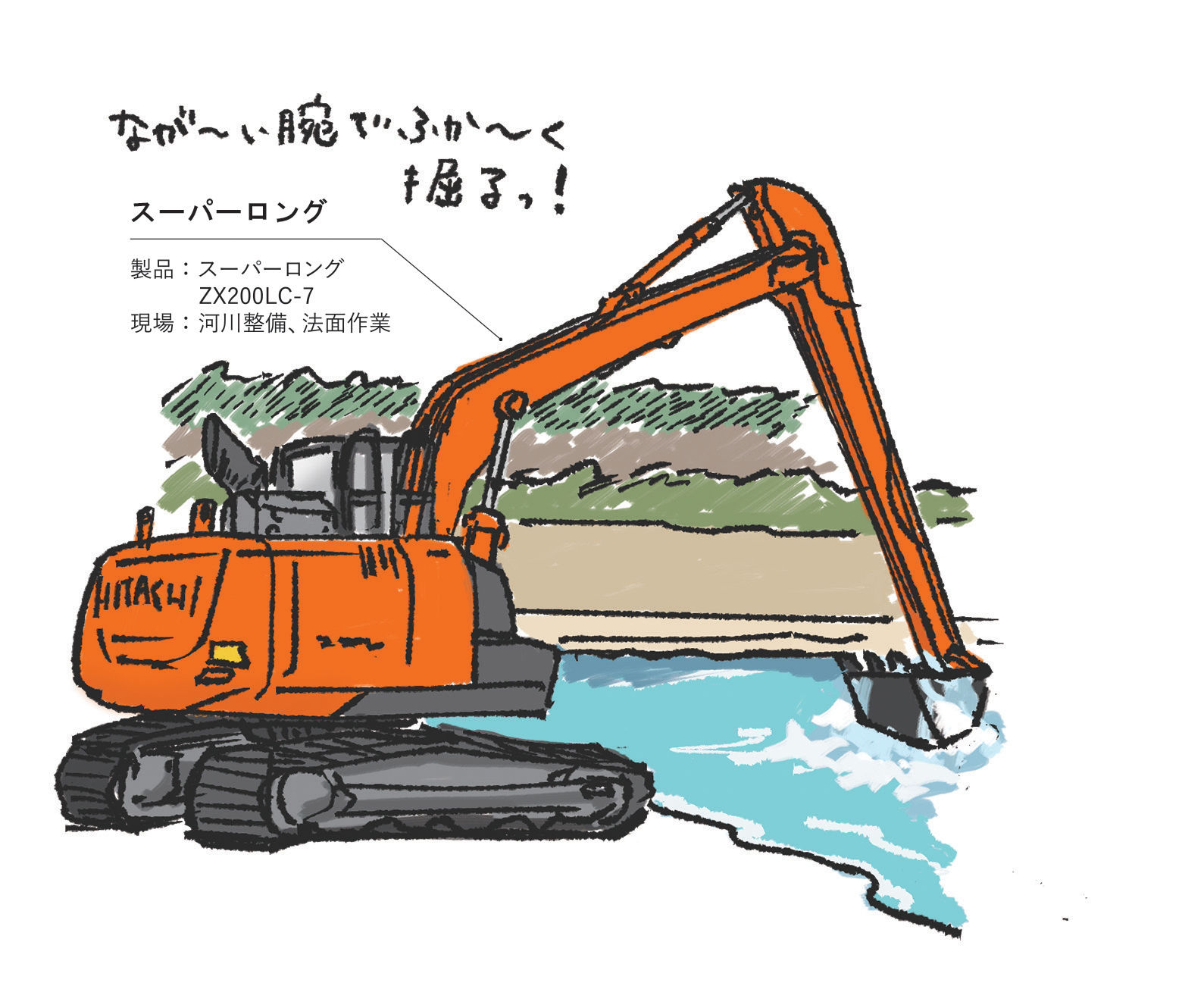 Super Long Front Excavator
Product: Super Long Front Excavator ZX200LC-7
Job site: River development, embankment work
The long arm digs deep!