Dialogue with Procurement Partners
Policies of Supply Chain Sustainable Management
In a trend of growing interest in corporate social responsibilities worldwide, Hitachi Construction Machinery Group is promoting sustainable activities throughout the entire supply chain including procurement partners. We believe it is important to share the same sustainable awareness with our business partners to prevent supply chain risks.
In October 2022, Hitachi Construction Machinery Group established "Hitachi Construction Machinery Group Sustainable Procurement Guidelines (1st Edition)". We have also published "Hitachi Construction Machinery Group Green Procurement Guidelines (Ver.1.0)". These Guidelines were established based on the Hitachi Construction Machinery Group's efforts for sustainability including the policies, initiatives, and widely recognized latest global standards. This guideline sets out a code of conduct to be observed by procurement partners and Hitachi Construction Machinery Group's policies and code of conduct.
The purpose of those revisions is for procurement partners to easily understand Hitachi Construction Machinery Group policies and requests. We have integrated the Policies and Code of Conduct into "Hitachi Construction Machinery Group Sustainable Procurement Guidelines" and separately publish the manual as "Hitachi Construction Machinery Group Green Procurement Guidelines (Ver.1.0)". Hitachi Construction Machinery Group has distributed them to our procurement partners and requested to be carefully read, in order to follow these Guidelines. These Guidelines are expected to be fully implemented by all our procurement partners.
Through a designated procurement partners selection process at Procurement department, we implement sustainable procurement by comprehensively assessing whether the procurement partners is fulfilling social responsibilities or not. In addition to procurement partners evaluation by product quality, reliability, delivery, price, business stability and R&D ability, the below factors which are specified in "Guidelines for Procurement Activities" are also taken in consideration to realize sustainable in Procurement; fair and highly transparent information disclosure, compliance with laws and social norms, respect for human rights, elimination of discrimination, elimination of child and forced labor, environmental preservation activities, social contributions, good working environment, and recognition of social responsibilities with procurement partners.
In addition, to reinforce compliance efforts, we revised procedures for internal audits in November 2017. We do rigorous audits on new procurement partners which include confirmation of environmental and CSR factors, such as anti-bribery measures.
Supply Chain Sustainable Management
Because business operations are becoming more global, there is a growing possibility that risks in the supply chain could result in heavy management issues. Hitachi Construction Machinery takes steps to identify and minimize the risks as much as possible in beforehand.
In 1998, Hitachi Construction Machinery Group was the first in the industry to establish "Green Procurement Guidelines", which sets its fundamental policies to realize environmentally friendly procurement of parts and products, and requests to procurement partners. The Guidelines cover contents related to procurement partners' environmental preservation activities (establishment of environmental management systems, introduction of recommended certification standards, etc.) and contents related to reduction of the environmental impact of products supplied to Hitachi Construction Machinery Group (saving resources and energy, recycling, proper management of chemical substances contained in products, dissemination of suitable information, etc.).
Implementation of supply chain sustainable survey
From 2010, Hitachi Construction Machinery Group has conducted Procurement Partners CSR Survey every year, as a first step towards CSR procurement. The targeted procurement partners are procurement partners which are recognized to have significant impact to our supply chains; tier-1 procurement partners to the Group companies with large annual purchasing volume, and supplying important parts or materials.
The survey covers seven areas; human rights and labor, health and safety, environment, fair trade and ethics, quality and safety, information security and contribution to the community.
From FY2014, we put efforts to implement supply chain sustainable survey within the Group companies, and we started the survey to procurement partners of Hitachi Construction Machinery China.
In FY 2022, we conducted the sustainable survey targeting procurement partners who account for approximately 80% of Hitachi Construction Machinery's purchase of products. 84% of procurement partners has responded to the survey. Procurement partners that do not meet the minimum score set by the Group are identified as procurement partners with high risk regarding sustainability. We have requested those procurement partners to improve their performance through the implementation of corrective action plans(*).
We will continue to conduct continuous sustainable investigations, now focusing on Hitachi Construction Machinery China, and will keep improving our procurement activities. We will also promote completion of Business Continuity Plan within the whole supply chain.
*Procurement partners are evaluated according to the "Purchase Transaction Action Guideline" when concluding and revising Basic Agreements.
In FY2022, all the procurement partners satisfy our standards in the sustainable survey.
Exclusion of Conflict Minerals
In accordance with the Hitachi Construction Machinery Group's policy for Responsible Supply Chain of Minerals, Hitachi Construction Machinery Group conducts conversation with procurement partners on the exclusion of conflict minerals.
Hitachi Construction Machinery Group Conflict Minerals Procurement Policy
Hitachi Construction Machinery Group has a policy for procurement activities not to purchase parts which include Conflict Minerals, which could lead to aid of armed forces. Additionally, we will continue to support the practice of due diligence based on the "OECD Due Diligence Guidance for Responsible Supply Chains of Minerals from Conflict-Affected and High-Risk Areas" among Group Companies.
Environmental Initiatives: Green Procurement
Hitachi Construction Machinery Group has set a KPI of 100% "Green Procurement Partners Ratio", a ratio of major procurement partners achieving environment management system such as ISO 14001 and EcoStage, to promote sustainable activities of whole supply chain including our procurement partners.
"Green Procurement Partners Ratio" in FY2021 was 100% among procurement partners suppliers. Also, we will continue to collect JAPIA Sheet(*) survey for following environmental restrictions. In FY2021, we conducted a survey following the 25th SVHC (Substances of Very High Concern) disclosed by the European Chemicals Agency. Following the implementation in FY 2022, we will continue to aim for complete investigation in 2023.
Continually, we will ask procurement partners to fully participate in the JAPIA Sheet survey and provide us with their completed JAPIA Sheets.
(*) JAPIA Sheet: Standard data sheet in the industry to collect information on chemical substances included in products and parts as stipulated by the Japan Automobile Manufacturers Association.
Environmental Initiatives: Reducing Greenhouse Gas (GHG) Emission
Hitachi Construction Machinery Group is working to reduce GHG (CO2) emission throughout the supply chain. We evaluate and support energy-saving activities at our procurement partners.
For procurement partners that use a large amount of energy, we have introduced a system that visualizes energy usage and electricity in the production process, and advice once a month to support improvements that will lead to production efficiency and CO2 reduction. We also share energy-saving measures with them.
Partnerships with Procurement Partners; Chikuhou-kai, Tokiwa-kai and Wakaba-kai
Hitachi Construction Machinery aims to build and maintain partnerships with its procurement partners. To this end, procurement partners with regular purchases are invited to become members of either Chikuhou-kai, consisted of 61 companies, or Tokiwa-kai, consisted of 49 companies (as of April 2023).
These two organizations host a wide range of activities to promote understanding of Hitachi Construction Machinery policies and efforts regarding safety, quality, environment, etc.
This includes joint lectures, joint presentations, presentations on examples of streamlining in their factories, skill competitions, and mutual safety inspections. In addition, regular procurement partners presentations are held, where Chikuhou-kai and Tokiwa-kai procurement partners participate and promote their CSR activities.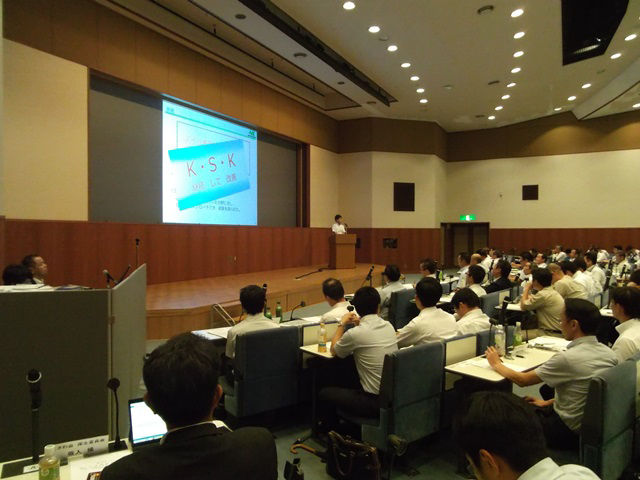 A Scene of Joint Presentation
In June 2020, we established the Wakaba-Kai, a group of executives who are responsible for the next-generation management of procurement partners in order to further strengthen procurement partners Management base. MONOZUKURI Technology of procurement partners is the foundation of the Hitachi Construction Machinery Group's production and, from a sustainable management standpoint, support for procurement partners business continuity and Management base reinforcement is essential. In this Wakaba-kai, we cooperate with Organization for Small & Medium Enterprises and Regional Innovation, JAPAN and implement educational support programs for further Management base reinforcement.
In the Wakaba-kai activities, with the aim of improving the level of procurement partners, external instructors provide educational support, mainly targeting the management of small and medium-sized enterprises. Specifically, we conducted training to acquire the know-how, mindset, and management skills necessary for executives, and to divide into executives and executive candidates, and to propose ways to solve their own company's problems. 22 people from 22 companies participated in the first period, which started in October 2020, and 16 people from 15 companies participated in the second period, which started in October 2022. We are planning to implement the third training from October 2023.
Safety and environmental patrol
During the patrol period from June to November 2022, we visited 9 of the 49 companies of Tokiwa-kai, and had 40 companies conduct self-checks. (Usually we conduct the patrol visiting all the companies but conducted the activity partially by companies'self-checks considering the situation on COVID19 in FY 2022.) In addition, we are working to prevent recurrence by sending accident case studies to each company.
Support for Procurement Partners
Hitachi Construction Machinery supports procurement partners from various aspects. In fiscal 2022, provided support to "ensure quality, eliminate delivery delays, and enable purchases at appropriate costs" with the aim of promoting procurement partner loss cost reductions (costs that should not have been necessary). Specifically, we are scrutinizing cost fluctuations associated with quality and delivery measures, building a "Tokiwa-kai IT system" support system for measures against delivery delays, and identifying and solving issues from ordering to delivery.And we also provide support for improving efficiency using IoT and educational support.
Evaluation of procurement partners
Hitachi Construction Machinery evaluates the status of initiatives of procurement partners for the purpose of risk management and engagement.
・Scoring evaluation
Once a year, Hitachi Construction Machinery assigns points for procurement partners with a cumulative total of 80% or more of purchases, based on SQDC (safety, quality, delivery, cost), management status, CSR compliance status, etc. and recognized partners with excellent results. We have established scoring evaluation criteria, and we compare information obtained from our database and procurement partner questionnaires (Supply Chain Sustainability Survey) against the evaluation criteria, assign points, and select procurement partners for awards. In addition, based on the scored content, each item is visualized and fed back to each company. 
・Management evaluation

We conduct hearings on the financial results of our procurement partners and conduct evaluations. (Evaluation criteria: profit margin on total assets, ordinary profit margin on sales, capital adequacy ratio, quick ratio, long-term conformity ratio, total asset turnover ratio)
・Human rights due diligence
In 2021, we will conduct a questionnaire on the composition of labor, health and safety, and grievance mechanisms, and in 2022 we implemented improvement requests to procurement partners who do not meet our standards.
* procurement partners: Hitachi Construction Machinery positions suppliers[I1]  as "partners who create business together on an equal footing," and we usually refer to them as "procurement partners." In the text, we use the term "procurement partner" to make it easier for people outside the company to search.