Taking Apart the Autonomous Haulage System for Dump Trucks!
Hitachi Construction Machinery is expanding its Fleet Management System (FMS), which monitors the status of various vehicles operating at a mine in real time and manages their allocation, to surface mining sites in countries. HCM's Autonomous Haulage System (AHS) is based on this FMS and has opened up a new world of driverless, autonomously operating dump trucks for mining sites. How will this technology, which embodies the capabilities of the Hitachi Group, change the future of the mining industry?
We tried to find out based on what Tomohiko Yasuda, Assistant Vice-president of the Client Solution Business Division, told us.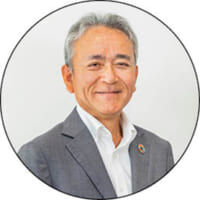 "We learned this from Hitachi Construction Machinery"
Assistant Vice-president of Solution Business Division and Assistant Vice-president of Mining Group
Tomohiko Yasuda
Nowadays mining companies are also investing with a long-term view and are trying to improve efficiency by adopting the latest technology. AHS is a perfect fit for these conditions.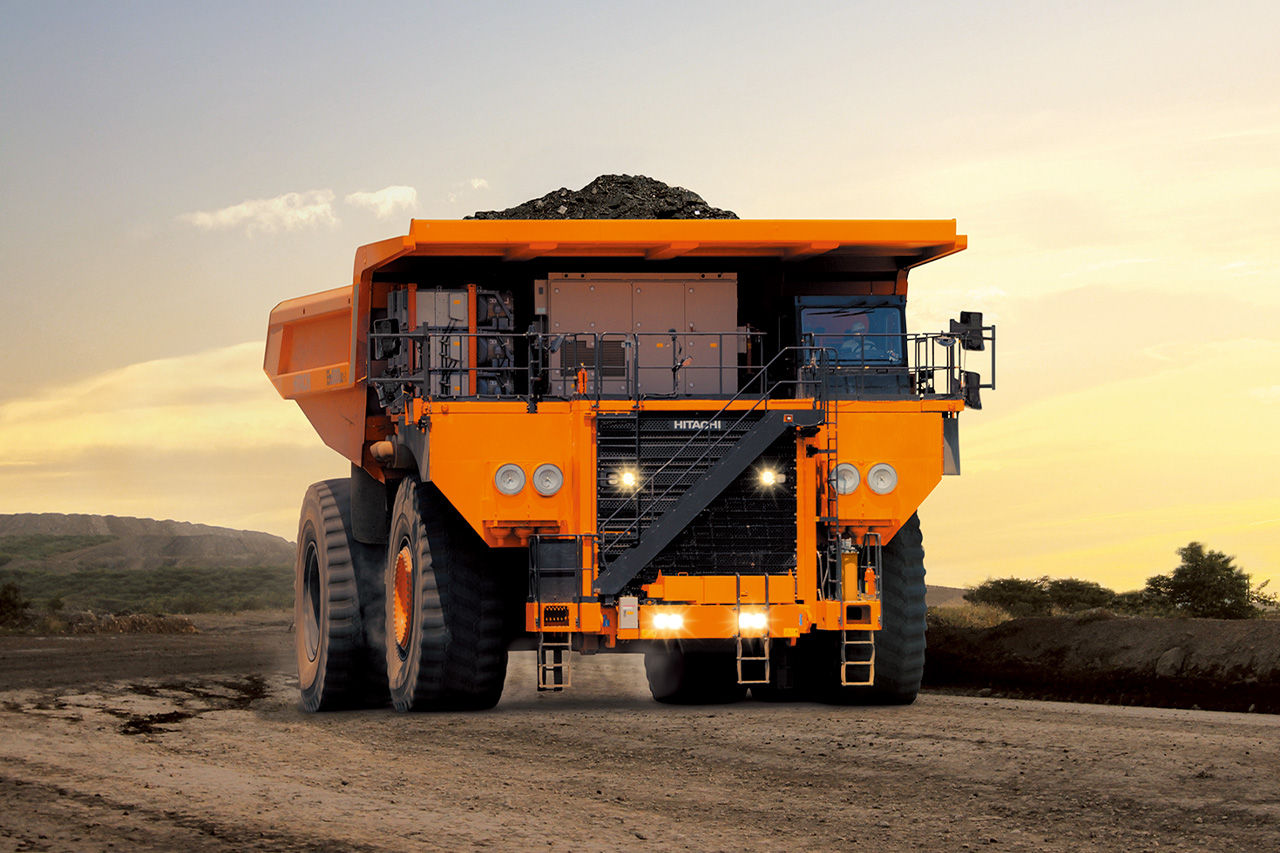 Is it true that AHS uses Hitachi's railway technology?
A. Yes. AHS uses a system that lets trains run safely without bumping into each other.
AHS is a system that contributes to productivity, safety and cost optimization by autonomously steering dump trucks based on FMS signals.
The path from the loading location for surface soil or ore to the unloading location is divided into several sections and when a dump truck has reached the beginning of one of these sections, it is told whether it can continue based on FMS signals. This framework is based on Hitachi Ltd. knowhow for dividing railway tracks into sections with multiple signaling mechanisms to let trains run safely.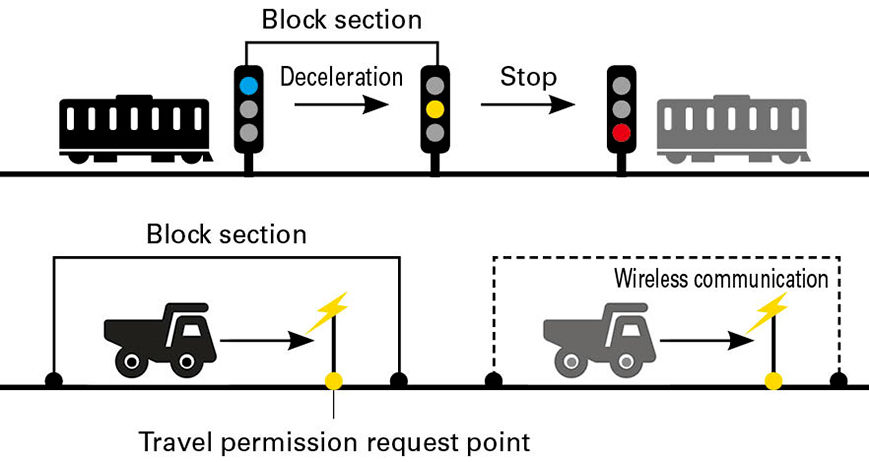 Is complete automation possible?
A. In the future, "proceeding, stopping, turning" will likely all be done without drivers.
Dump trucks featuring AHS receive FMS signals that let the system automatically control departures, stops and steering operations to accomplish fully autonomous driving. Thanks to knowhow in railway traffic control system cultivated by Hitachi,Ltd., 50 or more dump trucks could probably be run autonomously. The trucks also have driver seats, so that they could be steered and driven by a human in the unlikely event of a problem.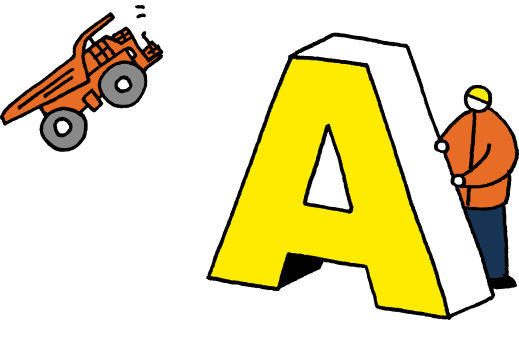 Can the trucks drive safely without humans?
A. They don't make mistakes or get tired like humans.
Human operators create the possibility of mistakes, reckless driving, accidents due to exhaustion or inattention, etc. AHS does not cause such problems based on human factors. Furthermore, because Hitachi Construction Machinery dump trucks are equipped with an advanced chassis stabilization control technology and run safely, with little chance of skidding, they are safe to operate without a driver. Features such as travel route recognition and obstacle detection additionally increase safety at mining sites.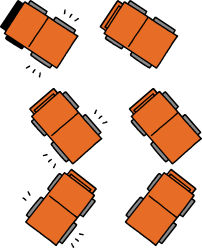 Can this lower maintenance costs?
A. Because it reduces the burden on vehicles and the roads they run on, it can reduce costs significantly.
AHS enables optimal driving that does not strain dump truck chassis or the roads that the trucks drive on, so damage to dump trucks based on extreme use and wear on road surfaces can be avoided, which lowers maintenance costs. Stable driving without excessive acceleration and deceleration or speeding also helps reduce fuel costs.
Because AHS is expected to contribute to safety, its introduction results in ceaseless operation and productivity increases.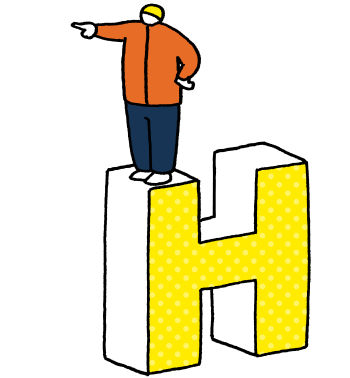 Can the introduction of AHS solve labor shortages?
A. Autonomous driving is also effective in solving labor shortages.
Due to the notion that mines are far removed from cities and constitute a harsh work environment, young people have lost interest in mining in recent years and the mining industry is struggling to find sufficient workers. The automation of dump trucks contributes to solving such labor shortages. On the other hand it probably generates employment for engineers who handle the traffic control system.
Since automation increases on-site safety, it is also effective in erasing the notion that the mining industry is dangerous.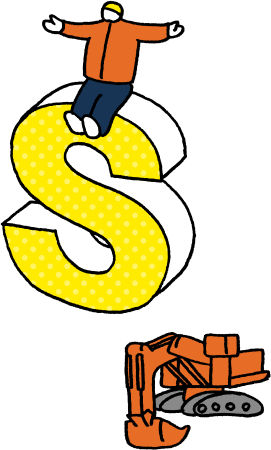 For the future
Towards the Development of Sustainable Mining
Mining also has aspects that negatively impact the Earth. But mining companies don't simply dig through the ground and flatten mountains: they are undertaking a variety of initiatives such as protecting biodiversity and water resources and creating employment for people near mining sites, as well as improving their lives.
TheInternational Council on Mining and Metals(ICMM), which consists of 27 companies involved in mining and smelting, has also introduced ten principles for sustainable development, and is promoting collaboration with experts and helping the entire industry accomplish the targets set by the United Nations' Sustainable Development Goals (SDGs).
Hitachi Construction Machinery, too, intends to further contribute to the development of society and the environment by mining resources efficiently through means such as the electrification and automation of ultra-large hydraulic excavators and dump trucks.
In addition, HCM has bolstered its plant functions for remanufacturing parts for mining machinery and offers solutions for the effective use of old parts instead of discarding them. HCM thus plays a part in supporting mining's sustainability.