Basic stance on social contributions
Business activities are only made possible by having a healthy global environment and sustainable social development.
In order to place an emphasis on social contributions, the Hitachi Construction Machinery Group created the "Hitachi Construction Machinery Group Social Contribution Policy" in FY2006. In order to pursue sustainability initiatives as a global group, we revised the Social Contribution Policy in April 2022. Under this policy, the Hitachi Construction Machinery Group is deeply aware of the fact that we are part of society, and in addition to participating in the resolution of social issues through business activities we also undertake initiatives to achieve an even better society through social contribution activities.
Hitachi Construction Machinery Group Social Contribution Policy
To pass on a productive environment and prosperous cities to future generations. Hitachi Construction Machinery Group helps to create comfortable living spaces.
Realizing Hitachi Construction Machinery Group's corporate vision, as stated above, is our mission. As a company engaged in the construction and mining industries, which are essential businesses supporting social infrastructure and creating comfortable living environments, we aim to help solve diverse social and environmental issues in order to create a better future through synergistic effects between machinery and humans.
In a rapidly changing world, we expend our efforts in activities based on our identified materiality themes to meet challenges and demands from society with the goal of building healthier communities. Through collaboration with various stakeholders and by being innovative and creative in our solutions, we will contribute to community development in order to meet these challenges and the various issues that surround us on this planet.
Combating climate change is critical, not only for society but also our business. There is also an urgent need to transform into a regenerative society that leads to the reduction of GHG (Greenhouse Gas) emissions.
Ultimately, all employees of the Hitachi Construction Machinery Group will continue to collaborate locally and globally to deliver social and environmental value to society, sharing the common value of "Kenkijin Spirit".
To achieve these, we are focusing on the following priority areas:
Combating Climate Change
Transforming to Regenerative Economy
Delivering Innovative Solutions for Supporting Community
Strengthening Global Governance
Social contribution activities
Donating Medical Equipment to Pediatric Hospitals in Australia
Hitachi Construction Machinery Australia (HCA) supports donations of medical equipment to pediatric hospitals in Australia.
HCA supports the activities of the Humpty Dumpty Foundation (HDF) in Australia. The foundation was established as a charitable organization to help children in 1996. HDF is engaged in delivering medical equipment to pediatric hospitals in Australia. One the HDF's fundraising activities is the Humpty's Wish List which features life-saving medical equipment expressly needed by the over 250 hospitals and infant wards in Australia. The list provides donors with the opportunity to choose a piece of medical equipment for a hospital of their choice. Donors submit their request to the foundation and are matched with a hospital. HCA endorses this activity and each year donates medical equipment worth AU$100,000.
HCA plans to continue to work with the Humpty Dumpty Foundation to carry out activities that put smiles on the faces of children in Australia.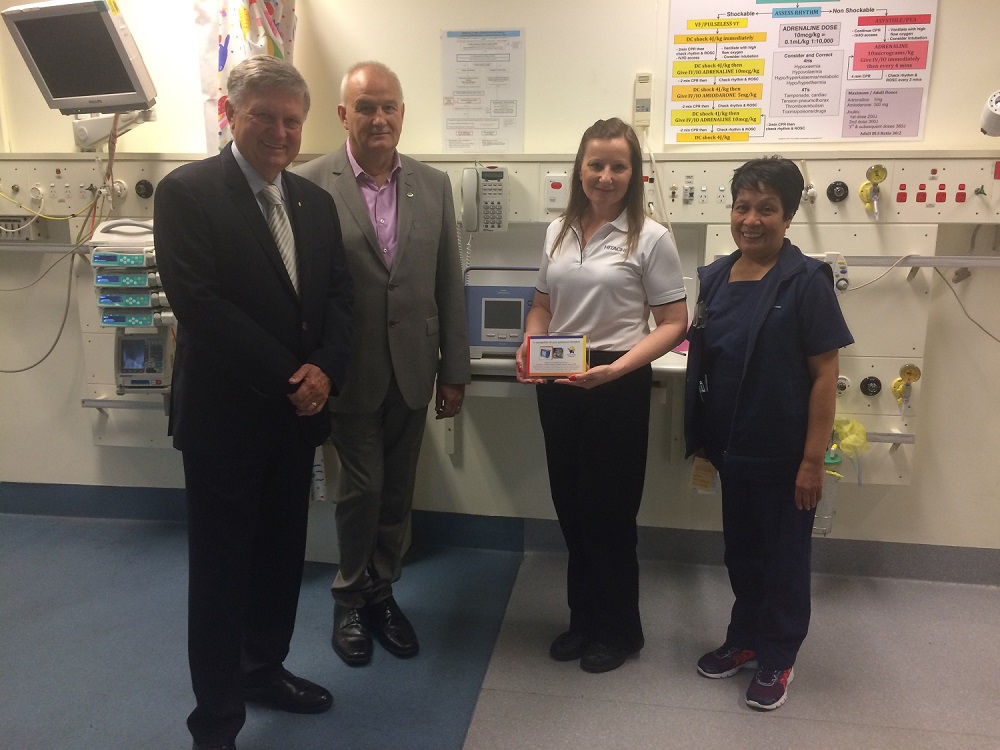 Ventilator donation: nurse (far right) from the Children's Hospital at Westmead pose with Paul Francis (founder of Humpty Dumpty Foundation: far left), David Harvey (GM of HCA: center left) and Doris Pongrac (Business Projects Manager of HCA: center right)
Assistance activities at elementary schools in China
The municipal government of Heifei City in China's Anhui Province has been implementing the Hefei City Project Hope since 1992 to support philanthropy that benefits youth. Many companies endorse this project and to date a number of different activities have been carried out.
Since it was first established, Hitachi Construction Machinery (China) has been involved in activities that benefit society through this project. In particular, in the area of education, Hitachi Construction Machinery (China) has striven to create educational opportunities for children. These efforts include the construction of Hitachi Construction Machinery Songgang Xi Wang Elementary School in 2010 financed in part with an education fund donated to Hefei City, along with regular visits, the donation of educational supplies, and by providing hands-on learning programs.
In August 2017, Hitachi Construction Machinery (China) was given the Hefei City Project Hope award by the City of Hefei for these contributions to the community. Hitachi Construction Machinery (China) will continue to support the Hefei City Project Hope and provide assistance to youth, who represent our future.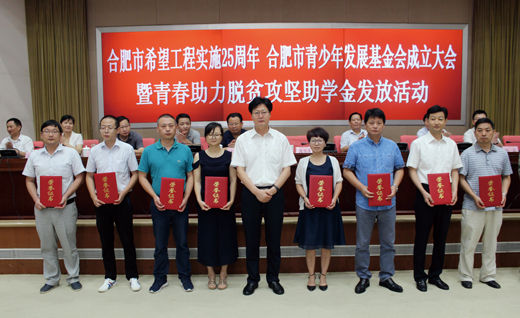 Commemorative photo with Wang Wei-Dong, deputy secretary of the Hefei City government (center) (Representative from Hitachi Construction Machinery (China) fourth from the right)
Greening activities in the Horqin Desert (China)
The Horqin Desert located in the Inner Mongolia Autonomous Region is the largest desert in China. Until about 20 years ago, most of the population lived a semi-agriculture and semi-animal husbandry lifestyle in which they farmed corn for animal feed while raising cows or goats on pasture land. However, the effects of drought completely transformed the once grassland into desert, resulting in serious issues such as a decline in agriculture and livestock productivity and growing damages caused by desertification.
The HCM Group began greening activities in the Horqin Desert in 2004 after endorsing the mission of the Green Network, an NPO. The first 10-year plan was launched by Hitachi Construction Machinery (China) in 2004, and by the end of this plan in 2014 vegetation had been planted on some 100,000m2 of desert land. Later, the second 10-year plan began in 2015, with the goal of planting vegetation on 130,000m2 of land in a separate area of the Horqin Desert. Since the start of this plan, Hitachi Construction Machinery (China) has been planting vegetation together with dealers to meet this goal.
Furthermore, Hitachi Construction Machinery (China) is promoting the restoration of vegetation on another 100,000m2 of land together with suppliers as the third 10-year plan. The restoration of forest and vegetation on a cumulative total of 330,000m2 of desert land will preserve biodiversity and lead to greater CO2 absorption and resource circulation.
Over the many years of these activities we have built strong relationships with the local government and people. Local revitalization realized through these activities because of the involvement of local people in such work as fence building, planting and maintenance has also contributed to community development. Some wild green pheasants and fox can be seen again in the location where these activities first took place, indicating that biodiversity has been restored as well.
The HCM Group will continue to promote greening activities in the Horqin Desert in order to resolve regional environmental issues and to balance improved quality of life with sustainability.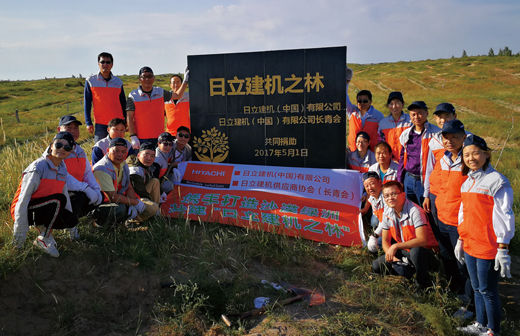 Volunteer team
Social contributions related costs
The breakdown of social contribution-related expenses in FY2021 is 59.9% for charitable donations, 32.4% for community investment, and 7.7% for commercial initiatives.
※We categorize our social contribution-related expenses to follow the Business for Societal Impact (B4SI) model. (The London Benchmarking Group (LBG), an international guideline for social contribution activities, changed its name to Business for Societal Impact (B4SI) in 2021.)