Parts that Connect (chapter 2)
Using Keywords to Decipher the Future of Hitachi Construction Machinery and Components
In order for our customers to be able to make long-term use of their machinery, we offer machinery operations management services in addition to selling replacement parts/components and focusing our efforts on parts remanufacturing business, and we cherish staying connected to our customers through our parts/components.
Furthermore, our parts business helps contribute to the Sustainable Development Goals (SDGs) and local communities.
We will explain such efforts by focusing on some keywords.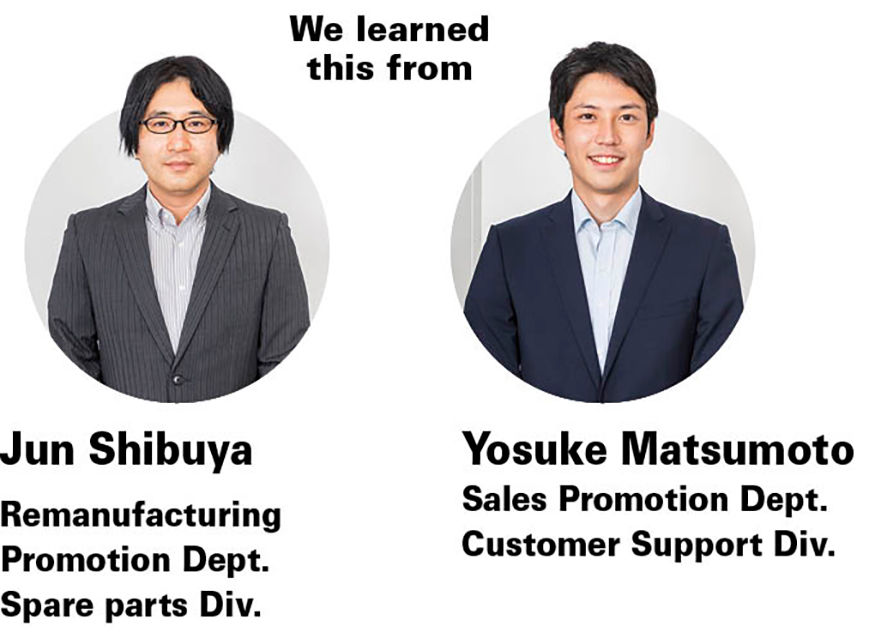 Parts and Our Original Brand
A Parts Line-up Based on Customer Needs
Our replacement parts line-up consists of the three categories "GENUINE PARTS," "SELECTED PARTS," and "REMANUFACTURED PARTS." Genuine parts are the same used in new machines, and it goes without saying that a product quality equal to that of a new machine is guaranteed.
Selected parts are procured from authorized our suppliers.
They are characterized by a performance close to that of genuine parts, but at a lower price, while their warranty period is the same. Most such parts offered are consumable parts.
Finally, remanufactured parts are used genuine parts that have been recovered, disassembled at the our Group's parts remanufacturing plant, and remanufactured in a way that gives them similar performance to new parts (see Diagram).
Remanufactured parts also have the same warranty period as new parts, but can be purchased at 50-70% of the cost of genuine parts.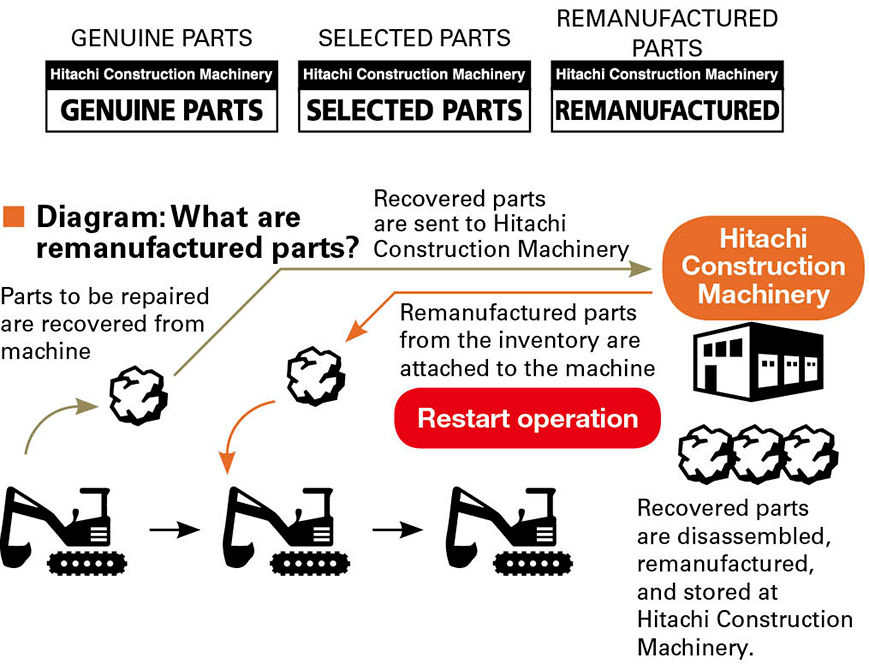 Used genuine parts such as hydraulic pumps and cylinders are disassembled, repaired, maintained, and stored. If these remanufactured parts are used for parts replacement before any trouble occurs with our customers' machinery, machinery downtime can be minimized and machinery can be put back to work at low cost.
Parts and Health Checks
Offering Parts Replacement with IoT Solutions
If the state of a machine's health is precisely understood, parts replacement can be determined more easily before problems occur and it becomes possible to minimize downtime due to sudden machine defects.
The ConSite service offered by Hitachi Construction Machinery in 130 countries around the world uses IoT to remotely monitor the state of machinery and provide data reports on information such as operating time and fuel consumption as well as any abnormalities.
The reports can be used for operation management and also for improving the efficiency of inspections and deciding on parts replacement. We will continue to strengthen our predictive diagnostic features in order to be able to provide our customers with even more precise information on parts replacement timing.
Moreover, by introducing "ConSite Health Check" which diagnoses and evaluates machinery health based on operating noise and measurement data, machinery diagnostics such as of hydraulic pumps and engine fuel injectors, for which we used to rely on the experience of service staff, can be performed semi-automatically in a short period of time.
In response to ConSite diagnostics, distributors can furthermore purchase necessary genuine parts online in the ConSite Parts Web Shop. The quick provision of cost estimates reduces the number of days required for parts replacement.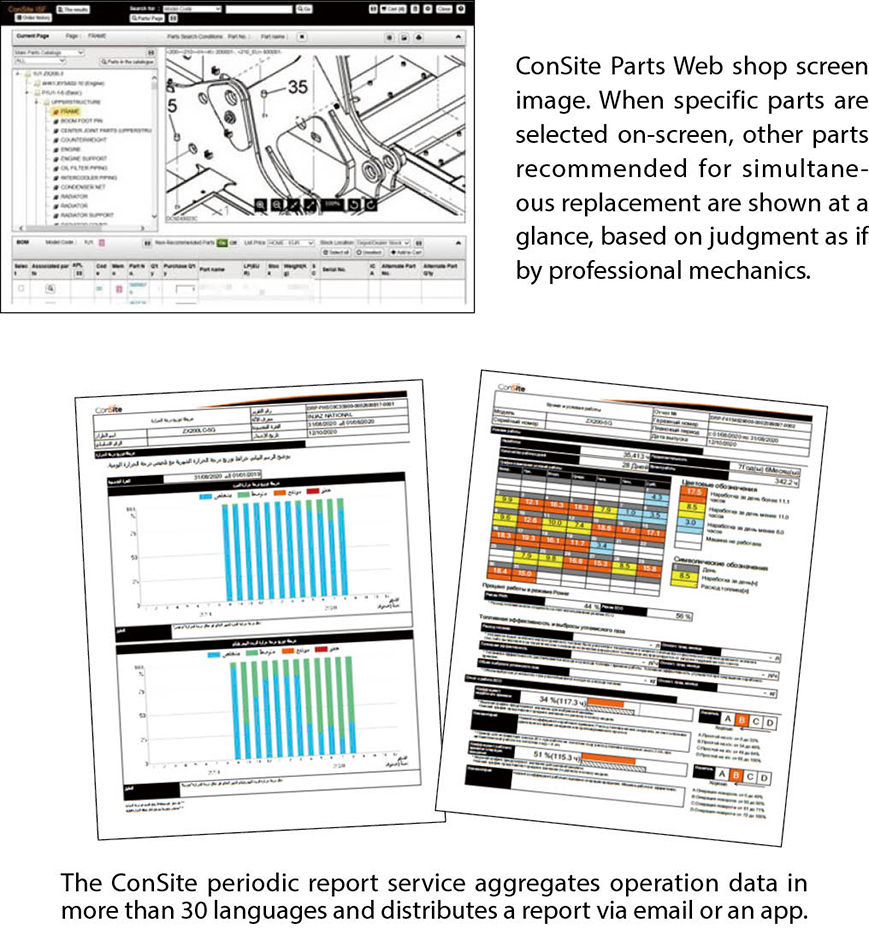 Parts and SDGs
Parts Remanufacturing Contributes to Solving Global Environmental Issues
The remanufacturing of parts consists of not only contributing to our customers' business continuity, value improvement and cost reductions by minimizing machine downtime, but also accomplishing circular economy.
Remanufacturing parts means that they won't be discarded, helping reduce industrial waste. Furthermore, not producing new parts decreases energy consumption and also has an effect on cutting CO2 emissions. At the same time, such efforts contribute to achieving SDGs. Moreover, environmental consciousness is further growing, especially in Europe, and there is a chance of significant tightening of legal regulations for promoting the the cyclical use of resource. In terms of expanding sustainable business for the future as well, the remanufacturing of parts is an area of business that should be continuously developed.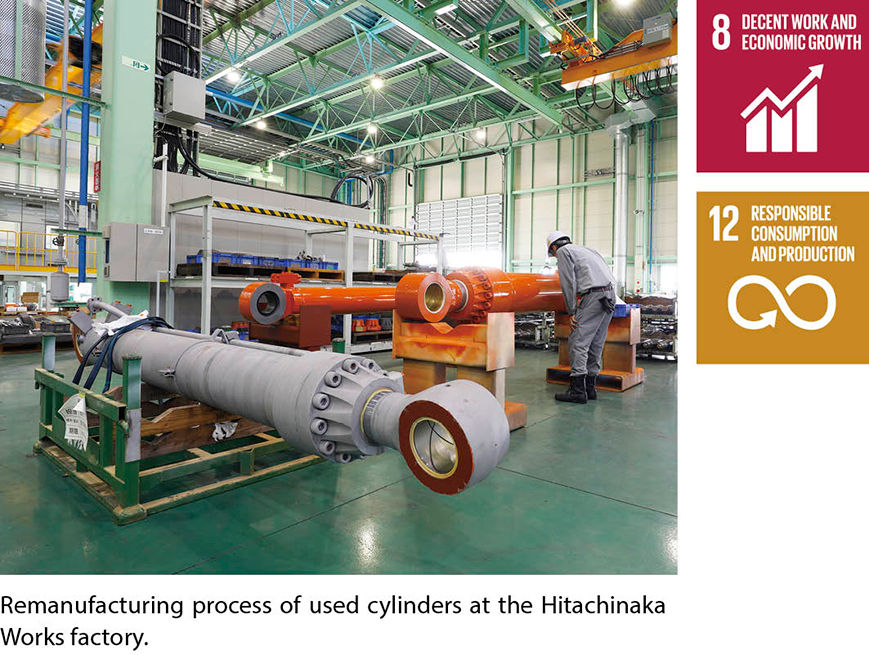 Parts and Mining
When the Machineries Stop, the Entire Mine Stops
At a large-scale mine, an enormous number of machines and vehicles—several thousand—are operating day and night for various tasks including resource excavation, road surface maintenance and transport. There are not only those who operate the machineries , but also those who are responsible for maintenance and repairs.
If mining machinery at such a mine stops, operations across the entire mine stop, with immeasurable consequences.
That is exactly why parts replacement at the appropriate time is essential for ensuring continuous mining operations.
Parts replacement consists of cases called overhauls in which machinery is disassembled and repaired on site, cases in which remanufactured parts are used for replacement, and cases in which parts are shipped from Japan, each requiring a planning period of half a year to a year in advance. Regularly checking the state of machinery and replacing parts systematically are necessary in order to minimize the machine downtime due to maintenance as well.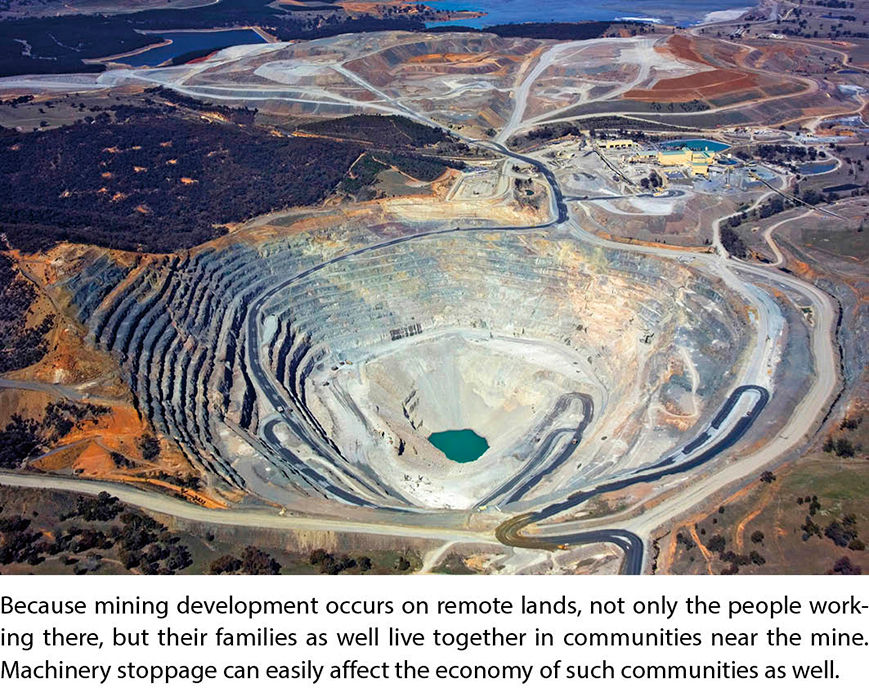 Parts and Africa
Expanding Business in Africa
Hitachi Construction Machinery established a mining machinery parts repair plant in Zambia in southern Africa in 2011, which serves as its parts remanufacturing business hub in Africa. Southern Africa has many giant mines and our machinery is active in multiple countries. Zambia in particular is famous for its largest copper mine in Africa, and Hitachi Construction Machinery is collaborating with the U.S.-based H-E Parts which became part of the HCM Group in 2016 to expand the Group's parts remanufacturing business based on this synergy effect. In addition to accelerating the hiring of local staff in Zambia, Hitachi Construction Machinery is engaged in CSR efforts supporting the education, training and employment of younger generations, for example by starting an internship program for students of a technical college in northern Zambia in 2018.